« previous post | next post »
From AB, MD (CPT, MC, USA):
I have an odd inquiry that I'm hoping you'll oblige. My question is about the preferred pronunciation of apoptosis. I believe the scientist who originally described this phenomenon asked a linguist to invoke an image of an Autumn tree shedding a leaf. We are now in an intense debate about the most accurate pronunciation of this word. As a long time language log reader, I was hoping you could help us settle this fiery debate. How do you pronounce apoptosis? Thank you very much! 
I have no special expertise in this matter, since I know the word mainly from reading, and have probably not had the occasion to say it more than a couple of times in my life. But FWIW, I would have said (in IPA) something like
/ˌæ.pɐpˈtoʊ.sɪs/.
The OED more or less agrees, giving
/ˌapɒpˈtəʊsᵻs/ , U.S. /ˌæpəpˈtoʊsəs/
Wiktionary gives
(UK) /ˌapɒpˈtəʊsɪs/, (US) /ˌæ.pəˈtoʊ.sɪs/, /ˌæpəpˈtoʊsəs/
The deletion of the second /p/ in the first U.S. version presumably reflects the etymology  ἀπο– "away from" + πτῶσις "falling", where the idea is that the 'p' is silent in ptosis (in English), like in ptomaine or pterosaur.
(By the way,Wiktionary's audio rendition for the UK version
seems confusingly different from the UK IPA transcription.)
Merriam-Webster gives
\ˌa-pəp-ˈtō-səs, -pə-ˈtō-\
with the audio rendition
which suggests that by /a/ they mean /æ/.
Summing it all up, it looks to me like the standard U.S. pronunciation would probably be something like the OED's
/ˌæ.pəpˈtoʊsɪs/
The silent-p-in-ptosis idea strikes me as unwise, because likely to confuse people. And the OED cites Nature 1994 to the same point:
1994   Nature 28 Sept. 98/2   The 'p' in ptosis is silent, and on that basis students are commonly exhorted to pronounce apoptosis as apo'tosis… The silent 'p', however, appears neither correct nor attractive in words in which the Greek-derived 'pt' occurs in the middle of a composite word.
The argument, I guess, would be that the silent initial 'p' is due to the phonotactics of English, where initial /pt/ is not allowed. But in the middle of the word, resyllabification can occur, licensing the /p/. [Like the /p/ in helicopter or lepidoptera, or the /g/ in agnostic, etc., as commenters point out…]
Hope that helps.
---
But wait.
I was originally skeptical of the story that "the scientist who originally described this phenomenon asked a linguist to invoke an image of an Autumn tree shedding a leaf". According to the OED, the word was in use from the 18th century, if not earlier, in the (now rare or obsolete) sense "A resolution, relaxation, or loosening of something":
1749   J. Barrow Dict. Medicum Universale   Apoptosis, the same as Apolysis, which see. [Apolysis, a solution, or release, which is diversified according to the subject, as, the exclusion of the fœtus, of the secundines, or the solution of a disease.]
The modern meaning ("Death of individual cells, characterized by condensation and fragmentation of the nucleus and cytoplasm and usually followed by phagocytosis by other cells, typically occurring as a self-activated process involved in the regulation of cell numbers, as in normal development, and in the growth of tumours") is first cited from 1972:
1972   J. F. R. Kerr et al. in Brit. Jrnl. Cancer 26 239 (title)    Apoptosis: a basic biological phenomenon
But in 1972 the word would have been available in medical dictionaries. And in 1749 and before, any physician would know Greek, and wouldn't need a linguist to coin a term like apoptosis.
But I was wrong. The full 1972 reference is JFR Kerr, AH Wyllie and R Currie, "Apoptosis: A Basic Biological Phenomenon with Wideranging Implications in Tissue Kinetics", BJC 26: 239-257 (1972). And Kerr et al. thank a Greek scholar, Prof. James Cormack, and recommend that the second 'p' be silent!
Thus, although the development of this distinctive type of necrosis, which has previously been called shrinkage necrosis on morphological grounds (Kerr, 1965, 1971), can, in fact, be triggered by noxious agents (Kerr, 1971), it often appears spontaneously or in response to known physiological stimuli, and it is clear that its implications in tissue kinetics are of widely ranging importance. It is not confined to vertebrates (Goldsmith, 1966),  and we suspect that further work will confirm it as a general mechanism of controlled cell deletion, which is complementary to mitosis in the regulation of animal cell populations. Because of its important kinetic significance we suggest that it be called " Apoptosis ".*
* We are most grateful to Professor James Cormack of the Department of Greek, University of Aberdeen, for suggesting this term. The word " apoptosis " (ἀπόπτωσις) is used in Greek to describe the "dropping off " or "falling off " of petals from flowers, or leaves from trees. To show the derivation clearly, we propose that the stress should be on the penultimate syllable, the second half of the word being pronounced like " ptosis " (with the " p " silent), which comes from the same root " to fall " and is already used to describe drooping of the upper eyelid.
I still tend to agree with Nature 1994 that the silent /p/ is a bad idea.
But the controversy is not going to be settled easily, it seems.
---
I should add that the Liddell & Scott entry for ἀπό-πτωσις doesn't mention anything about falling leaves or petals: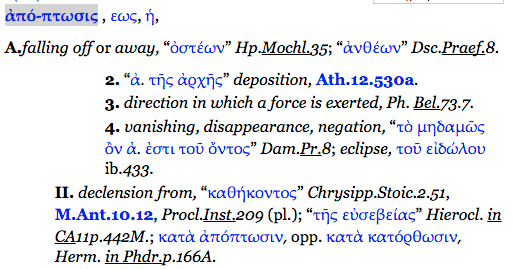 ---