« previous post | next post »
Fred Pelzman, "The Craziness of ICD-10", MedPage Today 7/2/2015:
At our faculty meeting last week, representatives of the medical college and the hospital came to update us on the changes coming into effect with ICD-10.
The compliance officers went through the changes in regulations — for inpatients and outpatients — which we've all heard before, the changes in the rules, and how ICD-10 leads to greater specificity for billing. Almost to the point of ridiculousness.
Medical websites, articles, and blogs have been full of examples of hilarious insane ICD-10 codes, new ones that many of us will (hopefully) never use in a lifetime of practice. 
If there exists one for fall from nonmilitary spacecraft, does that mean that there are military spacecraft? Are we sending Marines into space?
I'm sure someone has a practice where their patients are frequently coming in after being bitten by Orcas, and it's nice to know there's a code to bill for that if I need it, but all of this leads to a level of mental exhaustion, that we're all being put upon, asked to do something else that adds no real value to our care of patients.
There is definitely an ICD-10 code for being bitten by an orca: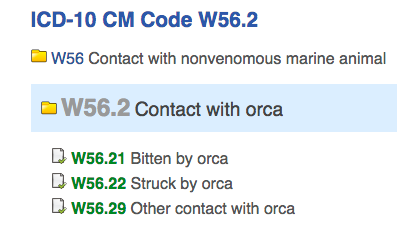 This helps to clarify how there could be an ICD-10 code (W59.22) for being struck by a turtle: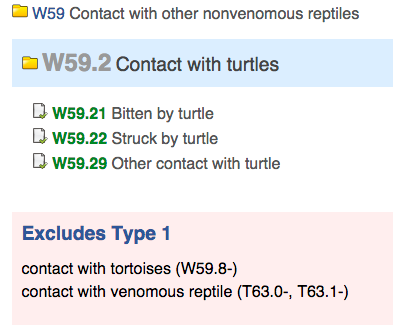 I was not able to verify the existence of an ICD-10 code for falling from a non-military spacecraft, but there certainly is an ICD-10 code for being burned due to water-skis on fire: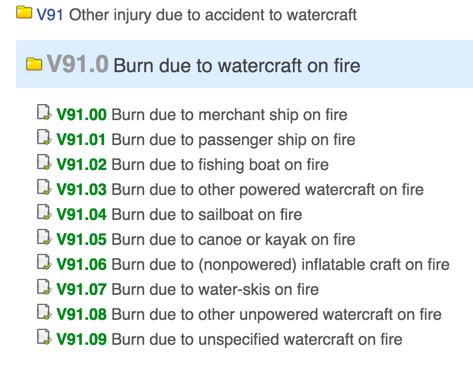 And some of the ICD-10 code points seem not just over-precise or unlikely, but actually impossible, like "fall in (into) bucket of water":

Somewhere in heaven, David Hume and Jorge Luis Borges are buying rounds for the bar and having a good laugh. See "El Idioma Analítico de John Wilkins" — a fragment from an English translation may point you in the right direction:
Once we have defined Wilkins' procedure, it is time to examine a problem which could be impossible or at least difficult to postpone: the value of this four-level table which is the base of the language. Let us consider the eighth category, the category of stones. Wilkins divides them into common (silica, gravel, schist), modics (marble, amber, coral), precious (pearl, opal), transparent (amethyst, sapphire) and insolubles (chalk, arsenic). Almost as surprising as the eighth, is the ninth category. This one reveals to us that metals can be imperfect (cinnabar, mercury), artificial (bronze, brass), recremental (filings, rust) and natural (gold, tin, copper). The whale belongs to the sixteenth category; it is an oblong viviparous fish.
These ambiguities, redundancies and deficiencies remind us of those which doctor Franz Kuhn attributes to a certain Chinese encyclopaedia entitled 'Celestial Empire of benevolent Knowledge'. In its remote pages it is written that the animals are divided into: (a) belonging to the emperor, (b) embalmed, (c) tame, (d) sucking pigs, (e) sirens, (f) fabulous, (g) stray dogs, (h) included in the present classification, (i) frenzied, (j) innumerable, (k) drawn with a very fine camelhair brush, (l) et cetera, (m) having just broken the water pitcher, (n) that from a long way off look like flies.
The Bibliographic Institute of Brussels exerts chaos too: it has divided the universe into 1000 subdivisions, from which number 262 is the pope; number 282, the Roman Catholic Church; 263, the Day of the Lord; 268 Sunday schools; 298, mormonism; and number 294, brahmanism, buddhism, shintoism and taoism. It doesn't reject heterogene subdivisions as, for example, 179: "Cruelty towards animals. Animals protection. Duel and suicide seen through moral values. Various vices and disadvantages. Advantages and various qualities."
I have registered the arbitrarities of Wilkins, of the unknown (or false) Chinese encyclopaedia writer and of the Bibliographic Institute of Brussels; it is clear that there is no classification of the Universe not being arbitrary and full of conjectures. The reason for this is very simple: we do not know what thing the universe is. "The world – David Hume writes – is perhaps the rudimentary sketch of a childish god, who left it half done, ashamed by his deficient work; it is created by a subordinate god, at whom the superior gods laugh; it is the confused production of a decrepit and retiring divinity, who has already died" ('Dialogues Concerning Natural Religion', V. 1779). We are allowed to go further; we can suspect that there is no universe in the organic, unifying sense, that this ambitious term has. If there is a universe, its aim is not conjectured yet; we have not yet conjectured the words, the definitions, the etymologies, the synonyms, from the secret dictionary of God.
I would add that one of the things we do know about the universe is that it's not well described by a tree-structured ontology.
---