« previous post | next post »
Back in 2009, somebody (unfortunately I forget who it was) sent me this photograph of a sign in Beijing: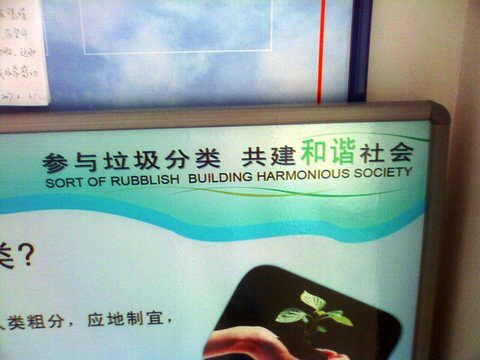 Apparently these signs were posted all over Beijing during the Olympics as part of an effort to spruce up the city.
The line at the top reads:
cānyù lèsè fēnlèi 参与垃圾分类
("participate in the sorting of rubbish")
gòngjiàn héxié shèhuì 共建和谐社会
("together build a harmonious society")
Many Language Log readers are undoubtedly aware of the irony of héxié 和谐 ("harmony; harmonize") — here emphasized in large, green characters — as used in current parlance, particularly as an adversative passive verb:
But there are two other aspects of the language on the sign that are even more interesting.
The first is fēnlèi 分类 ("classify; divide into categories"), which comes out as "sort of", which I find to be quite charming.
The second, which really piques my curiosity, is the spelling "rubblish" for "rubbish".
The equivalent Chinese is lèsè (Taiwan) / lājī (PRC) 垃圾 ("garbage; refuse; waste; rubbish; trash").
Amazingly, "rubblish" yielded 36,100 ghits when searched on 8/19/09 and still received 32,600 ghits when I searched it yesterday (6/19/15).
I read through several hundred of the entries obtained by the Google search, and they occur all over the world, but not in formal media, only in casual settings, Chinese advertisements, etc.  This makes me wonder whether "rubblish" is a not uncommon typing error, a sociolectal variant, a phonological glitch that spontaneously arises in undisciplined speech, or due to some other factor that is beyond my ken.  I'm stumped.
---