« previous post | next post »
An image composed of a circle of fourteen symbols of major world religions has been circulating on the web: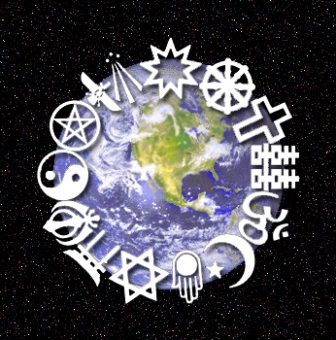 The example pictured here is from this site.

Most of the symbols are readily identifiable and commonly agreed upon as standing for a particular religion.  But one of them strikes me as odd, namely, 囍.
It is instantly recognizable to all Chinese, even those who are illiterate, despite the fact that it is a very special and rather complex character.  Among the fourteen symbols of the circle, only one other is part of a writing system, viz., ॐ / ओं / औं / ओ३म्, the sacred Hindu syllable "om".
So what is this 囍, and does it make a good symbol for Confucianism?
囍 is the reduplicated form of xǐ 喜 ("happy; joyful").  Sometimes 囍 is pronounced xǐ, but usually it is referred to and pronounced as shuāngxǐ 雙喜 ("Double Happiness"), making it a polysyllabic character.
Presumably, 囍 was chosen as the symbol for Confucianism because of the high value placed upon the marriage ceremony in the orthodox ritual classics, but it's also used in connection with the lunar New Year celebrations, on packages of cigarettes and matches, bottles of soy sauce, cans of evaporated milk, jewelry, fashionable clothing, and so forth.  Mostly, though, it is used to invoke conjugal bliss and love.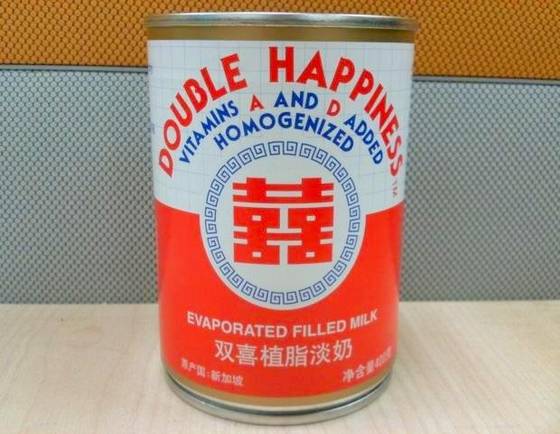 zhízhī dànnǎi 植脂淡奶
(lit., "vegetable fat evaporated milk", i.e., "evaporated filled milk")
Until I saw this photograph, I had never heard of "filled milk" and had no idea what it was.  Wikipedia tells us: "Filled milk is any milk, cream, or skim milk that has been reconstituted with fats, usually vegetable oils, from sources other than dairy cows."
If you want to come up with a better symbol than 囍 for Confucianism, it won't be that easy.  Take a gander at these.
None of them leaps of the page as an obvious symbol for Confucianism as a religion.  On the other hand, I was surprised to see how often shuǐ 水 ("water") is suggested among these images.  Considering what we learned about water in the following post, it might not be a bad idea for representing Confucianism after all: "Water control " (5/30/15).
It is simple, has a nice balance of strokes, and potentially recognizable even by those who are not Chinese.  It seems to me that, with its 4 strokes, it would be a much better choice than 囍 with its 24 strokes all jammed into a tiny square.  Meaning-wise, it is also more suitable, I should think, than 囍, which borders on vulgarity.  But if you're looking for a simple character that truly encapsulates the core of Confucian values, nothing can beat xiào 孝 ("filial piety"), and it only has 7 strokes.  Of course, it's not absolutely necessary to pick a Chinese character, but what is a better choice?
[Thanks to Lai Ka Yau]
---