« previous post | next post »
Nicholas Wade is an inveterate gene-for-X enthusiast — he's got 68 stories in the NYT index with "gene" in the headline — and he's had two opportunities to celebrate this idea in the past few days: "Speech Gene Shows Its Bossy Nature", 11/12/2009, and "The Evolution of the God Gene", 11/14/2009. The first of these articles is merely a bit misleading, in the usual way. The second verges on the bizarre.
The "Speech Gene", of course, is FOXP2, and Wade's article covers a paper by Genevieve Konopka et al., "Human-specific transcriptional regulation of CNS development genes by FOXP2", Nature 462: 213-217, 11/12/2009. We've been muttering on this weblog for more than five years about the overselling of FOXP2 as "the Language Gene" or the "the Speech Gene" — for a recent summary of the issues, see "Mice with the 'language gene' stay mum" and "More on FOXP2", 6/5/2009.
The journal Cognition took up the cognitive aspects of the "gene for X" question in an excellent special issue in 2006, ("Genes, Brain and Cognition: A Roadmap for the Cognitive Scientist"). An articles that specifically discusses the FOXP2 evidence, as it existed in 2006, is Simon Fisher ("Tangled webs: Tracing the connections between genes and cognition", Cognition 101(2): 270-297, September 2006):
[T]he deceptive simplicity of finding correlations between genetic and phenotypic variation has led to a common misconception that there exist straightforward linear relationships between specific genes and particular behavioural and/or cognitive outputs. The problem is exacerbated by the adoption of an abstract view of the nature of the gene, without consideration of molecular, developmental or ontogenetic frameworks. […] Genes do not specify behaviours or cognitive processes; they make regulatory factors, signalling molecules, receptors, enzymes, and so on, that interact in highly complex networks, modulated by environmental influences, in order to build and maintain the brain.
(Fisher is the scientist who first identified the role of FOXP2 in speech and language impairment. See also the discussion of FOXP2 in Evan Balaban, "Cognitive Developmental Biology: History, Process, and Fortune's Wheel", in the same issue.)
The Konopka et al. paper is entirely in line with this perspective. Human FOXP2 differs from Chimpanzee FOXP2 in just two amino acids, and so, as Konopka et al. explain,
To test whether the amino acids under positive selection in human FOXP2 have a distinct biological function, which would support the role of these changes in evolution, we expressed either human FOXP2 or the same construct mutated at two sites to yield the chimpanzee amino acid content, FOXP2chimp, in human neuronal cells without endogenous FOXP2. […] To determine if modifying two amino acids leads to changes in gene expression, we conducted whole-genome microarray analysis. We identified 61 genes significantly upregulated and 55 genes downregulated by FOXP2 compared to FOXP2chimp […]
To place these gene expression changes within a more systematic context, we applied weighted gene co-expression network analysis […] to examine co-regulation of gene expression across all genes. We uncovered two modules where the module eigengene […] was driven by differences in FOXP2 and FOXP2chimp, and one module driven by similar gene regulation […] Notably, two of the genes with the most connections, so-called 'hub' genes, in one of the differential networks are DLX5 and SYT4, two genes important for brain development and function.
Here's their figure of "one of the modules containing FOXP2 and FOXP2chimp differentially expressed genes":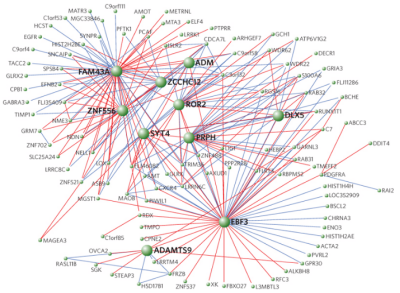 So this research supports the idea that the hominin mutation in FOXP2 has a biological effect, and perhaps an important one, apparently involving the interaction of a large number of genes with a large number of developmental and functional roles. It remains to be seen how this relates to human/chimp differences in anatomy, physiology, and behavior; and especially, what it has to do with speech, language, and communication.
Nicholas Wade's first sentence calls  FOXP2 "a gene that underlies the faculty of human speech", and his second sentence is
All animals have an FOXP2 gene, but the human version's product differs at just 2 of its 740 units from that of chimpanzees, suggesting that this tiny evolutionary fix may hold the key to why people can speak and chimps cannot.
Having done his best to steer his readers along exactly the mistaken path that Simon Fisher warned against ("any characterisation of this as a 'gene for grammar' (or even as a 'gene for language') clearly becomes untenable once we are able to view it within a more complete biological framework"), Wade is then forced by the facts into a somewhat different narrative:
[T]hey confirmed suspicions that FOXP2 was a maestro of the genome … Like the conductor of an orchestra, the gene quiets the activity of some and summons a crescendo from others.
In other words, it's been known since its discovery that FOXP2, like the rest of the FOX family, is a transcription factor.
Several of the genes under FOXP2's thumb show signs of having faced recent evolutionary pressure, meaning they were favored by natural selection. This suggests that the whole network of genes has evolved together in making language and speech a human faculty.
And some of the genes in FOXP2's network have already been implicated in diseases that include disorders of speech, confirming its importance in these faculties.
But the FOXP2 network is certainly not the only set of genes involved in language.
And, he didn't add, language is not the only thing that the FOXP2 network is involved in.
The "God Gene" is a different story altogether. To start with, it doesn't exist.
It's basically nonsense to call FOXP2 the "language gene" or the "speech gene", but at least FOXP2 exists, and is involved in the development of various anatomical structures that play a role in spoken language (as well in eating, breathing, etc.); and a FOXP2 mutation is known to be associated with developmental disorders that are partly linguistic.
But Wade's "God Gene" is entirely hypothetical. No one has discovered a family of atheists whose lack of interest in spiritual transcendence can be linked to a shared genomic variation. So what's the argument that there's a gene-for-belief-in-a-higher-power? Let's let Wade explain:
IN the Oaxaca Valley of Mexico, the archaeologists Joyce Marcus and Kent Flannery have gained a remarkable insight into the origin of religion.
During 15 years of excavation they have uncovered not some monumental temple but evidence of a critical transition in religious behavior. The record begins with a simple dancing floor, the arena for the communal religious dances held by hunter-gatherers in about 7,000 B.C. It moves to the ancestor-cult shrines that appeared after the beginning of corn-based agriculture around 1,500 B.C., and ends in A.D. 30 with the sophisticated, astronomically oriented temples of an early archaic state.
This and other research is pointing to a new perspective on religion, one that seeks to explain why religious behavior has occurred in societies at every stage of development and in every region of the world. Religion has the hallmarks of an evolved behavior, meaning that it exists because it was favored by natural selection. It is universal because it was wired into our neural circuitry before the ancestral human population dispersed from its African homeland.
In other words, the "God gene" is a completely hypothetical just-so story, with two components. The first is the theory that religion was culturally advantageous in the circumstances of early human evolution:
The ancestral human population of 50,000 years ago, to judge from living hunter-gatherers, would have lived in small, egalitarian groups without chiefs or headmen. Religion served them as an invisible government. It bound people together, committing them to put their community's needs ahead of their own self-interest. For fear of divine punishment, people followed rules of self-restraint toward members of the community. Religion also emboldened them to give their lives in battle against outsiders. Groups fortified by religious belief would have prevailed over those that lacked it …
There's no evidence for several aspects of this, but it's a plausible argument in favor of … cultural evolution? No, Wade (and some others) want this lesson to have been learned genetically, not culturally:
[G]enes that prompted the mind toward ritual would eventually have become universal.
The beauty part is the universality of this argument. My current favorite application leads us to postulate the Hat Gene. (OK, the Head-Covering Gene — but Wade should really be writing about "the spirituality gene" or "the transcendence gene", since "God" is hardly a cultural universal. So I'm going to stick with my Hat Gene, since it's catchier.)
Think of the manifold advantages of head-coverings to paleolithic hunter-gatherers, and the near-universality of head coverings among human groups at all subsequent stages of development — the Hat Gene hypothesis is a winner all around. Still, I doubt that I could get funding for a Genome-Wide Association study looking for correlations with preferences in haberdashery.
Coincidentally, there's Wade's new book The Faith Instinct, published Nov. 11, 2009. I'm holding out for The Hat Instinct, myself.
---