« previous post | next post »
Steve Pinker's recent NYT review of Malcolm Gladwell's latest book suggests a valuable coinage ("Malcolm Gladwell, Eclectic Detective", 11/7/2009; emphasis added) :
An eclectic essayist is necessarily a dilettante, which is not in itself a bad thing. But Gladwell frequently holds forth about statistics and psychology, and his lack of technical grounding in these subjects can be jarring. He provides misleading definitions of "homology," "saggital plane" and "power law" and quotes an expert speaking about an "igon value" (that's eigenvalue, a basic concept in linear algebra). In the spirit of Gladwell, who likes to give portentous names to his aperçus, I will call this the Igon Value Problem: when a writer's education on a topic consists in interviewing an expert, he is apt to offer generalizations that are banal, obtuse or flat wrong.
In support of creative lexicography, I plan to be on the look-out for future opportunities to refer to the Igon Value Problem.
Gladwell uses "igon value" in an inessential way, to provide some local color in the chapter of What the Dog Saw called "Blowing Up: How Nassim Taleb Turned the Inevitability of Disaster into an Investment Strategy":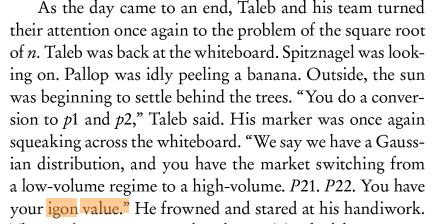 But eigenvalue really is a very basic concept in linear algebra, and the analysis of the   eigenvectors and eigenvalues of matrices is not just some ephemeral bit of esoteric mathematical fluff — among innumerable practical connections, consider this quote from Sergei Brin and Larry Page, "The Anatomy of a Large-Scale Hypertextual Web Search Engine", Seventh International World-Wide Web Conference (WWW 1998), April 14-18, 1998, Brisbane, Australia:
PageRank or PR(A) can be calculated using a simple iterative algorithm, and corresponds to the principal eigenvector of the normalized link matrix of the web.
Thus this silly mis-hearing tells us (as Pinker notes) that Gladwell's understanding of the ideas he's writing about is limited, here as often, to a sort of metaphorical caricature.  And the resulting conceptual equivocation can be a critical part of the "insights" that he has to offer, which, as Pinker also tells us, often reflect his role as the anti-intellectual's intellectual (or the intellectual's anti-intellectual?):
The common thread in Gladwell's writing is a kind of populism, which seeks to undermine the ideals of talent, intelligence and analytical prowess in favor of luck, opportunity, experience and intuition. For an apolitical writer like Gladwell, this has the advantage of appealing both to the Horatio Alger right and to the egalitarian left.
This "common thread" is central to the essay where Igon Value occurs: it constrasts Nassim Taleb, who thinks that investment success is "all pure luck", who "[doesn't] believe that things like the stock market behave in the way that physical phenomena like mortality statistics do", an "empiricist who doesn't believe in empiricism", with Victor Niederhoffer, whose "hero is the nineteenth-century scientist Francis Galton … and if he is your hero you believe that by aggregating and analyzing data points, you can learn whatever it is you need to know." No points for guessing who is the hero of Gladwell's narrative. And while eigenvalues don't play any direct role in the argument, things like Gaussian distributions and "fat tails" do. The "Igon value" flub doesn't increase my confidence that Gladwell has any clue at all what any of this really means.
I was going to end like this: "What I find most interesting here is that neither the author, nor the stereotypically legendary fact-checkers at the New Yorker (where the pieces in What the Dog Saw originally appeared), nor Hachette (What the Dog Saw's publisher), took the trouble to hire an out-of-work mathematician to check the text for things of this sort. I presume this means that they assign a very low value to the reputational damage associated with such errors; though of course it might also be hard to find a technically-competent proofreader who would see how to correct the flubs without disturbing the problematic substance."
But in my heavy-handed fundamentalist way, I decided to check the version of the piece in the New Yorker ("Blowing Up", April 22, 2002). And to my surprise, I found that the New Yorker (at least in its digital archive) spelled the term correctly: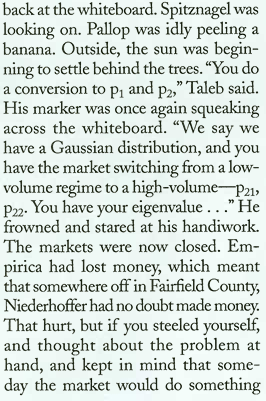 So now I'm puzzled. Did some copy-editor at Hachette introduce the error? Was the mistake in Gladwell's draft, transferred uncorrected to Hachette despite having been fixed at the New Yorker? Did the New Yorker's editors read Pinker's review and retroactively fix Gladwell's 2002 essay in their archives? Inquiring minds want to know.
[In an unironically mock-Gladwellian spirit, I can't resist citing Thomas Pynchon's character Dr. Dudley Eigenvalue, and other aspects of Pynchon's vectorial poetics. See this discussion preserved at pychon.com, and  Hanjo Berressem's paper  "A multiplicity of critical eigenvalues".]
[Update — there are some amusing comments over at the Quantum Pontiff…]
---