« previous post | next post »
Sign on the front door at the Taitung County District Prosecutors Office in Taiwan (via Kerim Friedman):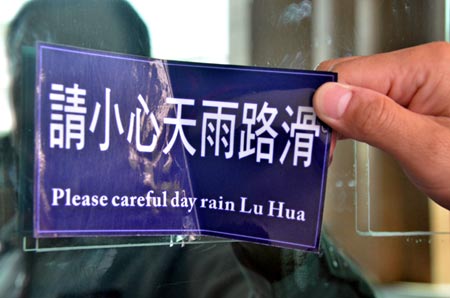 This is from an article in Want China Times (4/21/15):
"Taitung prosecutors indicted for crimes against English"
qǐng xiǎoxīn tiānyǔ lùhuá 請小心天雨路滑
("please be careful on rainy days [since] the road becomes slippery" > "slippery when wet")
The article correctly points out that English is the lingua franca of Taiwan. The overall level of English in Taiwan is indeed impressively high, so much so that it is often mixed in with Mandarin or Taiwanese when people are speaking. Consequently, this sort of thing doesn't happen very often (in comparison to other places where mangled English is rampant). And, when it does, people usually (but not always!) catch the blunder quickly and make a fuss over it, as in this case.
---