« previous post | next post »
..of the nonsense about narcissism and pronoun counts? Probably not, but it should be.
I'm talking about Angela L. Carey,  Melanie S. Brucks, Albrecht CP Küfner, Nicholas S. Holtzman, Mitja D. Back, M. Brent Donnellan, James W. Pennebaker, and Matthias R. Mehl, "Narcissism and the use of personal pronouns revisited", Journal of Personality and Social Psychology, 3/30/2015:
Among both laypersons and researchers, extensive use of first-person singular pronouns (i.e., I-talk) is considered a face-valid linguistic marker of narcissism. However, the assumed relation between narcissism and I-talk has yet to be subjected to a strong empirical test. Accordingly, we conducted a large-scale (N = 4,811), multisite (5 labs), multimeasure (5 narcissism measures) and dual-language (English and German) investigation to quantify how strongly narcissism is related to using more first-person singular pronouns across different theoretically relevant communication contexts (identity-related, personal, impersonal, private, public, and stream-of-consciousness tasks). Overall (r = .02, 95% CI [−.02, .04]) and within the sampled contexts, narcissism was unrelated to use of first-person singular pronouns (total, subjective, objective, and possessive). This consistent near-zero effect has important implications for making inferences about narcissism from pronoun use and prompts questions about why I-talk tends to be strongly perceived as an indicator of narcissism in the absence of an underlying actual association between the 2 variables.
And those "strong perceptions" are not just the territory of professional liars like George F. Will — look at the contortions that a crew of psychologists go through to try to support preconceptions about the Narcissism of Kids Today, by reference to pronoun usage in song lyrics over time: "Lyrical Narcissism?", 4/9/2011.
From the cited Carey et al. paper, a lovely scatter plot of the empirical relationship between various measures of Narcissism and first-singular-pronoun rates in various sorts of material: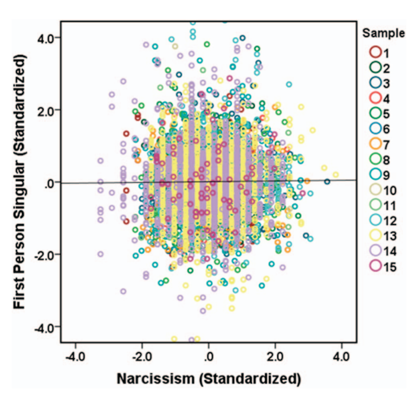 ---