« previous post | next post »
This is a quiz.  It's a short, pop quiz, but the post is going to be very long.
1. In what language is the title of this post written?
2. What does the title mean?
Let me say that I have never formally studied this language, but I took one look at the sentence and I knew immediately what it meant and what language it is.  It's not a European language, but all three of the words in the sentence are familiar to me because I've studied so many relevant languages that the cognates just leapt out at me.
I wonder how many Language Log readers who are not already familiar with this language had a similar reaction looking at the title.
The last word reminded me of German "ist" and Latin "est".  The second word is very close to Hindi and Sanskrit words I knew for "sugar", and even to "sugar" itself.  The first word is undoubtedly known to everyone who is news literate.
I was intrigued that the word for "sugar" appears to be the same in so many languages, so that got me wondering where it originally came from.
Back in February, I read this article by Elon Gilad in Haaretz (2/12/15):
"Arabic words in English you didn't even know you knew"
Algorithm and sofa, candy and apricot, algebra and zero, and so many more are actually Arab migrants.
It's precisely because there are so many words of Arabic (and Hebrew) origin in English that the editors of The American Heritage Dictionary of the English Language decided to include an appendix of Semitic Roots to complement their famous appendix of Indo-European Roots:
"The American Heritage Dictionary of the English Language, 5th edition"  (11/14/12)
"Ur-etyma: how many are there?"  (7/6/14)
Gilad is right to stress how many English words of Arabic and Persian derivation go back to Sanskrit, but he misses some of them, including "sugar":
late 13c., sugre, from Old French sucre "sugar" (12c.), from Medieval Latin succarum, from Arabic sukkar, from Persian shakar, from Sanskritsharkara "ground or candied sugar," originally "grit, gravel" (cognate with Greek kroke "pebble"). The Arabic word also was borrowed in Italian (zucchero), Spanish (azucar, with the Arabic article), and German (Old High German zucura, German Zucker), and its forms are represented in most European languages (such as Serbian cukar, Polish cukier, Russian sakhar).
Online Etymology Dictionary
The intricate intertwining of Sanskrit, Persian, and Arabic led me to contemplate how great a contribution each of these languages had made to each other and to Central Asian, European, and other languages.  I was especially interested in Persian, because, when I was studying Uyghur, I was amazed at how many words of Persian derivation it contained, and I had the same experience when I was learning Hindi-Urdu.
Above all, these reflections took me back to the first four sentences of Nepali that I learned during Peace Corps training.  I'll never forget them.  During the whole summer in Columbia, Missouri, as we were learning Nepali, not a single word of English was ever used in the classroom.  In fact, most of our teachers didn't know any English.  This was truly total immersion, right from the beginning.
When we learned these first four sentences, the teacher held up the appropriate objects:
1. (showing a pen)
a. Yo ke ho?
b. Yo kalam ho.
2. (showing a book)
a. Yo ke ho?
b. Yo kitab ho.
3. (showing a piece of paper)
a. Yo ke ho?
b. Yo kagazh ho.   (not sure of the spelling)
By the second sentence, I already knew that "ke" must be an interrogative word cognate with "que", which I knew from Spanish, French, and other languages, and "yo" must be some sort of demonstrative pronoun.
During those lessons, I wasn't even thinking in English, so didn't translate the sentences at that time, but will do so now:
1.
a. What is this?
b. This is a pen.
2.
a. What is this?
b. This is a book.
3.
a. What is this?
b. This is paper.
What was striking about all three of those substantive Nepali nouns is that they came from Arabic and Persian (must have something to do with technologies of literacy).  In an effort to get a rough idea of how many words from Persian there are in various languages, I asked several of my colleagues who are specialists in these languages whether they could tell me approximately the proportion of words in them that were borrowed from Persian.
From Richard Foltz, a specialist on Iranian religion:
The percentages are very rough because it differs according to the register — spoken or written, scholarly or popular, etc. They say 70 per cent of Persian vocabulary is Arabic (and similiar for Perso-Arabic in Turkish, Urdu, Uzbek, etc.), but whose vocabulary? A pompous mullah's speech might be 90%, while an ordinary conversation among friends could be 80% pure Persian. Ferdowsi (940-1020) made a deliberate effort to eschew Arabic vocabulary from the Shah-nameh, and that is still considered the model for Persian speakers. Some nationalists today insist on saying "Parsi" instead of "Farsi", etc. In short, it varies dramatically from one speaker and one situation to the next. Hindu natiionalists in the 19th century made a forced effort to replace Perso-Arabic vocabulary in Hindustani with contrived Sanskritic roots (thus creating Hindi and Urdu out of what had previously been a single language), Ataturk did the same with Turkish and Reza Shah attempted it with Persian too.
Kalam and kitab are Arabic and kagaz I believe is Turkish (paper having arrived from the East).
From Brian Spooner, specialist on Persian:
1. [Persian borrowings in Arabic] Can't give you the percentage, but it's low, and mostly very early borrowings, pre-Islamic, like divan, which eventually became the French douane.
2. [Central Asian Turkic languages] Uzbek is full of Persian.  Uyghur and others I think less, pretty certain, but don't know for sure.  I think the reason is that the more a language is written the more Persian it borrowed; the more colloquial, the less it borrowed.
3. [Hindi-Urdu] Again I can't give you a percentage.  But written Urdu is basically Hindi syntax with Persian vocabulary.  Again written has more Persian than spoken.  But even spoken (Hindustani) has an amazing amount of Persian in it, sometimes difficult to recognise.  For example, in Hyderabad (AP) a few years ago I found that in order to get my tea without sugar from a stall I had to say ba-gar shakar ka–a mixture of Persian, Arabic and Hindi!
4. qalam and kitab are Arabic; kaghaz is Persian.
From Jamal Elias, a specialist on South Asian religion:
I don't know whether Persian took "shakar/shakr" from another Indo-Iranian language or whether it borrowed it backwards from the loan word used in Arabic, "sukar". My guess is the former. Persian has another word for sugar/sweet, "qand" which is cognate with "candy".
1 – 3. I can't say about percentages. There is very little recognizable Persian vocabulary in Arabic. The bulk of what has been borrowed in the classical/literary language is from the early Persian of Islamization and perhaps earlier, so it's Avestan mostly, with some Soghdian, etc although I don't know the trajectory by which those words would have entered (i.e., through Avestan or through vernaculars). Examples would be the word "kaghaz" for "paper" which you have below. It's used in Arabic sometimes, and it's spelled in Persian using a peculiarly Arabic "z". There are more colloquial loan words in Arabic which mostly come during the Ottoman period; as such, they are borrowings from Turkish, which happens to have Persian vocabulary.
The proportion of Persian is much higher in Central Asian Turkic languages, Urdu and western Turkish. In the case of Urdu, the majority of compound verbs are Persian and there tend to be two words for most things, a "high" word which is Persian and an "ordinary" word which is Indic vernacular. It's very much like English and the Norman-Saxon division. The same holds more or less true for Turkish, or, to be more accurate, did so until language reform in the 20th century.
Three things to bear in mind:
(a), the Persian in question is the literary language of the 12th-16th centuries which also served as the lingua franca during that period in the cultural zones you mention. This was/is the language of Khurasan (Asiatic Persian of northeastern Iran, Afghanistan, northern Pakistan, Central Asia, etc), not the language of the Persian Gulf and the Caucasus (Shiraz, Isfahan, Hamadan, etc). The latter dialect came to dominate Iran in the modern period, such that the meanings of words can be different between modern Iranian Persian and the loan words in the other languages, which often share the premodern meaning of the word.
(b) Something similar holds true concerning Arabic vocabulary in Persian vs in Arabic; and other languages often borrowed Arabic vocabulary through Persian as Persian loan words. Things are different in the modern period.
(c) There has been conscious and unconscious language engineering in all the languages in question. Ottoman Turkish tried to replace Persian vocabulary with Arabic in the 17th-19th centuries, and modern Turkish has "Turkicized" by trying to replace Arabic and Persian vocabulary. Modern Central Asian languages are chock full of Russian vocabulary, to the point that the Tajik speakers I've met cannot speak Persian without using Russian. Modern loan words in Urdu tend to be English, and national "Islamization" has resulted in many Persian words being replaced by Arabic equivalents.
Among other things, the difference between Hindi and Urdu is one of political consciousness. What makes them different from each other (aside from script) is the choice of Hindi to emphasize a Sanskritic Hindu vocabulary and of Urdu an Arabo-Persian Islamic one. As such, Hindi has much less Persian than Urdu, and it gets less and less every day as Hindi rids itself of remnants of its pre-modern Islamic connection.
4. Of those three nouns beginning with "k" that you learned in Peace Corps training, "kaghaz/kagit etc" is Persian, the other two are Arabic.
From Roger Allen, specialist on Arabic literature:
Of those three words, kalam and kitab are unequivocally Arabic in origin.  Kagach is Persian.
There are indeed some Persian words in Arabic, but there are many more Arabic words in Persian.  Actually–as in Turkish during the regime of "Ataturk"–there was a move to eradicate the strength of the Arabic presence in Persian during the reign of the Shah–who was anxious to downplay the Islamic element and emphasize his (completely phony) ancient Iranian ancestry, but, with the return of Imam Khomeini in 1979, the Arabic element was again enhanced, as an "Islamic" gesture.
From Leopold Eisenlohr, a specialist on Persian, Arabic, Turkic, and Chinese:
Sugar as a word looks like it enjoys a long history of popular etymological theories, even including that the word came originally from Chinese as shazhe or shache (砂?) and from there became the Indic word śarkara. I have no idea where that comes from, but I've seen it a few times.
As for sarkara itself, in the meaning of 'gravel, sand particles' it is attested by Monier-Williams in the Śatapaṭha Brāhmaṇa, which represents the language of the 8th-6th centuries BC, and the Kātyāyana Śrauta Sūtra which is much later, Kātyāyana having lived sometime between the 4th and 6th centuries CE. In the meaning of 'sugar,' the attestations are Kāvya literature in general (this style began in the 1st-2nd centuries CE) and the 6th century polymath Varāhamihira's encyclopedic work the Bṛhat-Saṃhitā. I am including Monier-Williams's entry for the word śarkara as well as the entry which includes the word 'sugar' from Ali Nourai's Etymological Dictionary of Persian, English and other Indo-European Languages.  (see images copied below)
As you can see, Ali Nourai derives the word from IE korkâ. I did not know that crocodile means "pebble worm." I think some more specific information about what kind of sugar this could have been would be needed. I know that the Bengali word for sugar is chini, which I always assumed means "Chinese," but apparently it refers to white Chinese porcelain, and is used for refined white sugar. I don't know if that word is used in other Indic languages.
The other questions are complicated and I will try to answer them in a separate email to come a bit later today. Quickly, I will say that qaghaz is Turkic, meaning something like 'treebark,' and has been described as a borrowing from Chinese guzhi (I don't know the characters), apparently even by the great Annemarie von Gabain. I am still trying to locate this citation. Forms of the word appear in Turkic as kaġad, kaġïd, kägädä, kägdä, qaġat, qaġaz. Qalam is related to Greek kalamos, Latin calemus, and Sanskrit kalama, all from IE, originally meaning a kind of reed which was used for writing.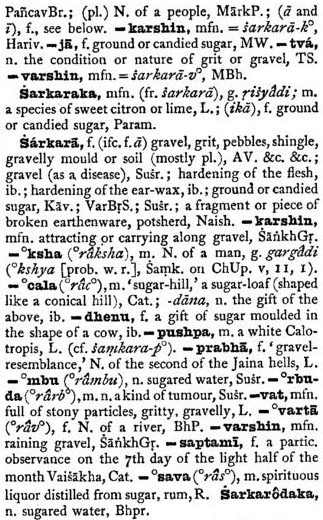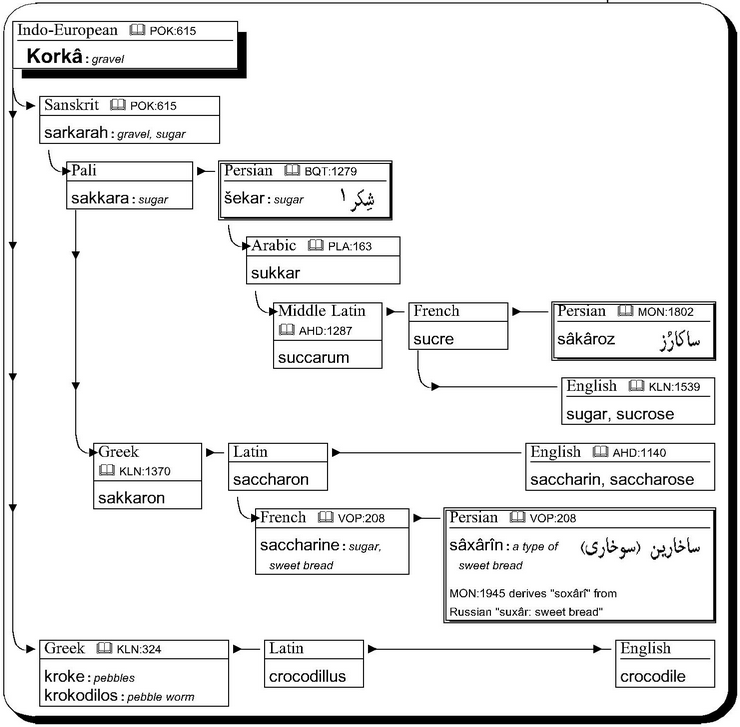 For the record, Nourai specifically notes that qaghaz does not come from guzhi. We need an Indo-Europeanist to give a definitive opinion on Nourai.
I'll just add a few statistics here about vocabulary.
For Uyghur, one source I have seen reference to is E.N. Nadjip's 1971 Modern Uigur. Abdurishid Yakup in The Turfan Dialect of Uyghur used Nadjip's data, collected in newspapers in 1944, for analyzing the makeup of the Uyghur lexicon. Essentially they say that about 41% of the sample were Arabic and Persian words, with 33.5% being "Arabic" and 7.5% being "Persian." However, as Reinhard Hahn writes in his entry for Uyghur inThe Turkic Languages, most Persian words reached Uyghur through Chaghatay and Iranic literature as well as in urban trading centers of Central Asia; a lot of them were  loanwords from Arabic and they had already been subjected to all the phonological mutation of adapting Arabic to Persian. Whether they can be called Persian or Arabic at that point would, I think, be a philosophical decision, since speakers probably didn't think about their word histories any more than modern English speakers do actively during conversation. I have had the experience many times of belatedly realizing an Uyghur word is ultimately from Arabic, since by this point it has been spit out of the Inner Asian word processor many times. Like the word vapat, "death" – took me a while to make the connection with Arabic wafāh. There is also a layer of words in Uyghur that come directly from Arabic religious texts. I think it makes sense that Uyghur speakers were more in contact with Persian speakers and therefore adopted what they would have thought of as Persian words. There may also be a more trustworthy source than Yakup and Nadjip.
I wrote a paper for Dr. Lowry about the treatment of foreign vocabulary in Sibawayhi's Kitab, one of the earliest Arabic grammatical works (which I suspect has a Sanskrit influence in its composition), where Sibawayh gives an excruciatingly detailed method for arabicizing foreign words so they can inflect using Arabic rules. It was a controversial issue whether there was any non-Arabic vocabulary in the Qur'an; of course, there is, including many of the names. As for the percentage, I haven't found a definitive answer. It's difficult to prove whether Arabic words are ultimately from Persian unless they are also attested as borrowings in Aramaic which was the lingua franca of the Lakhmids, who were important early intermediaries between Persian and Arab culture. After the Islamic conquests, Arabs employed Persians in government since they had no experience with complex state structures, and many Persian words entered Arabic at that time (or became mu'arrabah, arabicized). One of the extremely interesting cultural movements from this time was called shu'ubiyyah – it was a Persian ethnolinguistic movement to assert the superiority of their cultural heritage over the "lizard-eating, camel-driving-song-wailing" Arabs who suddenly controlled them.
I'm not sure about Urdu/Hindi, but Urdu is intensely Persianate. It even adopted the Persian morphological/syntactical structure for subordination called ezafe. In Hindi, you use kaa/ke/ki depending on the gender. It works like this: punjab kaa sher (Punjab / [subordination particle] / lion) = "the Lion of Punjab;" But in Urdu they tack on -e or –ye like in Persian and say sher-e punjab, also meaning "the lion of Punjab."
From Hiroshi Kumamoto, specialist on Khotanese:
The etymology of Skt. śárkarā- is "schwierig" according to Mayrhofer, EWA II 618.
 قلم qalam is from Arabic (verbal root "to cut", presumably "reed cut for writing") as well as the well-known کتاب kitāb from the verbal root "to write".  For  کاغذ kāγaẕ "paper", the thing being of Chinese origin the etymology of Laufer (Sino-Iranica 557ff.) sounds right to me (although there may be other proposals that I'm unaware of). It is not certainly Arabic (whose normal word for "paper" is  ورقwaraq ), nor is it found in Pre-Islamic Middle Persian, although it is found in the Shahnameh (via one of Central Asian Turkic languages?) which is said to have purged the Arabic elements in the vocabulary as much as possible.
k'γδy' ("paper"), with the final aleph after -y-. The -y' part is later dropped while the word traveled through languages and a vowel inserted betweenγ and δ. In any case there is no good Iranian etymology for such a form. It occurs in a Turco-Sogdian document from Dunhuang (9-10c.) which is nearly contemporaneous with Ferdowsi; see Hamilton/Sims-Williams 1990, 48, for other examples in Sogdian as well as Iranological speculations.
Going back to the beginning of the post, the meaning of the title, which must be painfully clear by now, is "Persian is sugar" and the language, of course, is Persian.  This sentence caught my eye as the heading of a flyer for an Elementary Persian course to be taught at Penn in the fall.  The poster had this explanatory paragraph:
An Indo-European language, Persian (aka Farsi, Dari, and Tajiki) is spoken by over 100 million people in Iran, as well as Afghanistan and Tajikistan.  Proficiency in this critical language is the key to unlocking access not only to an emerging market, but also to a cultural treasure trove of literature, cinema, music, and much more.
Here's the sentence in the current orthography of the language:  فارسی شکر است .  It comes from a short story writer from the middle of the last century, Mohammad-Ali Jamalzada (1892-1997).
[Thanks to Wilma Heston]
---