« previous post | next post »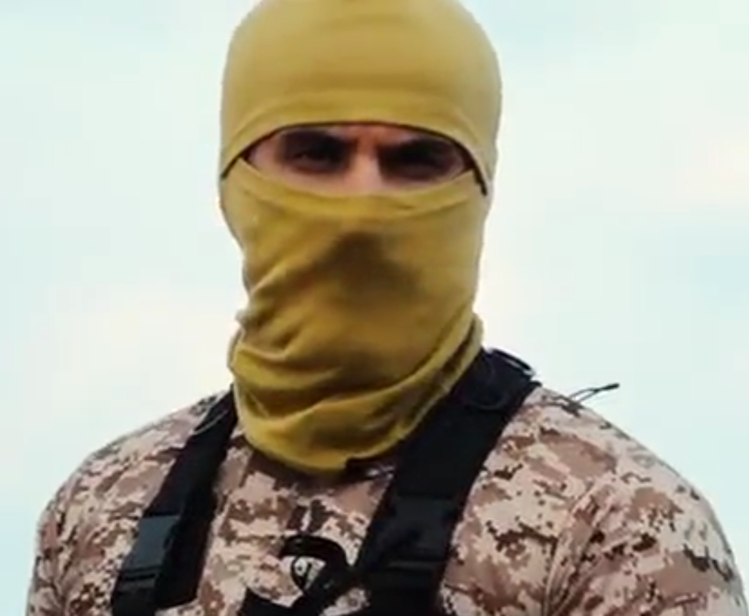 There's been a certain amount of discussion in the media about the accent of the ISIS spokesman on the video showing the mass beheading of Egyptian christians on a beach in Libya, e.g. on ABC News here. But the video itself has been kept off of the internet, for obvious reasons, which limits the opportunity for crowdsourcing perceptions of the audio. So here is his opening statement:
And the shorter statement that he makes after the gruesome beheadings:
It's obvious that the speaker is a native speaker of some other language, who learned English in an American context. What about his pronunciation of Arabic? One Arabic scholar expressed the opinion that "the Arabic pronunciation sounds native to me, and his English accent sounds typically Arabic", adding that:
The Arabic phrases don't really give you much to go on, but I'd make a cautious judgment that whoever this guy is, he's not from Libya. This is because: 
(1) In most of the English, he pronounces voiced interdentals as stops, whereas this sound is distinctively present in Libyan and Tunisian (also Bedouin Gulf) Arabic. He does, however, use something like an emphatic voiced interdental in 'wi[th] your blood', so maybe this is reading too much into it.
(2) In 'Dabiq', he clearly pronounces the q as a (perhaps glottalized?) uvular stop, which is typical of about half of all Arabic dialects, but not Bedouin-type dialects (including all of Libya) or urban Egyptian/some urban coastal Levantine. That said, it's the standard pronunciation, so this may explain it without any dialect. If the uvular stop is glottalized, and it does sound pretty far back, it might point to a Levantine or Palestinian origin.
His vowels also have some noticeable features, which also are vaguely suggestive of a Levantine accent. The long /a/ (in 'Sham', 'Dabiq', 'Osama', and 'Laden') is on the fronted side, and there is moderate imala, raising of final /a/, to about epsilon in 'jizy[a]'. The stereotypical Shami dialect has /e/ or /i/ there, and imala is also found to some degree in other dialects, but it's most widespread in the Levant. Iraqi Arabic also tends to have a further back long /a/ (at least Baghdadi), so he's probably not from Iraq.
Another knowledgeable person expressed the opinion that the speaker is a native speaker of Arabic, probably from the Gulf.
---