« previous post | next post »
Felix Sadeli sent in this list of colossal mistranslations of food names. We've already seen several of these and explained a number of them on Language Log:
Here I'll just give brief explanations for four of the droller items in Chinese and Japanese on the list.  Perhaps Language Log readers will be inspired to follow suit for some of the remaining items, especially those in other languages.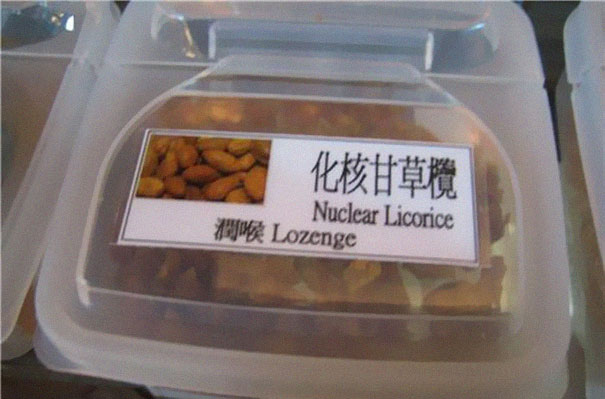 There's quite a story to this one.
huàhé gāncǎo lǎn 化核甘草欖
As printed on the label, this is impossible to translate into intelligible English.
Let's take care of rùnhóu 潤喉 first, because that's the easiest part.  It means "moisten throat", which is what the "lozenges" in the bin are supposed to do.
gāncǎo 甘草 (lit., "sweet grass", i.e., "licorice"), which is the main flavoring in the lozenge
So far, so good, but now things start to get difficult.
lǎn 欖, being a bound demi-morpheme, normally doesn't mean anything by itself; it is short for gǎnlǎn 橄欖 ("olive")
There are hundreds of disyllabic words in Sinitic languages (e.g, those for "coral", "spider", the so-called "unicorn", the so-called "phoenix", "dragonfly", "balloon lute [biwa / pipa], and "grape"), some going back two thousand or more years, of which the individual characters by themselves have no meaning.  Some of these must have arisen through dimidiation to cope with particular consonant clusters that didn't exist in Sinitic at the time of borrowing, while others may have been more or less straightforward attempts to transcribe the salient sounds of the words being borrowed.  Particularly when there are several or many different sets of characters for writing one of these disyllabic words, I strongly suspect that they have been borrowed from non-Sinitic languages.  I'm sure, for example, that such is the case with the words for "coral", "grape" and "balloon lute", all of which come from Iranian languages.  If I had world enough and time, tracing the origins of such disyllabic Sinitic words would be the consuming passion for the rest of my life, since I believe they would provide a tremendous amount of vital data about the development of Chinese language and culture.  Alas, there are other essential things to do, such as teach classes and write Language Log posts on a much wider variety of subjects concerning Chinese languages and script.
In any event, for as long as I have been studying Chinese (nearly half a century) and first learned the word for olive, I have always suspected that it was a loan word.  Consequently, I filed it away in the back of my mind as a topic to study later on when the opportunity arose.  Given that I am writing for Language Log today, I should do my best, within the time constraints under which I operate, to explain where the word gǎnlǎn 橄欖 ("olive") came from.
Although I haven't done thorough research on this subject, my summary findings at this point are roughly what I thought they would be, except for one big surprise.  First of all, I expected that gǎnlǎn 橄欖 would have come from some Southeast Asian word, since that is where Asian olives grow in abundance.  The word also has a Southeast Asian ring to it, as do other Chinese words that were borrowed from that region, such as the word for "betel" (ultimately from the Malayalam word vettila, or perhaps verilla), bīngláng 檳榔, which is linked with pinang, the Austronesian term for areca (also from Malayalam aṭaykka) nut.
Bear in mind that the word gǎnlǎn 橄欖 has been in Sinitic since at least the 3rd century AD and that, as one would expect for such a borrowed word, it may be written with different sets of characters:  e.g. gǎnyǎn 橄棪, gélǎn 葛[竹+覧], etc.  The Middle Sinitic reconstruction of gǎnlǎn 橄欖 was roughly kam-lam, the Old Sinitic reconstruction of gǎnyǎn 橄棪 was something like *kamriam and the Middle Sinitic reconstruction was something like kam-jiɛm, while the Middle Sinitic for gélǎn 葛[竹+覧] would have been approximately kat-lam.  (Cf. Shǐ Yǒuwéi 史有为, Yì wénhuà de shǐzhě — wàiláicí 异文化的使者 — 外来词 [Ambassadors of foreign culture == loan words], 1991, p.81.)
In short, I think that Mandarin gǎnlǎn 橄欖 may derive from an old Austronesian word whose reflex we see in Malay kĕnari ("Java almond"). What is surprising is that the scientific botanical species name for the Asian olive is Canarium, which comes from the same Malay word + New Latin -ium.
Well, that's all I have time for now on the matter of the etymology of gǎnlǎn 橄欖.  Perhaps someone else can make my preliminary investigations more precise.
Now, moving on to the real troublemaker, what can we do with huàhé 化核?  Let's just admit up front that it's an error.  [Update: This is incorrect; see in the comments below.]  It probably happened because the person who typed the Chinese was thinking of an olive as having a "pit", and somehow that went "nuclear" (hé 核 has both of these meanings and many more) and that got them thinking in chemical terms, so they typed huà 化, which is the first character of the Chinese word for "chemistry", viz., huàxué 化学.  But what they really were thinking of was huàké 化咳 (lit., "dissolve cough", i.e., "cough suppressant"), which is more often written as zhǐké 止咳 (lit., "stop cough").
For gāncǎo lǎn 甘草欖, Google Translate has "Airplane olive", while the other main online translation services offer only gibberish.  Google Translate's "Airplane olive" itself sounds very strange, but I gave them the benefit of the doubt and thought maybe it's because airlines hand them out on planes (I've actually had things like that given to me on Chinese airplanes).  But it turns out that Google Translate is right on the mark, since this type of lozenge / snack got its name from the habit of street vendors throwing them up to people who would drop money from balconies or open windows.
You can read about these "airplane olives" in English, Cantonese, and Mandarin.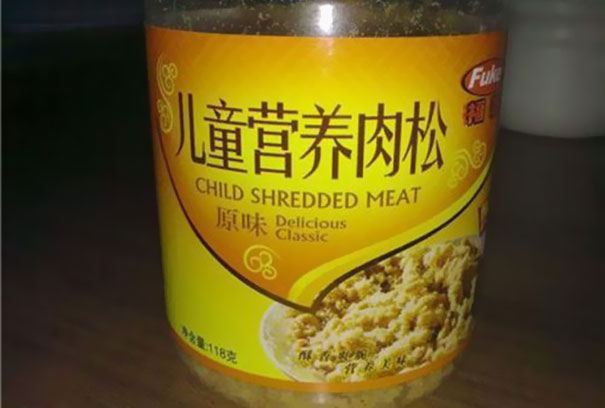 This next one sounds gruesome, but it is very easy to deal with:
ertóng yíngyǎng ròusōng 儿童营养肉松 ("children's nutritional dried meat floss")
yuánwèi 原味 ("original flavor")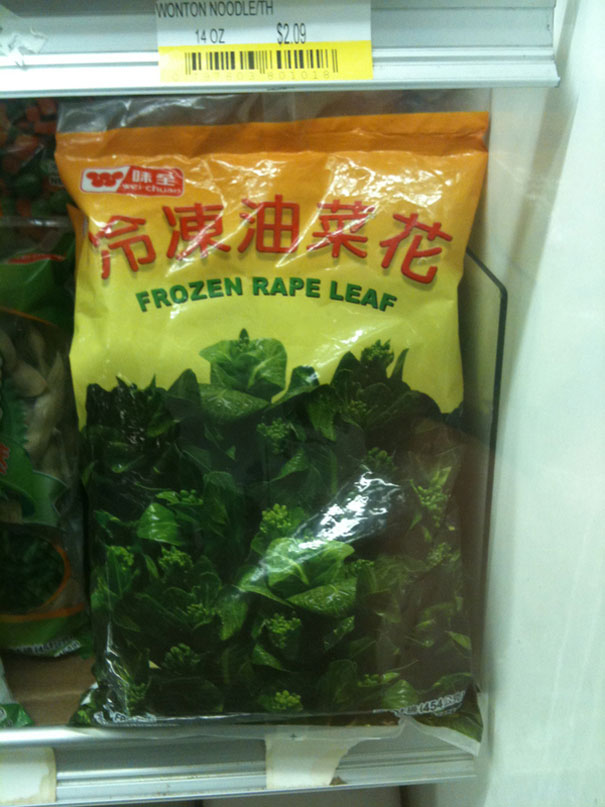 This one also sounds awful, but is rather straightforward:
lěngdòng yóucài huā 冷凍油菜花 ("frozen canola / cole / rape flowers")
The English "leaf" perhaps more accurately describes the contents of the package, but if you look carefully, you can see that the florets are definitely included.  Cf. the lěngdòng yóucài huā 冷凍油菜花 ("frozen canola / cole / rape flowers") on Google Images.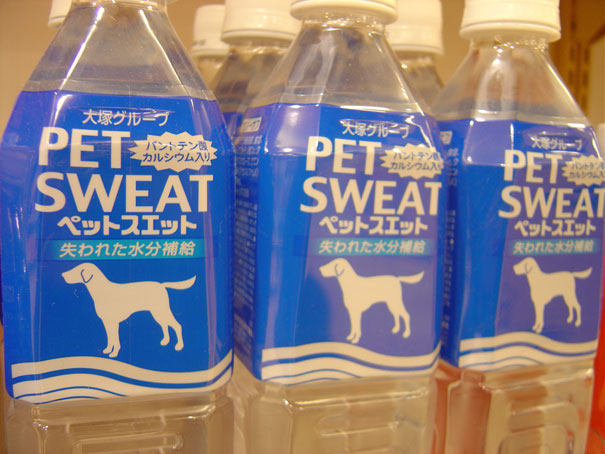 Anyone who has lived in East Asia and Southeast Asia will be familiar with the drink known as "Pocari Sweat". I've drunk a few bottles myself, and mentioned it in the "Puke" post (see above).
When I first looked at the "Pet Sweat" bottles, I wasn't sure if this new drink was for humans or for pets.  Some of my Japanese friends weren't so sure either:
I have no idea!
It doesn't say it's for human beings.
It just says PET SWEAT and ペットスエット [VHM: pettosuetto] as you can see.
And "supply lost water (in your body)" and the picture of the dog.
If it's for human beings, it's a stupid ad because I wouldn't want to drink a sport drink that features a dog! It's very unappetizing.
——-
I think this is for pets, probably for dogs because of the picture on the bottle, but it doesn't say so anywhere (at least from this angle).
My younger Japanese friends, on the other hand, were more certain that it's for dogs and cats.
Nathan Hopson provided this long and detailed disquisition on "PET SWEAT":
Pets. Definitely.
This is a product made by the Ōtsuka Group, purveyors of long-selling Pocari Sweat.
A Google Image search is enough to conclude that the product is "to replenish lost fluids," and "delivers fluids and minerals quickly with an electrolytic balance close to that of pets' [internal] fluids." What's more, it's good for pets' skin and, because it's made with oligosaccharide, their tummies, too. Oh, and good for a few cheap laughs, too, of course.
BTW, in looking through those cheap laughs, I came across this blog, and the laughter faded.
Japanese companies almost never get their English product branding and labelling right… Pet Sweat appears to be produced by Otsuka Group subsidiary Earth Biochemical Co., Ltd., which markets pet products under the slogan, "A beautiful communication with pets." Given the poor quality of the English on the company's website, perhaps it gives more priority to communicating with animals than with people.
Ha ha. Actually, Japanese marketers interested in selling their wares domestically give more priority to communicating with Japanese than with other people. The (culturally imperialist? simply myopic?) assumption of the translation blog that naming choices like Pocari Sweat and Pet Sweat represents the "stubbornness, mistrust, and arrogance… from working in the self-contained bubble of Japan's mass media" and not that marketers' customers inhabit that self-same "self-contained bubble" is irksome. Marketers are smart people who study their audiences. Failure to understand the difference between domestic and international products before ridiculing them is unfair and narrow-minded.
This image of a "Soft France Sand" is a perfect example. It is a sandwich (abbreviated "sand" or サンド [sando]) on soft French bread (フランスパン [Furansu pan]). The product is intended entirely for the Japanese domestic audience, for whom this makes perfect sense. I was explaining to my mother during her recent trip to Japan that the "English" she saw around her was not intended for her. She wasn't convinced until we passed a restaurant selling "soft France sands." If it doesn't make sense, chances are it's not English, it's rōmaji, and it's not meant for us gaijin. Exactly why rōmaji is "a thing" (and I feel that more and more when I see simple transliteration of Japanese into rōmaji, but have no data to back this up) is a different question, but one that surely has a complex and multifaceted answer.
Another couple examples, from my Instagram account:
"Style Free" beer. My wife guesses this probably means that with this sugar-free (糖質ゼロ [tōshitsu zero]) beer you are "free" to maintain your "style," which can also mean a svelte and attractive body in Japanese. Sure, why not. This reminds me of the "Dog Free Cafe" I saw once many years ago — you were "free" to bring your dog. Wish I had a photo… In any case, it's a creative use of the language available.
"Poo" salon. Just down the street from Medousa salon, which might actually be tongue-in-cheek humor.
BTW, sifting through Instagram I came across this gem from Thailand that I had meant to share with you (maybe I did?): Star Back Cafe
That Star Back Cafe in Thailand really has chutzpah:  it's right next door to a genuine Starbucks!
[Thanks to Geoff Wade, Cecilia Segawa Seigle, Hiroko Sherry, Fangyi Cheng, Rebecca Fu, Miki Morita, and Jing Wang]
---