« previous post | next post »
Commenting on a post about Dilbert's take on "the vacuous way managers speak", Garrett Wollman wrote:
I remember, or at least think I do, when "low-hanging fruit" was not yet vacant managerese. Is there any epidemiological data to suggest when this transition occurred?
I'm not convinced that "low-hanging fruit" is accurately described as "vacant managerese" even now. But let's leave that point aside while we consider the epidemiological data on the rise of this cliche among all classes of users, which suggests an index case in the late 1980s, with the main contagion starting in the mid 1990s: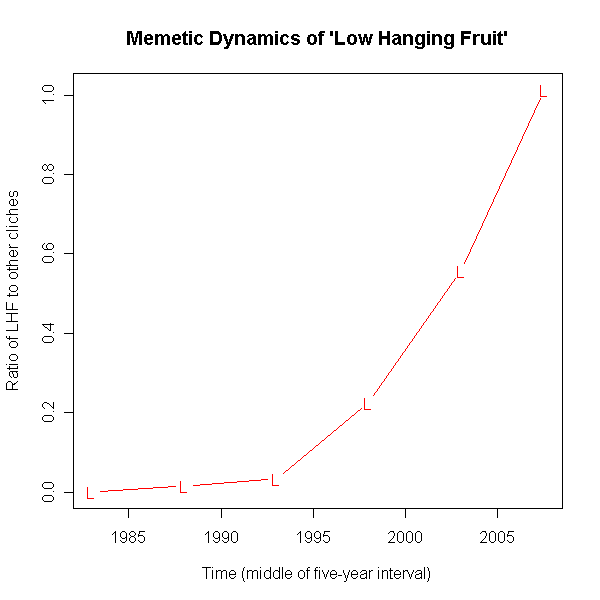 This graph is based on data from the New York Times archive, and is derived from the counts in the following table, which tracks occurrences of "low-hanging fruit" and four other cliches, namely "easy pickings", "shooting fish in a barrel", "easy as pie", and "a piece of cake":
| | | | | | |
| --- | --- | --- | --- | --- | --- |
| TIME | LHF | EPick | SFB | EPie | PCake |
| 1981-1985 | 0 | 23 | 4 | 11 | 72 |
| 1986-1990 | 2 | 17 | 11 | 6 | 90 |
| 1991-1995 | 4 | 33 | 15 | 5 | 67 |
| 1996-2000 | 34 | 34 | 21 | 12 | 84 |
| 2001-2005 | 74 | 32 | 16 | 7 | 78 |
| 2006-2009 | 78 | 14 | 17 | 5 | 41 |
In order to correct for possible changes in number of words indexed per time-period, I've added up the counts for the four other cliches, and graphed the ratio of "low-hanging fruit" to that sum. Obviously, in this case, a graph of the raw LHF counts would show a similar pattern.
Garrett added:
I also remembered when other geeks recommended Malcolm Gladwell's The Tipping Point to me, which now seems to be exclusively marketed to management types who understand it not.
The "marketing types" here at Penn are Wharton students, whose level of technical understanding is second to few, I think.  (Though I certainly recall from my years in industry that developers viewed "marketing types" as being an especially clueless subspecies of "suits", less actively evil than finance types, but stupider.  I'm sure that the feelings were reciprocated, mutatis mutandis.)
But in any case, since Gladwell's book was published in 2000, well into the spread of the LHF epidemic, I don't think that he deserves either any blame or any credit for the process.  Another clue to his innocence is the fact that the string "low-hanging fruit" (with or without the hyphen) doesn't occur anywhere in the book. (Nor, for  that matter, does "at the end of the day"…)
[Note — the OED's earliest citation is
1990 N.Y. Times 16 Aug. D1/3 We've picked all the *low-hanging fruit when it comes to fuel efficiency.
That's indeed the earliest citation in the NYT's archive. It's not hard to back that up by a bit, e.g. Brenton Schlender, "Some U.S. Makers of Semiconductors Are More Optimistic", WSJ 2/17/1987: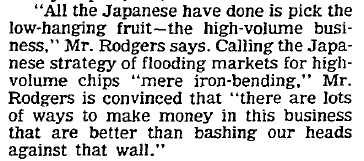 I expect that (figurative) examples can be found from several years earlier — the phrase in its literal meaning, of course, goes back hundreds of years. The earliest literal use I've found is from Adam Bede, 1859:
He could see there was a large basket at the end of the row: Hetty would not be far off, and Adam already felt as if she were looking at him. Yet when he turned the corner she was standing with her back towards him, and stooping to gather the low-hanging fruit. Strange that she had not heard him coming! perhaps it was because she was making the leaves rustle. She started when she became conscious that some one was near—started so violently that she dropped the basin with the currants in it, and then, when she saw it was Adam, she turned from pale to deep red. That blush made his heart beat with a new happiness. Hetty had never blushed at seeing him before.
But I think it would be surprising if there weren't earlier examples as well.]
[Update — Jesse Sheidlower sent in an earlier use as an explicit simile:
1968 P. J. Kavanaugh in _Guardian_ 12 July 6/3 His work is so appealing to me that I feel almost bashful praising it… He is gentle and stoic and simple, his rare images are picked aptly, easily, like low-hanging fruit, and though he appears to move short distances slowly he really moves far and fast.
Jesse's find suggests looking for even earlier active similes and metaphors, perhaps with slightly different wording, and indeed there are many. Thus Wilfred Scawen Blunt, Griselda (1914):
57   For we, in truth, were no wise company,
58   Men strong and joyous, keen of hand and eye,
59   And shrewd for pleasure, but whose subtlest wit
60   Was still to jest at life while using it,
61   And jest at love, as at a fruit low hung
62   To all men's lips, no matter whence it sprung.
Or George MacDonald, To Any Friend (1893):
9   At home, no rich fruit, hanging low,
10      Have I for Love to pull;
11   Only unripe things that must grow
12      Till Autumn's maund be full!
Or Dora Sigerson, My Darling (1893):
5   Oh, Life came over the meadows,
6      And the song of her coming was sweet;
7   The streams leaped joy-mad down the mountains,
8      Flowers bloomed 'neath her dawning feet.
9   The trees bent their branches fruit-laden,
10      So low as her soft hands' hold;
11   And the harvest rose up like an army
12      Of kings in their harness of gold.
Or Edmund Gosse, VIllanelle I (1879):
1   Wouldst thou not be content to die
2      When low-hung fruit is hardly clinging,
3   And golden Autumn passes by?
Or Herman Melville, Clarel (1876):
3919   Estranged, estranged: can friend prove so?
3920   Aloft, aloof, a frigid sign:
3921   How far removed, thou Tree divine,
3922   Whose tender fruit did reach so low—
3923   Love apples of New-Paradise!
OrAaron Hill (died 1750), Sareph and Hamar:
42      Refresh'd by sleep, he rose serene and gay,
43      And walk'd abroad to see the breaking day,
44   With dawning lustre, thro' the boughs, in trembling sallies play.
45      Where-e'er he pass'd, the golden fruit hung low
46      And dancing, wanton, bow'd to court his hand,
47      Proud of the native charms they had to show;
Or  Charles Goodall, To Mr. R. Smith of King 's Colledge in Cambridge (1689):
33   The barren Tree can in the Desarts spread,
34   And threaten Heaven with its luxurious head:
35   Whilst others low, and laden with their Fruit,
36   With bended Branches touch their very root.
Or Henry Reynolds' 1628 translation of Torquato Tasso's Aminta:
Being but a Lad, so young as yet scarse able
To reach the fruit from the low-hanging boughes
Of new growne trees; Inward I grew to bee
With a young mayde, fullest of loue and sweetnesse,
That ere display'd pure gold tresse to the winde;
In fact, you could say that LHF was a poetic cliche long before it came to be a cliche associated with any other group. And I wouldn't be surprised to find the metaphor in Homer, or the Bible.]
[Update #2 — Allan Jenkins at Desirable Roasted Coffee, who is definitely towards the censorious end of things linguistic, tells a cute story about this phrase:
At a conference in New York, an ad guy once asked me, "The Monkey Bar would be a stretch target for me if we have to meet at 8; isn't there some low-hanging fruit closer?" He's probably still wiping himself of spittle.
If I'd been there, the ad guy wouldn't have been in any danger of spittle-spatter, but he might have been puzzled or even offended as I  muttered something like "Wow; hold on a minute while I write that down."]</font>
---