« previous post | next post »
One of the most powerful pieces in the one-man exhibition of Chen Wen Ling now showing at Joy Gallery in Beijing 798 Art Zone is blandly entitled "What You See Might Not Be Real" in English, but the Chinese title is the raw and raunchy "FANG4PI4" 放屁 ("emit gas, break wind, flatulate, crepitate, i.e., fart [v.]"). Perhaps the artist didn't want to offend the linguistic sensitivities of potential foreign customers, but I must say that I much prefer to translate the title of the piece directly as "Fart," or, with a bit of license, as "Bull Fart" because the atomic cloud depicted by the artist is coming out of the anus of an enormous bovine.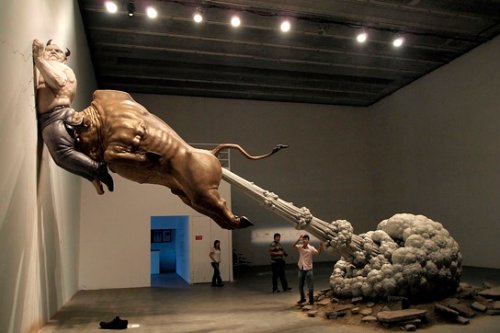 [This view comes from a story at Business Insider (Joe Weisenthal,  "Finally! Madoff Gets What He Deserves", 9/29/2009); other perspectives are available at ML Art Source and TPM.]
What we see in this impressive sculpture is a horned Bernie Madoff pinned against the wall by the rocket-propelled bull. Just from looking at the whole ensemble, it's pretty obvious what Chen is trying to tell us, but by entitling the piece "FANG4PI4," he invokes additional levels of scorn that are inherent in that term when applied to the words of others. Several of the blogs that have shown this piece claim that as slang FANG4PI4 implies "bluff" or "lie." Actually, it is more accurate to say that it means "talk nonsense," the idea being that one is comparing the words coming out of the mouth of one's opponent to a stream of farts.
Now, if one wishes to increase one's contempt for what one's opponent is saying, one may style his / her words as GOU3PI4 狗屁 ("dog fart"), as in this ringing denunciation: NI3 FANG4 GOU3PI4! (lit. "You are emitting dog farts!" = "What you say is nonsense / bullshit!"), although GOU3PI4 ("dog fart[s]!") shouted loudly by itself gets the message across clearly enough. This is an old expression that may be found as early as 1750 in the Qing Dynasty novel Rulin waishi (The Scholars). If you want to emphasize that what your opponent is saying is not only bullshit but is also completely incoherent, you may declare that it is GOU3PI4 BU4TONG1 ("dog fart not pass through").
If your adversary still does not give in to your withering denunciations, you may embellish them as follows (I shall only give a few of the possible varieties):
FANG4 GOU3CHOU4PI4 ("emit stinking dog fart[s]")
FANG4 NI3 MA1 DE 4PI4 ("emit 'your mother's' fart[s]")
FANG4 NI3 MA1 DE GOU3CHOU4PI4 ("emit your mother's stinking dog fart[s]")
However, one must be careful when one gets into the territory of "your mother's" whatever, since such characterizations are considered to be extremely vulgar and, as often as not, fighting words. We all remember the "Grass Mud Horse" phenomenon from earlier this year, and a lot more could be said about this most offensive of imprecations.
As for "bull," that is NIU2 牛, although I did mention in an early January post that "Happy NIU2 Year" was the most popular STM New Year's greeting in China this year, I have not yet found the time to explore the full range of nuances of NIU2 in current usage ("balls, guts, spunk, awesome, formidable," and so forth). Particularly when combined with "B," viz., 牛B (often written as NB), then we begin to combine all of the androgenic qualities of NIU2 with the estrogenous implications of what "mother's" refers to, resulting in an explosive combination. To do full justice to this aspect of NIU2 would require a modest (or perhaps I should say "immodest") treatise, one that I have not yet found the opportunity to compose. Someday.
[Hat tip to Benjamin Zimmer.]
---