« previous post | next post »
From Toni Tan: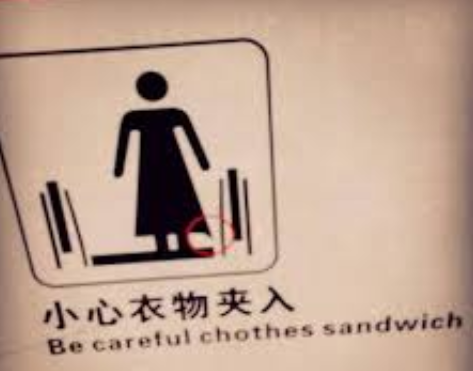 Having just written about hundreds dying in a sandwich press, I was afraid that the poor woman in the above picture was going to get sucked into the evil escalator and die.  But it's her clothing that she has to pay attention to:
xiǎoxīn yīwù jiārù 小心衣物夹入
("careful [not to let your] clothing [get] caught in [the escalator]")
The translation problem arises from the fact that jiā 夹 has the following meanings:  "press from both sides; lined (on both sides); place in between; carry something under one's arm; clip; clamp; folder; double-layered; sandwiched between; pick up (food with a pair of chopsticks); grip (a piece of iron with tongs)", etc.  Unfortunately, faced with such a plethora of possibilities, translators all too often pick "sandwich", maybe because they're familiar with it as a food term.
Cf. Victor H. Mair, "Phonosymbolism or Etymology: The Case of the Verb 'Cop'", Sino-Platonic Papers, 91 (January, 1999).  (free pdf)
---