« previous post | next post »
Earlier today, someone set up a Facebook account https://www.facebook.com/mark.liberman.121, with a version of my FB profile picture, and began communicating with people as if they were me. My actual FB page is https://www.facebook.com/mark.liberman, which I don't use much except to look at things that people tell me about.
This is apparently a phishing enterprise. The impostor asks people for their phone number and email address and postal address — at least one person gave them this much information — and eventually gets around to money.

There are two interesting things about this situation. The first is that Facebook's mechanism for reporting impostors is broken, in an interesting way:
(1) Anyone can report an impostor, but only the person being impersonated can make a claim that is likely to get action.
(2) Reporting an impostor is in principle easy — just click on the three dots at the right of the impostor's profile page, and follow the menu trail from there.
(3) But in this case, the impostor has blocked me, so that I'm unable to get to their profile page to perform action (2).
(4) I tried to report the impostor by pretending not to have a Facebook account, but the FB site immediately recognized this as false, and instructed me to use my FB account to perform action (2).
(5) I took more serious steps to hide my (FB) identity before reporting the impostor, but the FB site informed me sternly that they need a report from the person being impersonated, and closed the case.
(6) I clicked on the "reopen the case" link, and have gotten three successive messages telling me that I need to send them various pieces of information. Each time, I send the requested information, and get a response that says, essentially, "we're looking into it, but for us to do this we need you to send us the following information — which I just sent them in response to the two previous versions of the same message.
This must be a fairly common form of phishing — certainly it seems to be relatively successful — so you'd think that FB could deal with it in a way that is not so trivial for the criminals to defeat. I'll send updates as the situation develops (if it does).
The second interesting thing about about this case is that most of the people the impostor contacted — there are apparently about 40-50 of them so far — were not fooled. And in one case, the recipient became suspicious after getting a one-word message. Now that's text classification!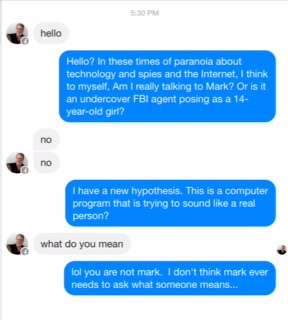 Here's a segment of another person's interaction, in which the financial aspect of the scam appears: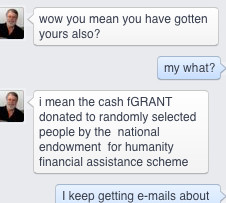 ---