« previous post | next post »
Prepositional phrase attachment is one of the hardest things for English parsers to get right: if I hit a man with a bag of groceries, was that bag of groceries the instrument of my action, or was it just something the guy was carrying when I attacked him?
And PP-attachment ambiguity is especially common in English-language headlines, since omitted forms of to be add additional ambiguous attachment points.
For example, Alex Barker, "EU reforms to break up big banks at risk", Financial Times 1/29/2015: Are the reforms at risk, or are the reforms on track to break up banks that are at risk?
And it might not have occurred to you that there's a third option, where "at risk" modifies the verb break up, as if the phrase were something like "EU reforms to break up big banks on Monday".
Both the Berkeley and the Stanford parsers choose that third option. And in addition, the Berkeley parser thinks that "reforms" is a verb rather than a noun:

The article's text makes it clear that it's the reforms rather than the banks that are at risk:
Reforms to break up Europe's big banks are on course to be weakened by pressure from France and Britain for maximum national leeway.
The European Commission has faced a wall of opposition from some EU member states and the banking industry since it made proposals last year to force some banks to hive off risky trading activities.
Resistance is coalescing around options to defang the regulation. Officials from five of the most sceptical countries — France, the UK, Germany, Sweden and the Netherlands — meet in Riga on Friday to discuss potential compromises.
 Of course, that would be the politically more plausible bet,  regardless of whether low or high attachment is structurally or lexically more probable in this case
The obligatory screenshot: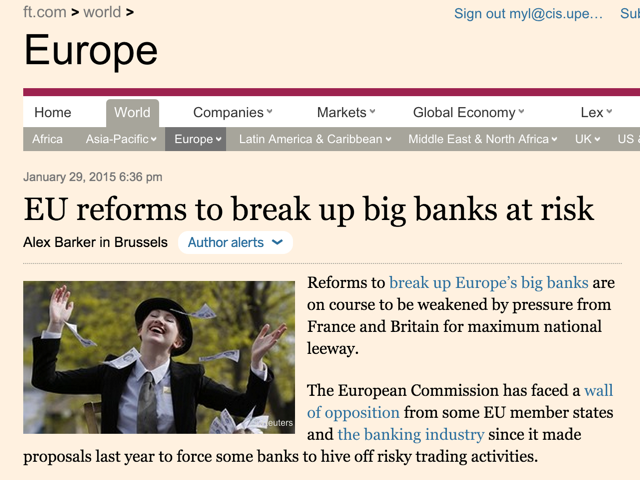 [h/t Lane Greene]
---