« previous post | next post »
Tim Leonard sent in this photograph of a sign for a Korean restaurant: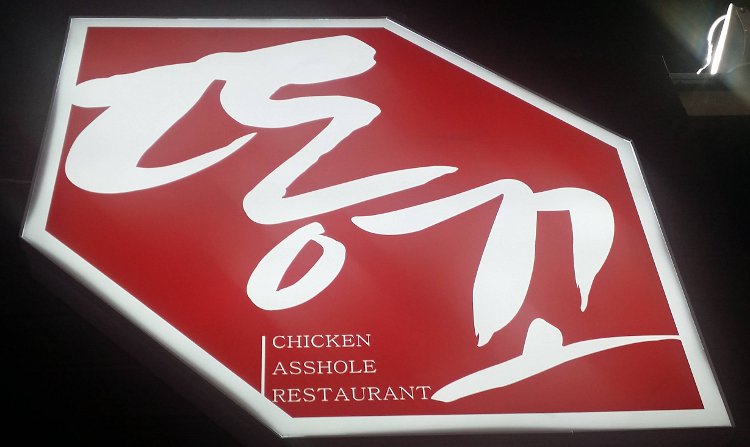 I could scarcely believe my eyes when I beheld the English name against that grandly calligraphic Hangul script.
The sign was posted on reddit by user kevingrabb. Comments on reddit claim it's an infelicitous but accurate translation of gizzard, which in Korean is ttongmun 똥문, literally, "shit home" — or so they say.
Although I am grateful to kevingrabb for calling this spectacular blooper to our attention, there's so much wrong with the explanations on reddit that I'm tempted to say they're full of it.  The remarks about chicken anatomy are totally confused — a gizzard is in no way the same thing as a butt hole or colon.  It's the lower stomach of the beast.
First of all, ttongmun 똥문 (i.e., mun 문 門 as in hangmun 항문 肛門 [respectable / medical term for "anus"]) doesn't mean "shit home"; it means "shit door / gate".   From a quick Google search, it seems that ttongmun 똥문 is now a (new? and) popular word on the internet (not in dictionaries).  One guy even seems to have a blog with that name.  And another blog lists the word ttongmun 똥문 as an equivalent of bunmun 분문 糞門 ("dung gate", i.e., "anus").
While ttongmun 똥문 is a slang expression for anus, one which many Korean speakers whom I consulted had never heard of, it is not used for the dish, so far as I'm aware.  But the Korean on the sign doesn't read ttongmun 똥문 anyway.  Rather, it is ttongkko 똥꼬, which is a slang term for "shithole".  No one seems to be sure of the exact etymology of this word, and many of my Korean-speaking friends had never heard of ttongkko 똥꼬 (another vulgar colloquialism for "asshole" not listed in dictionaries), but apparently it's a synonym of the native and vulgar ttonggumeong 똥구멍 ("shithole"), a slang term for anus which is pronounced as if written ttongkkumeong 똥꾸멍 . So it could be a shortening of that plus a vowel change, but this is pure speculation.  That's if we're translating ttong 똥 as "shit", but it seems to be a lot milder in Korean than "shit" is in English and is acceptable to use when referring to feces, though the Sino-Korean daebyeon 대변 大便  is preferred in polite contexts.
In any event, ttongkko 똥꼬 ("shithole; poophole") is certainly not a popular name for restaurants in Korea!
The actual name for the dish is dakttongjip 닭똥집  ("chicken-shit-house").  Now, ttongjip 똥집  ("shit-house", or the "shit-home" that the reddit user was thinking of) is a rare slang term for either the large intestines or even the stomach. So it refers to a different part of the anatomy from ttongkko 똥꼬, ttonggumeong 똥구멍, or ttongmun 똥문.   And in the case of the dish, yes, it may actually refer to the gizzard, which is normally called moraejumeoni 모래주머니 ("sand pouch / pocket") in Korean.  That's a pretty far cry from ttongmun 똥문 "shit gate".
Ttongjip 똥집  is rare enough for its meaning to be obscure to many Korean speakers, who might think this is another word for anus.  Hence the confusion here, and many Koreans who enjoy chicken gizzards are probably not entirely aware of which part of the bird they are consuming. Whether whoever chose ttongkko 똥꼬 as the name of the restaurant knew about this isn't clear (though they may have done this as a kind of joke), but it is certainly not a case of unintentional mistranslation in English — the name in Korean is just as slangy and offensive.
Referring to animal feces as ttong 똥 is acceptable even in polite contexts.  It's when using ttong 똥 to refer to human excrement that you have to be slightly careful.
As explained in this article, "5 Korean Foods for Adventurous Eaters," apart from chicken gizzards, another popular dish made from an obscure lower part of the chicken's g-i tract is "chicken rectum".  Alas, it also goes by the name dakttongjip 닭똥집 ("chicken-shit-house").
One of my Korean graduate students told me that, when he was a college and university student back home, he often ate dakttongjip 닭똥집 at pojangmacha 포장마차 ("stalls; street vendors"), because it was cheap, nutritious (for the protein), and fairly tasty, especially when covered with lots of garlic and slathered with hot sauces.  He knows English well, and he declares that what he ate was chicken gizzards, not chicken rectums.
A number of Koreans have told me that dakttongjip 닭똥집 ("chicken-shit-house") goes well with soju. Judging from all of the terminological confusion over the gastrointestinal anatomy of the chicken, it's probably best that one consume quite a bit of shoju while eating these delicacies, so as not to be overly conscious of what parts they actually are made of.
At one point in the long gestation of this post, I had thought that I might help to clear things up by making reference to the hindmost portion of the fowl, which my Mom used to call the pope's nose, though others call it a parson's nose or sultan's nose.  We may refer to it more daintily as the uropygium.  Since I am not aware that it is favored in any cuisine, and I know that it was shunned by all the members of my family, I had better abandon that idea.
Having written so much about chicken gizzards in Korean cooking, it reminds me of the very special words for this obscure, humble part of the chicken in Chinese topolects.  I'll write about that after I get back from a quick jaunt to Italy, where I hope to find a delicious chicken gizzard dish during my brief stay, but I think that I'll pass on the chicken rectums.
[Thanks to Bill Hannas, Jongseong Park, Bob Ramsey, Daniel Sou, and Haewon Cho, who had a hard time discussing chicken parts because she is prone to ornithophobia]
---