« previous post | next post »
Dan Levin has a nice article, "Adidos and Hotwind? In China, Brands Adopt Names to Project Foreign Flair" (NYT, 12/27/14).
Be sure to watch the slide show.  Here's one of my favorites: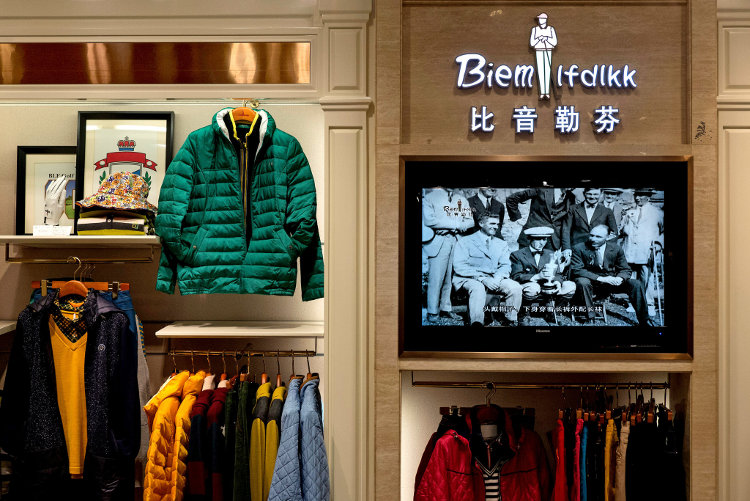 The caption accompanying the photograph states: "Biemlfdlkk is a clothing brand that sponsors China's national golf team. One employee said it was a German name; another said, 'it's the name of a French designer.'"
This has to be one of the most outlandish pseudo-foreign brand names ever devised in China.
For an instant, I reckoned that "Biemlfdlkk" was an attempt to mimic Icelandic, but that wishful thought vanished with the realization that "Biemlfdlkk" defies pronunciation in any language with which I am familiar.
Perhaps in an effort to seem slightly more believable or pronounceable, Biemlfdlkk is sometimes divided up this way:  BILEM.L.FDLKK.
There's plenty of mystifying publicity about Biemlfdlkk on the web:
Textile and Clothing Industry Gradually step to "M shape"
Korean charming women's wear brand Xinyicao in China
BIEMLFDLKK Opened Flagship shop in Anshan, China
BIEMLFDLKK is a korean famous sport garment brand. Its flagship shop was opened ceremoniously on June18 in Anshan, a north-east middle-class city in China.
Oh, I forgot to tell you how the Chinese version of the name is pronounced:
bǐyīnlèfēn 比音勒芬
Since that's merely a transcription of the foreign pseudo-name, it doesn't really mean anything, but if you're wondering, the individual characters may be rendered as:
bǐ 比 ("compare; contrast; ratio; compete")
yīn 音 ("sound; tone")
lè 勒 ("rein; force; coerce")
fēn 芬 ("sweet smell; fragrance")
Just to complicate matters, though, bǐyīnlèfēn 比音勒芬 might conceivably be thought of as
bǐyīn 比音 ("assonance; harmonic; concordant; harmonious; unisonance" — in traditional Chinese phonology)
and
lèfēn 勒芬 ("Leuven / Louvain")
Don't ask me what the juxtaposition of "assonance / unisonance" and "Leuven / Louvain" might imply.  I have no clue whatsoever.
Just when I thought that I was finished writing about wretched Biemlfdlkk, I discovered that bǐyīnlèfēn 比音勒芬 also corresponds to another pseudo-foreign brand name, Bienlof, which looks a lot more authentic as a foreignism, though I still have no idea what it means. In any event, it would appear that Biemlfdlkk is an outlandish knockoff of a less gibberish-y knockoff.
---