« previous post | next post »
Nathan Hopson sent in this photo (from Nagoya, Japan, but there are similar stores all over Japan):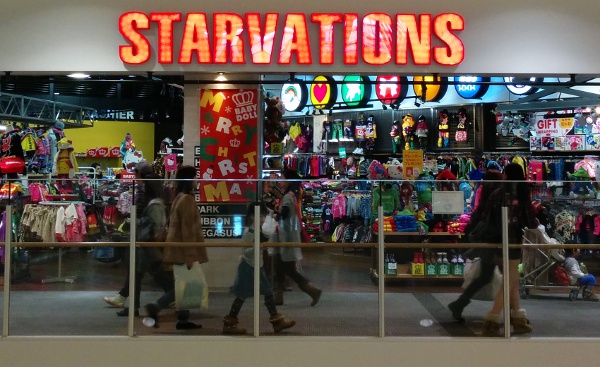 Nathan was unable to get an interior photo, but there is a company website, of course.
Starvations is a kids' boutique of sorts, and appears to be owned by a company called Cozy. From their company history page (here, Japanese only), Babydoll is the clothing brand and Starvations is the chain of stores.
"Cozy" and "Babydoll" make some sense, and there are some explanations about brand image, etc., on the site, but no clue anywhere as to why the company chose the name Starvations.
Apart from the mystifying name, another thing that struck me powerfully is that, in their stores and on their website, there is so much English (both in Roman letters and in katakana) that I wondered who they were targeting — foreigners or Japanese?
Nathan notes:
They are definitely targeting Japanese. One thing I noticed in the mall (first time I'd been to a Japanese mall in more than a decade, I think) was that all but one of the store names were in English or at least Roman letters. The exception was San Marc Cafe, which is an older cafe chain. I assume that this is in part the result of a kind of "inflation pressure" caused by the increasing number of international brand stores (just in this mall I saw Sports Authority, LL Bean, Timberland, etc.). The Japanese stores have to "keep up" with the cachet.
Things change once you get inside, though. The brand names are symbols, just new "kanji" to remember. But almost all of the items are labeled in katakana.
[VHM:  Since they are mostly in katakana, they are probably largely transcriptions of English as well]
So we know a fair amount about this store, but I still have no clue about its name, unless it's the same type as this one: Selfish. Be selfish; we know that you're starving for our clothing and accessories.
---