« previous post | next post »
On December 15, 2012, Jakob Leimgruber sent in the following photograph of an unusual sign in Montreal: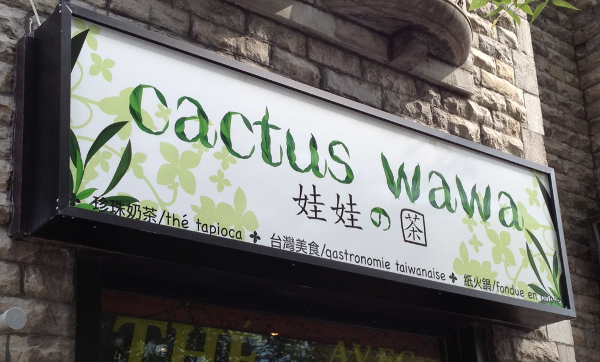 I took one look at the sign and said to myself, "We've got problems."
1. The biggest problem is the character after の.  It is not in Unicode, much less in any commercial font.  It appears to be sui generis.
2. The の itself is a bit of a problem, since that is a Japanese kana, pronounced no, whereas all the other non-Roman parts of the sign seem to be Chinese.
3. The word "cactus" cannot be accounted for by anything in the Chinese.
4. The disyllabic word wáwá 娃娃 means "baby; doll; child", which — though it reminds me of the convenience stores in the Philadelphia region — is not something that I'd normally associate with a store for adults, which this one in Montreal is.
5. How can you have a zhǐ huǒguō 纸火锅 ("paper hot pot / chafing dish") — the item in the bottom right corner of the sign?
I thought that the better part of valor would be to call the shop directly at 514-288-1314, which I easily found on the web.  This I did — for about a month — but no one ever picked up, even though I called at all hours of the day and night.
Frustrated after weeks of calling, I turned to my friends in Montreal, asking them to visit the shop to see if they could get answers to my questions directly from the proprietor.  Since no one was up to the task, the trail grew cold, and cactus wawa faded into the back of my mind, though it never disappeared entirely.  From time to time, I would reminisce:  "Who is 'cactus wawa'?"  "How would cactus wawa pronounce that strange character after の?"
Then, about a month ago, Phil Miraglia, Senior IT Specialist in Williams Hall where my office is located, informed me that he had to update the operating system of my computer, but that he couldn't do it because there was too much junk on the desktop.  After Phil had gently nudged and prodded me for several weeks, miraculously I found myself alone in Williams Hall one night with nothing else immediately pressing, so I bit the bullet and started trashing hundreds of old files that littered my desk top.  Since I was actually paying attention and trying not to throw away anything important, I was pleasantly surprised when the cactus wawa sign turned up.  Rescuing it from oblivion in the trash can of my computer, I resolved then and there to complete the investigation that I had begun nearly two years ago.
Once again, I looked up "cactus wawa" through Google:  same address, same telephone number.  Before starting to call again, I thought I'd take a look at the map:  1431 Rue Mackay / Mackay St., near Concordia University.  I felt that I was about to meet an old semi-acquaintance again.
The excitement mounted, but suddenly my hopes were dashed:  closed!  (so why did the phone keep ringing back in late 2012 and early 2013?)
The distinctive "cactus wawa" sign is clearly visible if you switch from the street map to Google Street View (June, 2012).
Gritting my teeth, I accepted my fate:  cactus wawa was not going to help me solve the perplexing problems presented by her sign.  I'd have to go it alone, but with the help of my friends (see the acknowledgements below).
•••••••
If only to build up my confidence, I'll start with the items at the bottom, which are relatively easy compared to the main part of the sign.
zhēnzhū nǎichá 珍珠奶茶 (lit., "pearl milk tea") thé tapioca (in English this is usually called "bubble tea")
Táiwān měishí 台灣美食 gastronomie taiwanaise ("Taiwanese cuisine")
zhǐ huǒguō 纸火锅 fondue en papier ("hot pot; chafing dish") — they really do this in Taiwan and in Japan (where it's called kami nabe):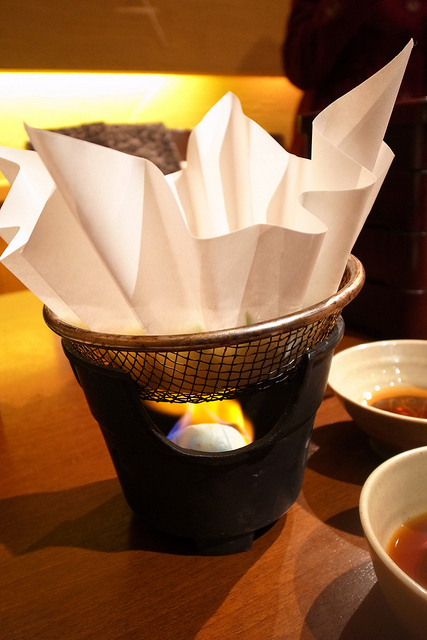 I'll save the hardest part for last, that's the character after の.
Since this is a Taiwanese shop, I'll treat the kana and the two characters before it as Taiwanese.  The の is actually easy:  it is one way of writing the Taiwanese genitive particle ê [e].  This is by far the most frequent morpheme in Taiwanese, but there is no Chinese character for writing it, so it is often written with the roman letter "e", the Mandarin Phonetic Symbol ㄟ [ei], or — as here — the Japanese kana の, which has a similar grammatical function.
See "Our Taiwan" (11/19/13) for a fuller explanation.
So it's "娃娃's something-or-other".
Now, moving leftward, if 娃娃 means "baby", then the Taiwanese pronunciation will be gín-á; if it means "doll", then the pronunciation will be "ang-á".  (N.B.:  wáwá 娃娃 itself is not used directly in Taiwanese.)  This ("baby / doll") is probably the nickname of the owner of the shop.
All right, now we have to face the character after の.  It consists of tê [Taiwanese] / chá [Mandarin] 茶 ("tea") enclosed within a 囗: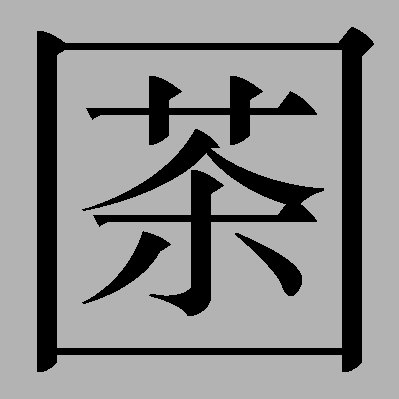 (custom character made by Richard Cook with Wenlin software)
This character does not exist in any font known to me.  I suspect that it was invented by 娃娃, the owner of the shop, or one of her friends.  I further suspect that this unique graph is polysyllabic, like the ones I discussed here: "Polysyllabic characters in Chinese writing" (8/2/11).
I suppose that it probably stands for tê-hn̂g 茶園 ("tea garden"), which would be a fancy way of saying "tea shop".  Less likely, it might stand for tê-kuán 茶館 ("tea house") or tê-tiàm[-á] 茶店[仔] ("tea shop") — if the extra syllable is added at the end, it might cause eyebrows to raise.
The last, nagging problem is the disparity between English "cactus" (somewhat reinforced by the green design motifs) and wáwá 娃娃 ("baby; doll; child").  I think it is intentional to indicate that the proprietor, though a cute, seemingly vulnerable woman, is actually tough and perhaps even a bit prickly.  Incidentally, in medieval Chinese, wá 娃 meant "beautiful woman / girl", but I don't recall seeing it in reduplicated form with the meaning of "baby / child" until around the Yuan (Mongol) period (1271-1368).
What shall we make of a unique character like

that, for all we know, may only have existed on this sign in Montreal (and perhaps also on the menus and advertisements of the cactus wawa tea shop)?
It is crucial to observe that the Chinese writing system is essentially open ended.  That is why, from the time it first arose around the 13th century BC until now, the size of system has continued to mushroom from about 1,500 different graphs to more than 80,000 discrete graphs.  It is possible for people to create a new character for their own name or for some other purpose, even out of pure whimsy.  Of course, in a strongly autocratic, bureaucratic state such as the Qin Dynasty (221-206 BC) or the People's Republic of China, such a new character is not likely to gain public currency beyond the individual who made it up for him/herself.  But I think that in a freer, more open society such as Taiwan, such a newly coined character has a greater chance of gaining currency among society beyond the person who dreamed it up.
I remember about a quarter of a century ago encountering this character in the name of a female Taiwanese author:  娳 (because of the fairly, though not entirely, stable phonophore, I guessed that it was probably pronounced lì).  Since I had never encountered it before, I was taken aback.  I could not find 娳 in the Kangxi Dictionary (the first great character dictionary of "modern" times, with over 47,000 characters and dating to 1716) or Hanyu Da Zidian (the most recent major dictionary of characters, with 54,678 head entries and published between 1986-89).  See also here. Zdic and other online dictionaries say that 娳 is "an old character used in women's names", but I rather doubt that, though I'd be happy to receive evidence to the contrary.  The point is that previously unknown characters can pop up out of nowhere and clamor for recognition and acceptance in Unicode.  娳 has succeeded in gaining a Unicode number (5A33), but the mystery character after の on cactus wawa's sign hasn't — at least not yet.
•••••••
I was going to end my post right about there, but then yesterday I received a message from Michael Cannings:
My wife (the only native speaker I have on tap now after moving to the UK) thinks the enclosure is for "style or emphasis", and that it's simply meant to be read as chá or tê (Mandarin or Taiwanese). Also to me, if it were genuinely an integral part of the character it would observe proper stroke order, which that rounded top left corner patently doesn't.
The first two characters aren't used together in Taiwanese (nor, I guess, Japanese). In Taiwanese the common term for doll is ang-á 尪仔, and in Japanese I believe it's (o)ningyo (お)人形 (as still used by older Taiwanese women cooing over my daughter) so it's pretty certain that 娃娃 is Mandarin (as in the French name of the shop).
I think (and my wife agrees) that most people would read this entire name in Mandarin, so "wáwa/wáwá de chá". Given the general Taiwanese aversion to the neutral tone in multi-syllable words, my hunch is that the second option would be more prevalent.
My (recently modified) view on の is that it has spread from simply being a stand-in for the Taiwanese possessive ê to also being a "cutesy" stand-in for Mandarin "de". Even monoglot Mandarin speakers in Taiwan have internalised it, and I think it's no longer a strong marker of Taiwanese text. In my estimation this is a fairly recent phenomenon, but I don't have anything to back that assertion up other than gut feeling.
As the chewy "pearls" in bubble tea are made predominantly from tapioca (at least in the original Taiwanese version), I presume that the two teas are one and the same. Certainly the Mandarin zhēnzhū nǎichá 珍珠奶茶 is the same.
According to the interpretation of Michael and his Taiwanese wife, the whole sign of this Taiwanese bubble tea shop should be read as Mandarin, not as Taiwanese, and the mystery character isn't really a mystery after all.
Hey, cactus wawa, where are you when we need you? When you composed the text of your sign, were you thinking in Taiwanese or in Mandarin? When you drew that enclosure around 茶, were you aiming merely to emphasize it or to turn it into a polysyllabic graph? How do you pronounce の? Where have you gone, cactus wawa? Please come back.
[Thanks to Nathan Hopson, Richard Cook, Ken Lunde, Henning Kloeter, Cecilia Segawa Seigle, Hiroko Sherry, Fangyi Cheng, Grace Wu, Melvin Lee, Sophie Wei, Chia-hui Lu, and Rebecca Fu]
---