« previous post | next post »
From a conference on the theme "Building the New Majority", sponsored by Pat Buchanan's organization The American Cause, and featuring a panel discussion on English-only initiatives: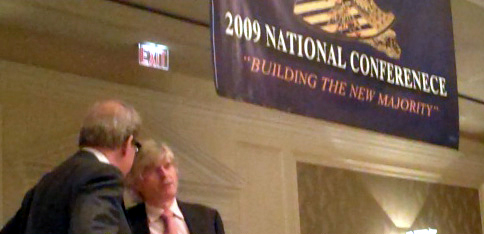 Lee Fang at Think Progress quotes a panelist, Peter Brimelow, the founder of VDARE:
I really do recommend the language issue because you know that polls better than immigration and affirmative action. Eighty-five percent of Americans say they would favor official language policy.
The English-Only people seem to be subject to a special corollary of the Bierce/Hartman/McKean/Skitt Law of Prescriptivist Retaliation.
I was also interested to note that Mr. Buchanan, in this context, is a committed uptalker:
But I hasten to add that many fine people, including me, are prone to typos. And there's nothing wrong with uptalk — I just like to collect examples that are not expressive of alleged feminine uncertainty.
---