« previous post | next post »
Far from prohibiting translation (see the last item here), the young demonstrators in Hong Kong are offering free translation services for the media and others who may be in need of them.
The following photograph was shared on Twitter by Newsweek's Lauren Walker: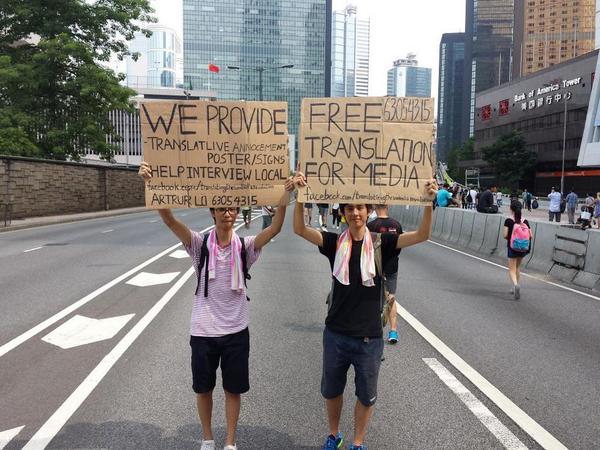 While I'm not sure I'd fully rely on the guy on the left ("translatlive annocement…"), I'm sure that they're sincere and try their best.
The same photograph appeared in Newsweek, where the caption says "Posted onto Reddit by members of Translating the Umbrella Revolution." And here it is on Reddit, which also links to the Facebook page for Translating the Umbrella Revolution. There we find as well another photograph of the same two signs, but with the young man wearing black in the above photograph now standing on the left, joined by a young woman standing on the right who is holding the other sign.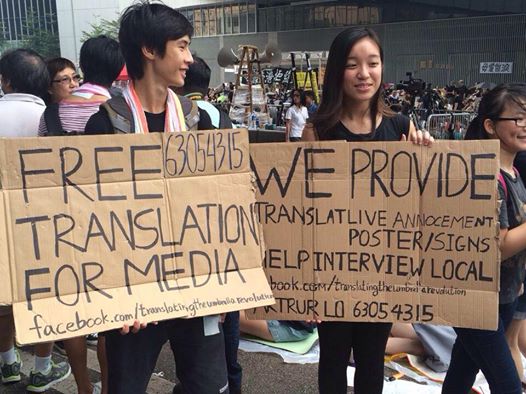 All of this leads one to wonder about the fate of Cantonese language. We've had many Language Log posts bemoaning the ambiguous status and uncertain future of Cantonese, and now an article in the South China Morning Post raises this issue all over again: "Speaking up for Cantonese, a tongue in peril: The fact the language of everyday life needs to be included in a list of 'intangible cultural heritage' is cause for concern to its advocates."
On the other hand, if Chinese police and armed forces do not completely crush the current demonstration, Cantonese may actually experience a remarkable resurgence. During the demonstrations, I've heard many people say to me, "I really should learn some Cantonese." The SCMP article refers to Cantonese as having 120,000,000 speakers worldwide, but I usually hear a figure of around 60,000,000 (see here, here, and here). So about half the number given in the SCMP article, but still a significant number, and we must keep in mind that Cantonese speakers have played a disproportionately large role in Chinese history of the last few centuries. Consequently, I do not think — as so many do — it is a foregone conclusion that Mandarin is just going to sweep over Hong Kong and cause Cantonese to disappear.
So much depends on whether the PRC remains stable.
[Thanks to Ben Zimmer]
---