« previous post | next post »
Today's xkcd: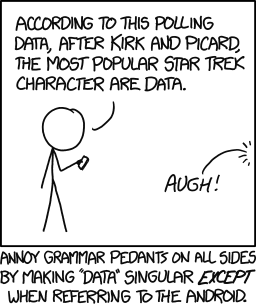 Mouseover title: "If you want to have more fun at the expense of language pedants, try developing an hypercorrection habit."
That should be "…developing another hypercorrection habit", since making data plural in that situation is exactly analogous to using whom in "Whom are you, anyways?". But then, as Ben Zimmer has pointed out to me, that would spoil the joke involved in the choice of an in "an hypercorrection".
---