« previous post | next post »
Sometimes I think that Philip K. Dick is passing the time in purgatory by ghostwriting news stories like this one —  "Atlantic City's Revel Casino reimagined as elite school", Reuters 9/22/2014: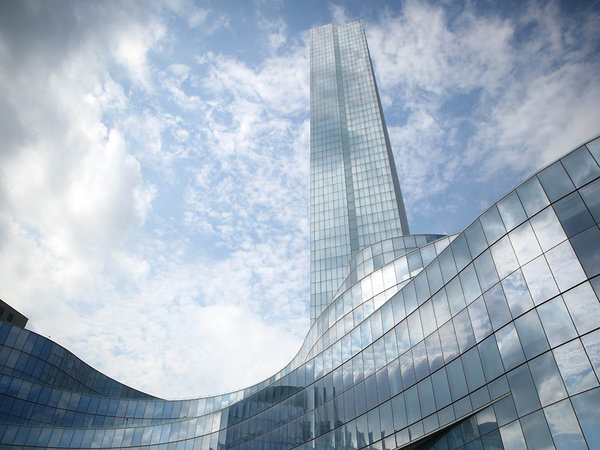 A Florida developer who made a $90 million offer for Atlantic City's shuttered Revel Casino wants to use the site to help end world hunger, cancer, and resolve other pressing issues like nuclear waste storage.
Glenn Straub's plan is ambitious as it is high-minded. First, he would add a second tower to the 57-story structure, completing the original vision of the casino-hotel's developers. The businessman, who owns the Palm Beach Polo Golf and Country Club, would then convert the complex into a university where the best and brightest young minds from across the world could work on the big issues of the day.
But this is Language Log, not Eccentric Developer Log, so read on to get to the linguistic point:
"We want people who will cure the world of its hiccups," said Straub in an interview, his ideas for Atlantic City spilling out in his rapid-fire manner.
Revel, which cost $2.4 billion to build and opened just two years ago, closed September 2 after failing to draw bids at a bankruptcy auction.
Sure, the globe's largest corporations may eventually lure away some of his students, he conceded, but "we'll make them donate 2 percent of their incomes for their lifetimes," to help fund the project. He did not elaborate or say how the university would be financed otherwise.
 His ideal student would be "free, white and over 21," he said, using a politically incorrect way to describe someone with no financial obligations.
Actually, I believe that the phrase "free, white, and twenty one" means something more like "free and responsible for his or her own choices". The OED glosses it as "that is an independent adult who can engage in any activity not prohibited by law; that is a free agent". A discussion here translates it as "I can do what I want and no one can stop me", and finds it in an 1856 novel, where a young women uses it as an ironic cry of mock liberation: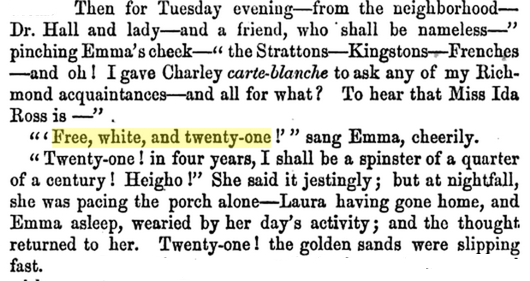 35 years ago, my own introduction to this obnoxious expression came from a woman — call her X — who used it in a rather more serious sense.
A young Japanese researcher — call him Y — had come to the U.S. for a year, to visit the lab where I worked at the time. Since the lab was located in a rural/suburban area, he needed a car, and X, who worked in the same place, had one to sell. It made a kind of grinding noise, which worried him, but X explained that American cars are often like that, so Y went ahead and bought it, for a price on the high side of the blue-book value.
After a couple of days, the vehicle ground to a complete halt, and when Y had it towed to a local garage, the mechanic explained that the transmission was totally shot, and would need to be replaced, for a cost greater than the value of the car.
Y was mortified, since among other things he had no more money. So I went to talk to X, whom I knew. She was quite up front about the situation, explaining that she had not offered any sort of guarantee of the vehicle's condition, and that Y was, in her words, "free, white, and twenty one".
I mentioned Y's inadequate information about used-car transactions in the U.S., his naive trust that a co-worker would not cheat him, etc., and for my pains I got a lecture about libertarian politics and a recommendation to read Ayn Rand on the virtue of selfishness.
Update — some other coverage of the hypothetical Revel re-make…
Francis Hilario, "Revel bidder wants to build a university 'for geniuses' on property", Philadelphia Business Journal:
Glenn Straub, who made a cash bid for the $2.4 billion casino under his legal entity Polo North Country Club Inc., said he's planning on building a tower more than 30 stories tall at the Revel property that will host to "some of the smartest people in the world," according to the Press of Atlantic City.
"The university's going to go in," Straub told the paper. "It's going to be for geniuses."
He also talked of a high-speed ferry and railway systems — including an "underground passageway" — that's in line with an earlier interview with USA Today, where Straub said he hoped to rebuild Atlantic City's image, which includes adding high-speed rail links with New York City and Philadelphia.
Nothing yet about the spaceport.
The university plan apparently emerged within the last week — "Revel bidder: Distress is his business", Philadelphia Inquirer 9/13/2014:
Straub was circumspect about what he would do with the Revel property if his bid turns out to be the winner in an auction scheduled for Sept. 24, subject to court approval at a hearing Monday.  
"We're going to be doing six, seven more things there. If it makes money, that's good. Pat us on the back. If it doesn't make money, then we close her down just like Miami Arena and we blow it up," Straub said.
The Press of Atlantic City ran a poll — "Maverick real estate developer and polo enthusiast Glenn Straub envisions a think tank at the former Revel Casino-Hotel to address global problems. Is a tower of geniuses a good idea?"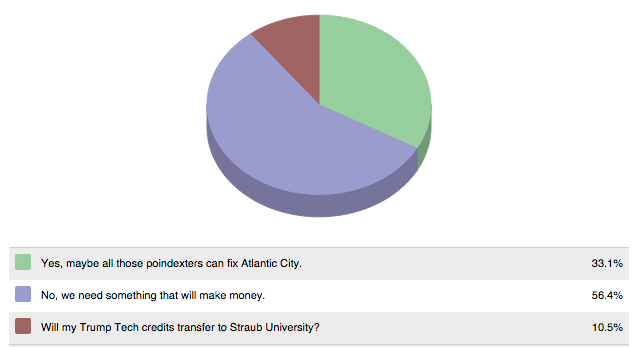 Steve Larson at Legal US Poker Sites has all the angles covered — "Glenn Straub Plans to Build a University Campus Adjacent to Revel Casino & Hotel":
Glenn Straub, who placed a $90 million bid in bankruptcy court on Revel Casino, said he plans to place an educational center on the land next to the old casino site. Straub is the head of a Florida property development group which previously said it makes communities better.  
When news first got out that Glenn Straub had placed a bid on the Revel Casino, he was a bit canny about the nature of his business project. He hinted that the Revel Hotel and Casino would not be used for gambling, but would not say exactly what his group's plans were. Early speculation was Straub would build a railway hub that would link to New York City and Philadelphia.  
He told NJ.com on Friday that he planned to build a 35-story tower next to Revel's hotel that would house a university. He did not mention a name for that university, or the main focus of its curriculum. What he did say about his plans are grandiose.  
Alex Napoliello of NJ Advance Media paraphrased Glenn Straub saying that he wants to create "a community of the world's brightest people". These people would work on global issues. The example of a global issue Straub listed was nuclear waste disposal.
I'm pretty sure that this is all part of an unpublished Philip K. Dick novel.
---