« previous post | next post »
Tom Mazanec sent in the following ad that he saw in a Guangzhou (China) apartment complex: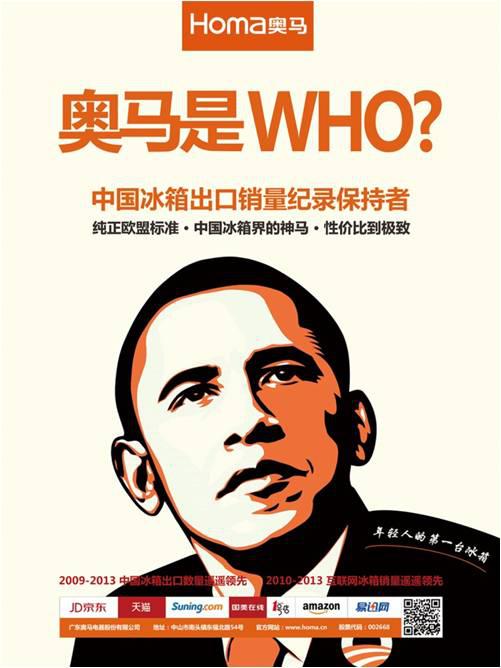 I'll transcribe and translate all the main parts of the ad:
Àomǎ shì WHO?
奥马是WHO?
("Who is Homa?")
Never mind that Àomǎ 奥马 is often used as a sinographic transcription for "Omar", "Omagh" (place name in Northern Ireland), "Alma" (place name in Malaysia), etc.; here it is meant to transcribe the name of the company, viz., Homa. The character ào 奥 means "abstruse; obscure; profound; mysterious", etc. and mǎ 马 means "horse", but in this instance their primary role is for transcriptional purposes.
So far as I know, the name of this company has nothing to do with the ancient, sacred, presumably entheogenic, ritual drink of the Indo-Iranians known as soma or haoma.
Zhōngguó bīngxiāng chūkǒu xiāoliàng jìlù bǎochí zhě
中国冰箱出口销量纪录保持者
("Chinese refrigerator export sales record holder")
chúnzhèng Ōuméng biāozhǔn
纯正欧盟标准
("Genuine EU standards")
Zhōngguó bīngxiāng jiè de shénmǎ
中国冰箱界的神马
("Divine horse / Pegasus of the Chinese refrigerator industry")
xìngjiàbǐ dào jízhì
性价比到极致
("Extreme performance to cost ratio")
The main joke is the play on the Chinese versions of the names of Homa (Àomǎ 奥马) and Obama (Àobāmǎ 奥巴马), with references to the famous "Hope" poster from 2008. There's also the corny play on the graph mǎ 马 in the smaller slogan — Zhōngguó bīngxiāng jiè de shénmǎ 中国冰箱界的神马 ("Divine horse / Pegasus of the Chinese refrigerator industry") — which is also part of the names Àomǎ 奥马 and Àobāmǎ 奥巴马.
Why the slogan uses the English "who" instead of shuí 谁 is a bit more puzzling. What were they trying to achieve by inserting this English word? To catch people's attention? To seem trendy? Cool? In some of their other ads, they stick a yellow post-it on one of their refrigerators with these three English words: "It is cool." In any case, it's clear that the ad expects its readers to know enough English vocabulary to get something from "who".
There's a follow-up to this ad on Homa's website, with a banner saying Àomǎ bùshì Àobāmǎ 奥马不是奥巴马 ("Homa isn't Obama"):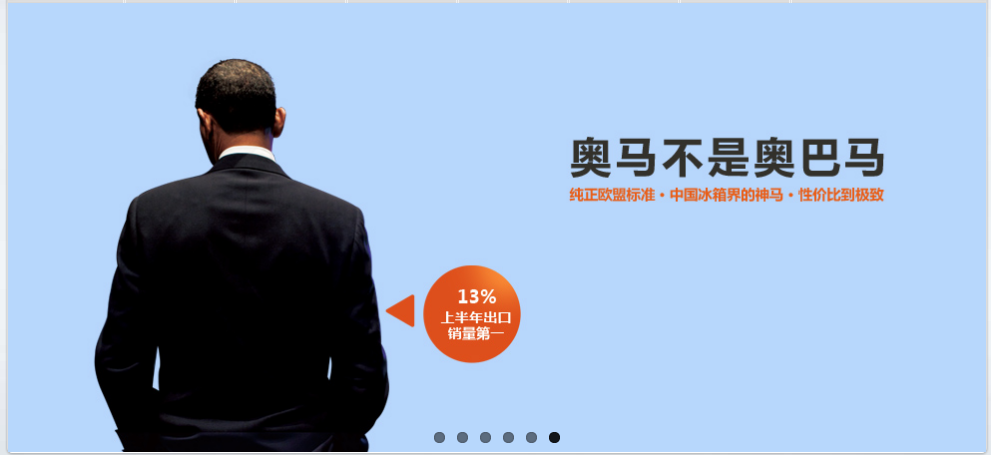 My first impression was that this was a cheap extension of an already forced comparison between Àomǎ 奥马 and Àobāmǎ 奥巴马. But looking at the two ads together once more, I noticed some subtleties that convey a clever message.
The first ad says "Who is Homa?" with an obvious — though unspoken — visual allusion to a dreamily hopeful Obama looking upward to the future. The second ad says "Homa isn't Obama", with the President turned away, hands in his pockets, and head facing downward.
The three phrases in small characters under the main slogan of the second ad are the same as in the first ad. As for the characters in the circle, they say, "13% shàng bànnián chūkǒu xiāoliàng dì yī 13% 上半年出口销量第一 ("13% export sales in the first half number one"). I'm not sure whether that is supposed to mean 13% increase in sales during the first half of this year, or 13% of total sales in China / the world, or something else, and I also don't know why the arrow is pointing at Obama? In any event, they want you to know that Homa is "number one", a frequent theme in their advertising.
This is not the first time that a Chinese company has capitalized on the fame of President Obama to push its products ("Real fake"), and I'm sure that it won't be the last.
---