« previous post | next post »
Today's xkcd: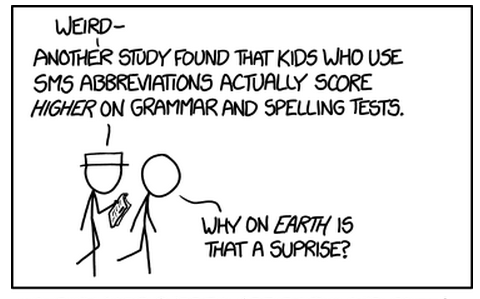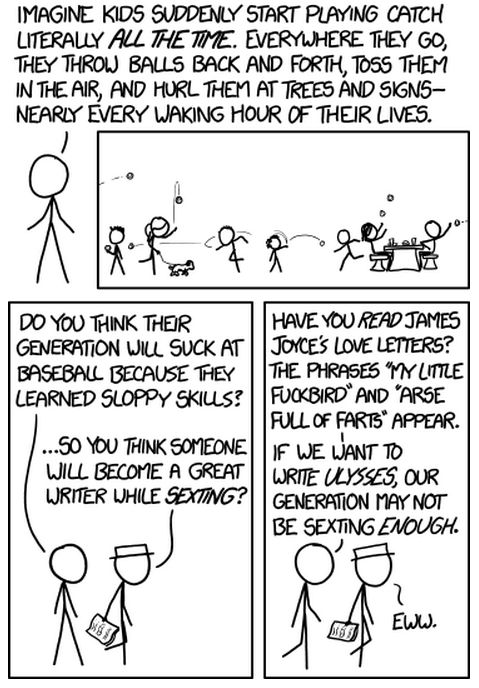 I'm not sure what "another study" refers to in this case.
The mouseover title suggests a future research program in computational humanistic educational psychology:
I'd like to find a corpus of writing writing from children in a non-self-selected sample (e.g. handwritten letters to the president from everyone in the same teacher's 7th grade class every year)–and score the kids today versus the kids 20 years ago on various objective measures of writing quality. I've heard the idea that exposure to all this amateur peer practice is hurting us, but I'd bet on the generation that conducts the bulk of their social lives via the written word over the generation that occasionally wrote book reports and letters to grandma once a year, any day.
I suspect that children's letters to the president have always been heavily edited by adults. But modulo difficulties about selecting comparable samples across time, it might be possible to use the historical archive of ETS essays.
Some previous LLOG coverage of the issue:
"Shattering the illusions of texting", 9/18/2008
"Up in ur internets, shortening all the words", 10/28/2011
"Texting and language skills", 8/2/2012
---