« previous post | next post »
Tim Cousins sent in this photograph of a sign in a local mall in Dalian, northeast China.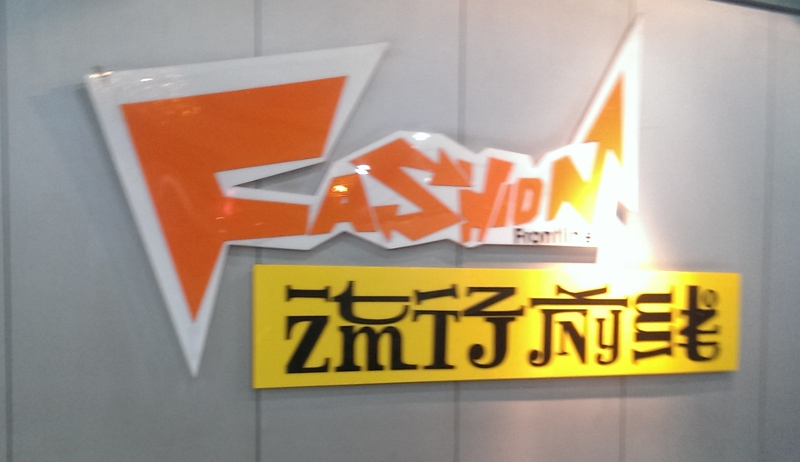 It seems that the sign, which is written with letters of the alphabet, some of which are slightly distorted and positioned in unaccustomed places. reads:
liúxíng qiánxiàn 流行前线
("Popular Front", the name of a well-known mall in Guangzhou, which apparently has branches in different places around the country, or else other stores are trying to capitalize on its reputation, or perhaps somebody is simply trying to get mileage out of the funky political cachet of this expression.)
This is different from ambigrams, where one form simultaneously means the same thing (or roughly the same thing) in two different scripts, such as is illustrated here, here, and here.
Nor is it the sort of virtuoso display where one script is redesigned to look like an entirely different script (the English alphabet made to seem as though it were devanagari or Hebrew script or even Chinese characters), as in this post (see also the comments for other examples).
Nor is this the same as Xu Bing's Square Word Calligraphy, where the letters of English words are rearranged to look like Chinese characters.
In the example under discussion, letters of the alphabet are manipulated to function more or less as strokes and components of Chinese characters. My Chinese friends and students who looked at this sign found it a bit hard to decipher, but after contemplating the writing for awhile, and with an awareness of the Guangzhou mall name in the back of their mind, were able to see how the letters all fit together to constitute four characters, though the letters do not "spell" anything intelligible in English or in Chinese.
[Thanks to Fangyi Cheng and Ziwei He]
---