« previous post | next post »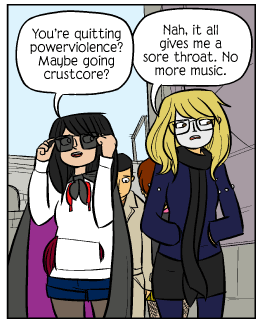 In today's Bad Machinery, Shauna abandons powerviolence and decides against crustcore.
Some of you will recognize that these are names of musical genres, well enough established to have Wikipedia entries. Thus
Powerviolence […], is a raw and dissonant subgenre of hardcore punk.The style is closely related to thrashcore and grindcore.
and
Crust punk (often simply crust) is a form of music influenced by anarcho-punk, hardcore punk and extreme metal.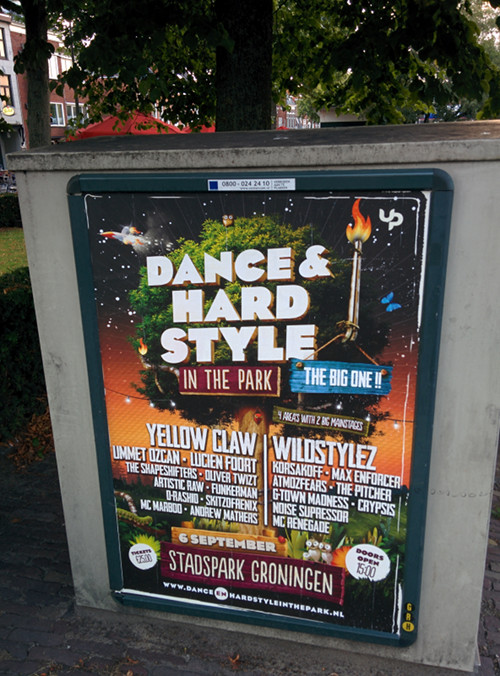 A couple of weeks ago in Groningen for Methods in Dialectology XV, I happened on a sign with an ambiguous title. It was clear to me that "hard style" was probably a musical genre, and indeed Wikipedia explains that
Hardstyle is an electronic dance genre mixing influences from hardtechno, hard house, hard trance, and hardcore.
But is "dance" (or maybe "dance style") another genre? Or does the sign just mean that the event in the park is in some sense a "dance"?
Anyhow, this made me wonder again how many named genres of contemporary music there are?
As with vocabulary-counting in general, this is the sort of question that is guaranteed not to have a crisp answer. New genre names are being coined all the time, and some coinages thrive to one degree or another, while others more or less die on the vine.
This "Music Genres List", which claims to be "The most comprehensive list of genres of music available on the Internet", doesn't have powerviolence, thrashcore, grindcore, crust, hardstyle, much less shoegaze or post-metal.
Wikipedia, needless to say, has a much more complete List of Modern Popular Music Genres, which currently lists 756 items.  But some of the penumbra is surely missing — "tragic lounge" isn't there, for example, though I wouldn't know about it if an acquaintance hadn't once described her band's genre with that term.
Anyhow, has there ever been a time in history when the proliferation of named musical styles within one cultural continuum reached anything close to this number? And what are the forces that drive the process? Is it like revolutionary parties and religious cults and hunter-gatherer tribes?
Update — a couple of commenters point us to everynoise.com, which offers an interactive map with clickable samples,  a list of 1246 named genres, and a feature that will tell you the genre associations of a specified "artist". (Though the last one is a bit over-enthusiastic, it seems to me, probably because it's based on some kind of subspace distance metric that causes cascading similarities to bleed into weird assignments, like adding "British Blues" to Buddy Guy's genres…)
---