« previous post | next post »
Tom Mazanec noticed this ad for China Mobile by the baggage claim at the Guangzhou (Canton) Baiyun Airport a few nights ago: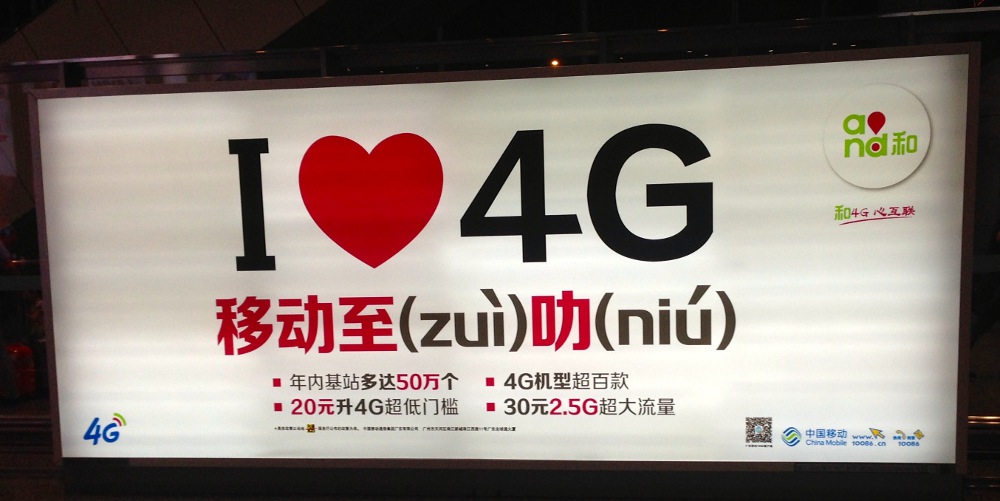 What in the world is going on here?
As for the first line of the sign, you don't have to be Chinese to understand it. Although the vast majority of Chinese today can comprehend the first line, it's more easily understood as English than as Chinese. It's one thing for Chinese to use the heart symbol for the verb ài 爱 ("love"), which is quite common in China, and it's another thing for them to use internationally recognized numerical and Roman letter terms like 4G, but to substitute "I" for wǒ 我, leaving the first line with no part that is clearly Chinese, even though it is directed toward potential customers who are Chinese, is to make a very strong gesture towards cosmopolitanism.
Aside from the first two characters, Yídòng 移动, which just mean "mobile", but here stand for Zhōngguó yídòng 中国移动 ("China Mobile"), the second line is even more mind-boggling than the first. From my previous post, which explored the contrastive juxtaposition of characters and Pinyin syllables (see "Biscriptal juxtaposition in Chinese"), we are already familiar with using two completely different scripts alternately to write Mandarin.
But here we have Cantonese in characters jumbled together with Mandarin in Pinyin, and in a most bizarre fashion.
In this context, Cantonese zi3lek1 至叻 means "smartest; brightest; sharpest". The first character indicates the superlative degree and the second one is a protean adjective that we have studied several times on Language Log, e.g., "A variable, transcriptional Chinese character".
The staggered romanized Mandarin term, with tones indicated no less, zuìniú 最牛, literally means "most bovine", but more precisely signifies "most cow cunt" (I'm not kidding), though it is usually bowdlerized in translation as "awesome" or some such. It is extremely vulgar, but also extremely popular, especially in the mouths of young men. We have touched upon niúB 牛B ("cow cunt"), whence zuìniú 最牛 ("awesome", etc.) derives, in many Language Log posts and comments. See here, here, here, here, and here.
What is most curious about the way zi3lek1 至叻 and zuìniú 最牛 are arranged on this sign, namely 至(zuì)叻(niú), makes it seem as though zuì were annotating 至 and niú were annotating 叻. But these are semantic annotations, not phonetic annotations like furigana. As far as 至 and zuì go, fair enough; they're both superlatives. But when it comes to 叻 and níu, their implications may be roughly similar, but their register is starkly different.
[Thanks to Bob Bauer and Fangyi Cheng]
---