« previous post | next post »
Via HiLobrow (8/10/2014), Ben Zimmer came across this virtuoso display of Gothic katakana on feitclub's Tumblr: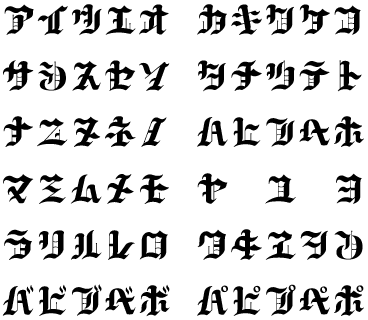 I must confess that I have a hard time reading off this beautiful, ornate font, which is so different from the spare, simple, Japanese katakana. From Wikipedia, here's a chart of the latter for comparison:
I've seen the English alphabet written to look like Devanagari, like Chinese characters, and other scripts, but this Gothic katakana is one of the most amazing lettering tours de force I've even encountered.  Yet what do all of these script metamorphoses tell us about the nature of writing?  Do scripts look the way they do because of esthetic preferences?  Or because of something intrinsic about the course of their development, including the surfaces on which they are written and the instruments with which they are traced on those surfaces?  One thing is certain:  the multiplicity of different scripts and their diverse appearances are wondrous to behold.
---