« previous post | next post »
In "Sign of the Times,"  I discussed a sign in a New York shop window written in Russian but ostensibly addressed to Chinese.  Now we have a bilingual sign in Russian and English: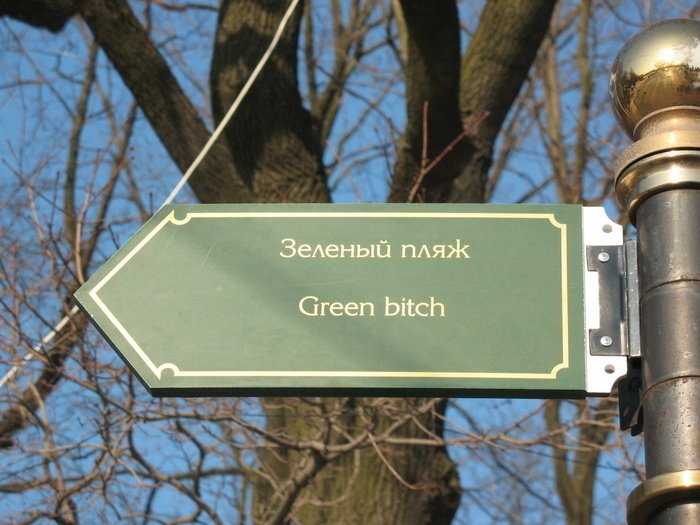 The Russian means "Green Beach"; with a Slavic pronunciation of English, that might come out the same as "Green Bitch," both being pronounced "Green Beech."  Russians seem to have a hard time with the distinction between [i] and [ɪ].

This immediately reminds me of Geoffrey Pullum's "The bitches of Hong Kong."   Apparently Russians aren't the only ones who have a hard time with the [i] – [ɪ] distinction.
As a matter of fact, when teaching English to speakers of various Chinese languages, I've discovered that one of the hardest things — in terms of pronunciation — for them to master is distinguishing among the fine gradations of vowel quality that make such a crucial difference for understanding others and expressing oneself clearly:  pin, pine, pan, pane / pain, pen, peen, pun, poon, pone, peon (pē'ŏn', pē'ən; also pyūn), paen….
[Hat tip to Eric Kinzel]
---