« previous post | next post »
Commenting on Facebook about Ben Zimmer's Language Log post on the Iraqi "Paul is dead" buffet sign, Anne Erdmann shared this buffet sign from China: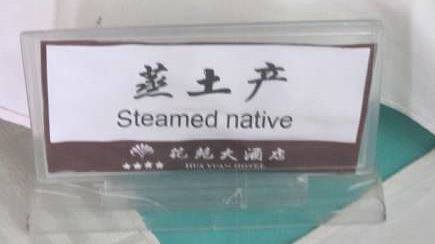 The Chinese says zhēng tǔchǎn 蒸土产, for which Google Translate gives "steamed native", while Bing Translator gives "steam products" and Baidu Fanyi gives "steamed products".
But what could zhēng tǔchǎn 蒸土产 really mean? Zhēng 蒸 presents no problem; it simply indicates "steamed". Tǔchǎn 土产 signifies products that are indeed "native / indigenous / local". The structure of tǔchǎn 土产 is modifier + noun = noun, i.e., "native / indigenous / local product(s)", without specifying which particular local product(s). Such products may also be called tǔ tèchǎn 土特产 ("local / native / indigenous special products").
In the Facebook thread, Mike Lyle commented: "I can shed light on 'native'. In the appropriate context it's Britspeak for a non-imported oyster, and this looks like such a context."
Now, the Chinese word for oyster is mǔlì 牡 蛎, and there are several possible ways to say "native oysters". One would be guóchǎn mǔlì 国产牡蛎 ("domestic oysters"), on the model of guóchǎn dàiyú 国产带鱼 (Trichiurus haumela; "domestic hairtail"), a kind of cutlass fish, and jìnkǒu dàiyú 进口带鱼 ("imported hairtail"). The former is more expensive than the latter.
It could also be translated as běndì mǔlì 本地牡蛎 ("local oysters"), on the model of běndì qiézi 本地茄子 ("local eggplant"), as Beijingers say in reference to locally grown aubergines.
All of this talk about "native" or "domestic" oysters reminds me of a related expression that caught my attention during trips to Taiwan and China, viz., tǔjī 土鸡 ("native / local / indigenous chicken"). Not only do I like the sound of tǔjī 土鸡, I love the taste, which is so much more delicious than chicken that is intensively produced on large farms and shipped to market frozen.
In recent years, tǔjī 土鸡 has taken on a new connotation, what in English we would call "free range chicken". The equivalent expression in Chinese is zǒudì jī 走地雞 ("pastured poultry"), which I find to be somewhat amusing, since it literally means "chicken which walks / runs around on the ground".
[Hat tip Ben Zimmer; thanks to Fangyi Cheng, Jing Wen, and Rebecca Fu]
---