« previous post | next post »
Someone posted this picture of a package of mushrooms (?) on Reddit: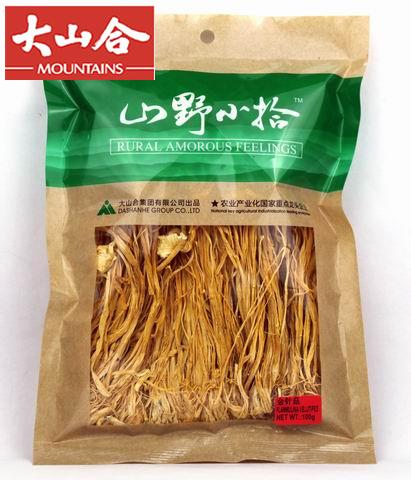 If this is Chinese, I'd read it as shānyě xiǎo shi 山野小拾 ("gleanings from hill and dale / mountain wilds").
It's questionable whether this can or should be read as Japanese. From a Japanese correspondent:
山野小拾 looks like Chinese to me. I googled it, and the sites are all in Chinese. If it was Japanese, it could be 山野 = sanya (on doku) or Yamano (kun doku) 小拾 kojuu (kun + on doku) or shoojuu (ondoku). But, I think this naming is rather unlikely in Japanese. judging from the items they are selling on those Chinese sites (dried mushrooms, etc.), it might be a brand name which means 'small gathering from the wilderness'.
音読(on doku [Chinese style reading])・訓読 (kun doku [Japanese style reading])
I agree with all of these observations.
Another Japanese correspondent states that it is hard to figure out how to read:
Yamano shōshū やまのしょうしゅう
Yamano shōjū やまのしょうじゅう
Yamano Kobiroi やまのこびろい (as a proper name)
(among other possibilities)
Since the company is in China, I believe that we need to treat the name as Chinese.
Whether it's Chinese or Japanese, "Rural Amorous Feelings" is an odd translation of 山野小拾.
Fair enough, shānyě 山野 ("hill and dale; mountain wilds; mountains and plains") may be said to account for "rural".
The character shi 拾 has another usage than "glean; collect"), as in the phrase tóngnián ǒu shi 童年偶拾 ("idle memories of youth"), where it is not referring to physical objects that people pick up, but rather to trifles that they gather, hence "memories" or even "feelings". This may account for the "feelings" in the wording on the package. Still, "Rural Amorous Feelings" is hard to account for in toto.
Stretching credulity as far as possible, I wonder whether the yě 野, which can have unsavory implications such as ambition and uncouth or inappropriate behavior, might have been the root of the "amorous" translation. In ancient China, there was definitely a connection between yě 野 ("wild[ernes]s") and "licentiousness; sexual intercourse".
See Paul R. Goldin, "The Motif of the Woman in the Doorway and Related Imagery in Traditional Chinese Funerary Art," Journal of the American Oriental Society, 121.4 (2001), 539-548, especially about copulating in the wild, with old and highly graphic illustrations.
Confucius himself was said to have been conceived when his parents yěhé 野合 (lit., "copulated / came together in the wilderness"; i.e., "illicit copulation; illicit sexual relations"). See "6 Famous Bastards Who Made Their Mark" (Confucius is #1 on the list).
For the textual basis of this tradition, see the first citation here, from the biography of Confucius in Sima Qian (China's Thucydides), The Grand Scribe's Records.
The full form of the expression describing Confucius' parents' union is yěhé ér shēng 野合而生 ("born from copulation in the wild[ernes]s"), the short form of which would be yěshēng 野生 ("wilderness born", i.e., "born out of wedlock; illegitimate; a bastard").
Of course, later Confucian apologists went into contortions falling over each other in their efforts to deny that ("joining in the wild[ernes]s") meant what it seemed to.
One correspondent suggested that the mushrooms may have aphrodisiac properties, but I suspect that the "amorous" part of the translation comes from yě 野, as analyzed in the previous paragraphs. Hence, yě 野 is doing double duty, signifying "wilds" and at the same time implying "dissoluteness", i.e., "indulging in sensual pleasures". This may not be what the person who thought up shānyě xiǎoshi 山野小拾 ("gleanings from hill and dale / mountain wilds") had intended for this product, but at least we have now traced the origins of all three components of the English translation to their source in the Chinese name.
Anyway, springtime is in the air….
[Hat tip Kendall Willets; thanks to Cecilia Segawa Seigle, Hiroko Sherry, Nathan Hopson, Jing Wen, and Rebecca Fu]
---