« previous post | next post »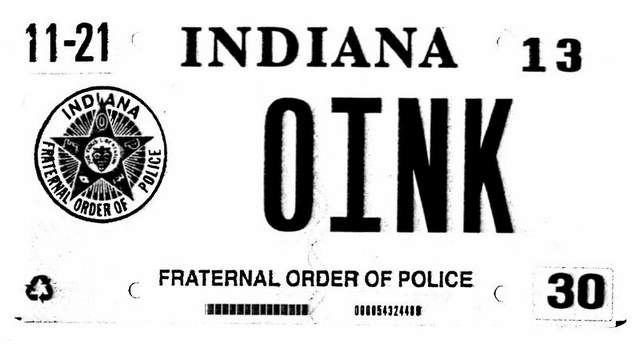 In Indiana, a police officer successfully sued the Bureau of Motor Vehicles for the right to have a vanity license plate reading "0INK." According to the lawsuit, the message on the officer's license plate represents "an ironic statement of pride in his profession," but when he applied for a renewal his choice was rejected for impropriety. As the Indianapolis Star explains, a superior court judge has ruled that "the standards the BMV used to assess the appropriateness of personalized license plates were so vague that they violated the First Amendment." The lawsuit has also exposed the guidelines that the Indiana BMV is supposed to follow in determining if a vanity plate is objectionable. One of the big no-no's? "Linguistics"!
The Star article reproduces the nine categories of objectionable usage that the BMV is allowed to prohibit. Here is the official wording of the BMV rules on personalized license plates (PLPs):
The bureau shall deny a PLP request if an objective, reasonable person would find that the customer's proposed PLP numbers or letters, or both, combination listed on the PLP application falls into at least one (1) of the below listed categories. The bureau may also refuse a PLP request that does not fall into at least one (1) of the following categories, but is determined to carry a connotation offensive to good taste and decency, is misleading, or is otherwise prohibited:
(1) Refers to, relates to, or connotes sexual acts or eliminatory functions, including, but not limited to, breasts, genitalia, the pubic area, buttocks, etc. Additionally, references to numbers with sexual connotations are prohibited unless used to identify and in conjunction with a production year and a vehicle's make or model.
(2) Refers to or suggests the substance, paraphernalia, sale, use, purveyor of, or physiological state produced by any drug, narcotic, alcoholic beverage, or intoxicant.
(3) Refers to a race, religion, deity, ethnicity, gender, sexual orientation, or political party or affiliation. However, generally accepted references to a race or ethnic heritage are allowable.
(4) Is defamatory, profane, obscene, vulgar, or derogatory.
(5) Expresses or suggests violence or endangerment to the public welfare.
(6) Refers to a government, a government entity, or a government official or employee.
(7) Duplicates another license plate or would substantially interfere with plate identification for law enforcement purposes.
(8) Uses linguistics, numbers, and phonetics, translations from foreign languages, or upside-down or reverse reading to reference any other prohibited numeric and letter combination.
(9) Uses or refers to a trademark, trade name, service mark, copyright, or other proprietary right in conjunction with language that promotes, advertises, or endorses a product, brand, or service provided for a commercial purpose unless the registrant is the verified owner of the protected mark or is authorized to use such mark.
Now, the reference to "phonetics" in Rule #8 makes some sense — it's surely supposed to cover playful phonetic respellings of taboo vocabulary, like, say, FUH-Q. But what do you suppose they think "linguistics" means, and how would a vanity plate use it? Herb Stahlke brought this to the attention of the American Dialect Society mailing list, where Galen Buttitta suggests it simply means "Don't try to be clever and sneak obscenity past the radar." Anyone familiar with other cases where "linguistics" is taken to mean something like "clever deception in concealing a forbidden message"? (No jokes about cunning linguists, please.)
---