« previous post | next post »
Yesterday a journalist asked me about the background of the term "affirmative action". I turned up a few things like this, from a (2006 reprint of a) 1954 book French Administrative Law and the Common-Law World: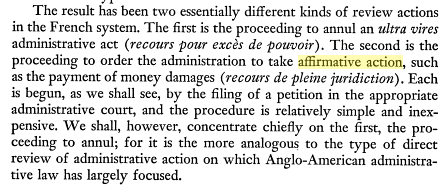 Or similarly this passage, where "a request that an allegedly illegal administrative act be annulled" is contrasted with "[a request] that the administration be ordered to take some affirmative action … to repair an injury caused by an improper administrative act".
So it seems that when the term began to be used in reference to remedying the effects of segregation and other race- or sex-based discrimination, the idea was that people who had been excluded from education or employment deserved not just the nullification of discriminatory laws or policies, but also "affirmative action" to repair the injury.
But sometimes the meaning of "affirmative action" in older texts seems more general, apparently not meaning much beyond an emphatic form of simple "action". Here's an example from a (2006 reprint of a) 1930 book Legislative Principles: The History and Theory of Lawmaking by Representative Government:

(Though perhaps "affirmative action" here still means "formal legislative ratification", as opposed to a mere failure to take formal action to object?)
And the OED's entry suggests a very different relationship to the modifier affirmative:
affirmative action n. orig. U.S. action taken to affirm an established policy; spec. active measures taken by an employer, college, etc., to provide opportunities for members of minority groups, women, or other people regarded as having suffered from discrimination.
In any case, it seems that as a result of late-20th-century America's intense concern with racial and sexual politics, a legal term of art that earlier had much broader application has changed its meaning, at least in popular discourse, to refer specifically to policies to repair the effects of past race or sex discrimination.
But I'm not an expert in legal terminology. Perhaps some commenters can clarify the history and present legal usage of this term.
---