« previous post | next post »
On "Savage Minds", Kerim has a new post entitled "How do you pronounce '革命ing'?", which features this initially enigmatic photograph: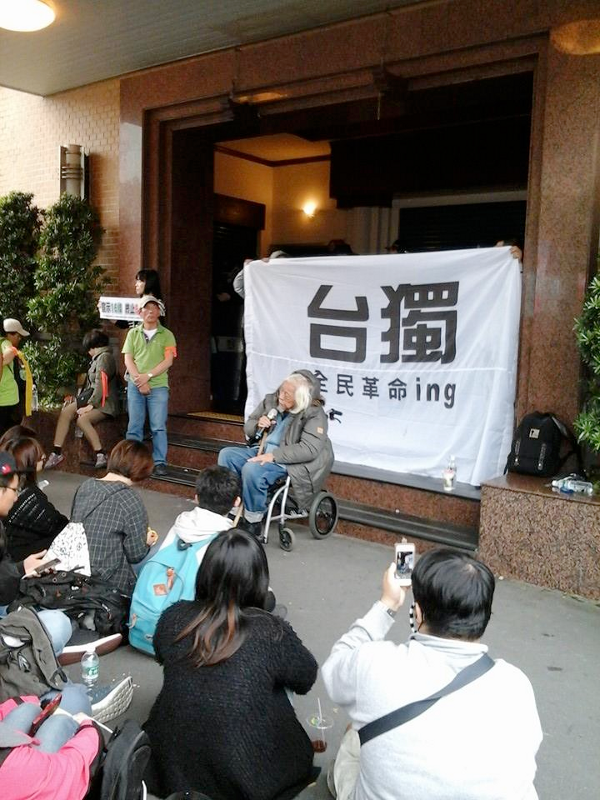 The photograph shows Taiwanese historian and political activist, Su Beng (aka Shih Ming), in front of a banner that reads:
Táidú 台獨, which is short for Táiwān dúlì 台灣獨立 ("Taiwan Independence")
Quánmín gémìng ing 全民革命ing ("the entire people [are carry]ing [out] revolution")
I should note that this scene is part of the general turmoil now roiling Taiwan because of a secret trade agreement that was signed between the ROC and PRC governments ("Taiwan Protesters Occupy Legislature Over China Trade Pact").
The assimilation of the English present progressive morpheme -ing into Chinese has been covered on Language Log already in 2008, and it was also discussed on Pinyin News. It's not impossible to express roughly the same sentiment in Chinese without resort to English -ing. I asked several native speakers how they would say "全民革命ing" purely in Chinese, and here are some of the suggestions I received:
quánmín gémìng shí 全民革命時
("when / while / at the time the entire people [are carrying out] revolution")
quánmín gémìng zhōng 全民革命中
("the entire people in the midst of [carrying out] revolution")
quánmín gémìng zhèngzài jìnxíng 全民革命正在進行
("the entire people are right now carrying out revolution")
zhèngzài quánmín gémìng zhōng 正在全民革命中
("right now in the midst of the entire people [carrying out] revolution")
xiànzài zhèngzài jìnxíng quánmín gémìng 現在正在進行全民革命 ("right now the entire people are just in the process of carrying out revolution")
None of these convey exactly the same nuance as the original version with -ing, but they may be said to approximate its intent.
It is very interesting that -ing resurfaces just at the moment when we have seen English being used liberally in the Taiwanese version of "Let It Go!" and in the comments on the YouTube video where it is recorded, starting with this forthright comment of Patrick Sia:
i dont see the necessity of everyone commenting in english, heck i am using it too. but thats only because i am not that good in mandarin. and some of your grammar tho. its gone wrong.
There are some interesting comments there (something that is not usually the case for Youtube), and the commenters, the great majority of whom seem to be Taiwanese, often write in English. This helps to demonstrate that so many Chinese speakers are writing in English for other Chinese speakers to read that others are complaining about it (some in English even). And there's even (perhaps) an indirect suggestion of a connection with the lack of a standard written form for Taiwanese.
English vocabulary and grammar have been extensively incorporated into various Chinese languages, certainly as they are spoken and written in Taiwan. It would be interesting to see how this compares with the situation in Japanese, Korean, Vietnamese, and all the other languages with which we deal.
[Liwei Jiao, Rebecca Fu, Fangyi Cheng, Grace Wu, and Matt Anderson]
---