« previous post | next post »
Opinions were strikingly divided about Obama's inaugural speech, and not necessarily along ideological lines. George Will called it lyrical and Pat Buchanan called it "the work of a mature and serious man"; but in National Review, Yuval Levin said that within a few weeks not a line of it would be remembered, and Rich Lowry spoke of "overwrought clichés and poor writing." At the New Republic, John Judis called it a "disappointing muddle" that "got no style points," while John McWhorter, moonlighting from his Language Log day job, called the speech "worthy of marble" and pointed in particular to Black English influences on Obama's cadences, though he didn't develop the point in detail. And Stanley Fish pronounced the speech a paradigm of paratactic prose, which in its nature "lends itself to leisurely and loving study," and having duly allowed himself to "linger over each alliteration [and] parse each emphasis," predicted that it would be studied in a thousand classrooms: "canonization has already arrived."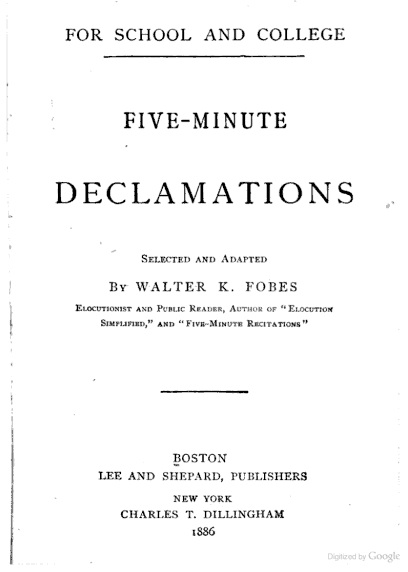 Those are the criteria people always bring to this sort of address: Was it memorable? Marmorealizable? Did he stick the landing? It's understandable, a way of flattering ourselves that ritual oratory still matters. But I have the feeling Obama and his writers knew better.
Of course it was a very memorable event, on a historic, make that epochal, occasion. And the speech is sure to be memorialized — in fact Penguin Books is already on it.
But if the speech was well turned, it wasn't memorable. What's more, it didn't need to be memorable. It couldn't have been memorable. And my guess is that nobody tried too hard to make it memorable. As I put the point in a "Fresh Air" piece that aired today [full text here ]:
Obama's speech made all the required moves: it was grave but not doleful; resolute but not belligerent, eloquent but not grandiloquent. Its acknowledgments were eclectic: Biblical allusions, a nod to Tom Paine, a shout-out to Jerome Kern.
But it wasn't especially memorable. If we still lived in an age when people compiled collections of great speeches for pupils to memorize and declaim on national holidays, the editor would more likely go with the moving speech that Obama made in Grant Park on the night of the election.
But that isn't necessarily a weakness of the speech.
Ceremonial speechmaking is an unnatural, anachronistic exercise, and I'm not sure whether anybody will ever again give an address as memorable as Kennedy's in 1961 or Roosevelt's in 1933 — or that it's a good idea to try.
When you reread Roosevelt and Kennedy's speeches you realize how rhetorically distant their age was. Take the famous sentence from Kennedy's inaugural that begins: "Now the trumpet summons us again—not as a call to bear arms, though arms we need; not as a call to battle, though embattled we are, but a call to bear the burden of a long twilight struggle, year in and year out…"
It's still a stirring line, but you can't imagine any recent president trying to get away with it. Kennedy was the last president who could comfortably dip into the rich stew of classical figures of speech. "Not as a call to battle, though embattled we are" — that would be both chiasmus and polyptoton. Rhetoricians have been botanizing this stuff for millennia, and by now there's no way to put two words together that doesn't have a Greek label, kept alive by a thin line of English department pedants. There are 67 people in America who live for this stuff.
The medieval scholars called those figures of speech the rhetorical colors, from a Latin term for ornament. They flourished over the centuries when the proper role of literature and oration was the decorous ornamentation of thought, and when politicians and poets drew from the same rhetorical well.
You can still turn up moves like those if you rummage around in T. S. Eliot or Wallace Stevens, but rhetorical ornament is alien to the spirit of modern literature. It still survives in some religious traditions; those flourishes come naturally to a Jesse Jackson or Joseph Lowery, though they sound a bit more forced coming from the energetically affable Rick Warren. But for the most part, the figures are reserved nowadays for advertising slogans, bumper stickers, and the titles of country songs — they're the linguistic equivalent of stunt riding.
Take the figure in Kennedy's "ask not what your country can do for you, ask what you can do for your country" and "we must never negotiate out of fear, but we must never fear to negotiate." The classical rhetoricians called it antimetabole, though modern speechwriters prefer to refer to it as the reversible raincoat. Politicians are still irresistibly drawn to it. Bill Clinton had his "People are more impressed by the power of our example than the example of our power." John McCain had "We were elected to change Washington, and we let Washington change us." And Hillary Clinton went with "The true test is not the speeches a president delivers, it's whether the president delivers on the speeches" (an example not just of antimetabole but of antanaclasis, where the same word is used twice in different senses).
The figure has its roots in Shakespeare and Milton. It's in Blake's "Never seek to tell your love/Love that told can never be" and Kipling's "What should they know of England who only England know?" Frederick Douglas used it when he said "You have seen how a man was made a slave; you shall see how a slave was made a man."…
But to modern listeners, the pattern is more likely to bring to mind the syntactic two-step of slogans like "When guns are outlawed only outlaws will have guns" and "I am stuck on Band-Aid, and Band-Aid's stuck on me." Or in its pure classical form:"Starkist doesn't want tuna with good taste, Starkist wants tuna that tastes good." It's as catchy as ever, but it can't be the vessel for a deep idea anymore.
Of course Obama's speech was dotted with some of the other turns and figures that ceremonial addresses require. "A nation cannot prosper long when it favors only the prosperous" — that was polyptoton, where a word is used in two different ways, as in FDR's "nothing to fear but fear itself." It's a tidy aphothegm; you had the sense somebody fought hard to keep it in there. And there was a soupçon of catachresis in "the bitter swill of civil war and segregation," in a passage that Obama read with rising intonations that I heard as an evocation of the language of Martin Luther King. But Obama didn't do a lot of rhetorical overreaching — he did just what he needed to do to nail the event. No, it wasn't a speech for the ages. But I found it reassuring that he kept his coat on right side out.
As I was preparing to tape this piece on Wednesday, when everybody had moved on to the Guantanamo closing and the Clinton and Geithner hearings, a friend said to me, "Was there ever an inaugural address that became old news so quickly?" I don't know. But paratactic or no, nobody seemed to have much interest in lingering over it by then — Obama least of all.
---