« previous post | next post »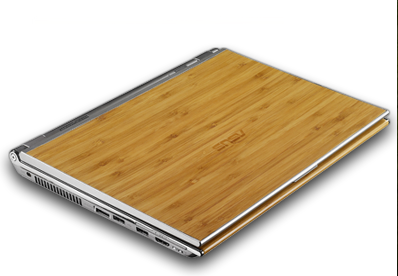 From the web page advertising the new Asus bamboo series:
Mature Moso bamboo, around 2 years old, is used in the Bamboo notebooks. This aligns with the natural lifespan of the bamboo, and the manufacturing process uses less energy than traditional metal alloys that are refined from petrol.

Unlike the Pomegranate, the Asus bamboo is an actual product — I saw one in use just a couple of days ago. But this leaves the question of whether the ad page is a hip joke, or was produced by copy writers who paid less attention in science class than they did to environmentalist clichés.
Later we learn something new about bamboo's superordinate category as well:
Users will have a highly individual and personal experience with the Bamboo notebook where every touch on the touch pad will be reflected by color and surface change over time and use, as only a natural fiber like bamboo can demonstrate.
The same question arises in this case: hip joke or mindless rhetoric?
One of the other advertising pages for this product makes an intriguing claim:
And underneath the beauty of the surface is a feat of engineering, boasting an incredible resilience that has been testing to its limit successfully on the unforgiving conditions of Mount Everest.
I'm tentatively voting for the "copy writers on automatic pilot" theory; but maybe the jokes are going over my head.
[The bamboo in question seems to come from this company. A key part of the process involves glue — "The bamboo strips are pressed against each other vertically and glued under high pressure" — and I wonder whether the glue is a traditional animal glue, or a more modern type made from petrochemicals, say urea-formaldehyde glue (where both urea and formaldehyde are now typically produced from coal, natural gas, or other fossil hydrocarbons).]
---