« previous post | next post »
Well, it's not quite as complex as the mixture of languages and scripts that we addressed in "A trilingual, triscriptal ad in the Taipei subway", but the following group of four characters and four phonetic symbols on the container of a fish-based food flavoring (here's the company's web page for this project) raises plenty enough interesting issues to merit its own post.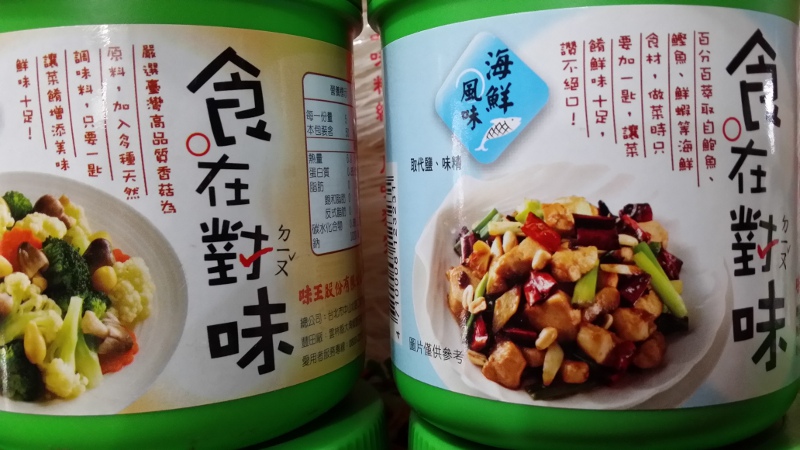 The four characters are 食在對味. Now, in Taiwan, literate individuals may read them in Mandarin as shí zài duì wèi or in Taiwanese as si̍t chāi tio̍h bī, or they may read them in some combination of the two.
I canvassed a number of Taiwanese speakers and found that, depending upon their age and where they come from, they react to these four characters in different ways. Younger people (roughly 40 years or lower in age), especially those from major urban areas in the north, tend to treat them as Mandarin, while people above 40 and those from the south, including even younger people from rural areas, tend to treat them as Taiwanese.
The four phonetic symbols are ㄉㄧㄡ ˇ. In Hanyu Pinyin that would be diǔ. Since the phonetic symbols are meant to annotate the sound of 對, they are not equivalent to the MSM (Modern Standard Mandarin) pronunciation, duì, nor are they equivalent to the Taiwanese pronunciation, tio̍h, but they are much closer to the Taiwanese. Indeed, they are clearly meant to invoke a Taiwanese reading of that character. In fact, several respondents told me specifically that it was because of the phonetic symbols for 對 that they were prompted to read all or part of the phrase as Taiwanese. A few native speakers of Taiwanese whose Mandarin is better than their Taiwanese, however, ignored the phonetic symbols and read the whole phrase as Mandarin. On the other hand, those whose Taiwanese was as good as or better than their Mandarin were activated by the phonetic symbols to read all, or at least the second part, of the phrase as Taiwanese.
Before translating the expression, I should point out that the first two characters constitute a clever pun:
食在 || 實在, where the original reading means something like "food / eating consists / lies in" and the pun means "truly; really; actually".
The last two characters, 對味, mean "suit your taste; are to your taste; hit the spot".
Taken all together, then, with the pun operating simultaneously on two levels, we have:
si̍t-chāi tio̍h-bī // shízài duìwèi 食在對味 ("when eating, it really has the right flavor")
I will leave it at that for now, but I suspect that the Taiwanese specialists who read this will have more to say about the pronunciation and finer nuances, particularly of the last two characters, inasmuch as the manufacturer wanted people to read at least the third character in Taiwanese rather than in Mandarin.
[Thanks to Jason Cox, Grace Wu, Melvin Lee, Sophie Wei, and Chia-hui Lu]
---