« previous post | next post »
Ad in the Beijing subway: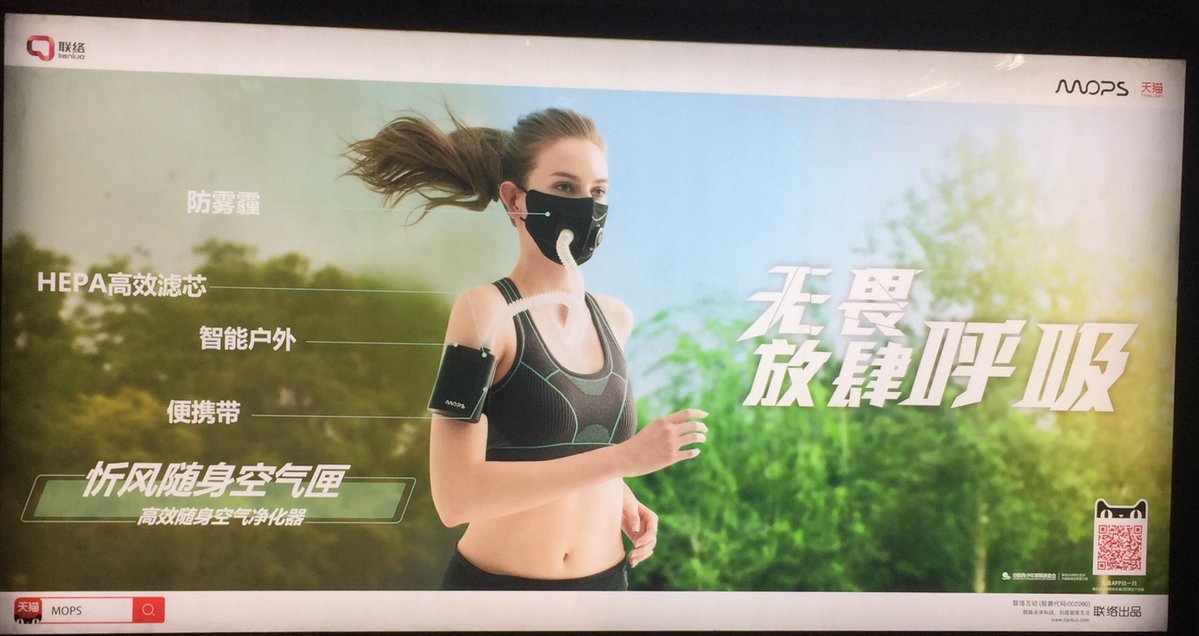 From "A Beijing subway ad gives a glimpse at a dystopian future".  Be sure to watch the 12 second Instagram video posted by Chas Pope that shows a bank of AQI400+ (!!) smog rolling into Beijing — within 20 minutes.  Truly mind-boggling!  The exhaust from all those cars tearing down the ring roads is one of the main causes of Beijing's pollution.  Together with all the coal that is burned dirty, it's a recipe for airpocalypse.
When I first saw the ad, I thought that this purifier (note that they don't call it a mask) was satirical, but apparently it's a real thing and is made by Beijing Digital Grid Technology Co., Ltd.  Several friends in Beijing told me that they had seen the ad in the subway.
Here's what it says:
wúwèi fàngsì hūxī 无畏放肆呼吸 ("breathe without fear wantonly / audaciously / presumptuously / impudently / for all you're worth")
fáng wùmái 防雾霾 ("anti-smog")
HEPA gāoxiào lǜxīn HEPA 高效滤芯 ("HEPA high efficiency filter")
zhìnéng hùwài 智能户外 ("intelligent for outdoors")
biàn xiédài 便携带 ("conveniently carried")
Xīnfēng suíshēn kōngqì xiá 忻风随身空气匣 ("Joyful Wind portable airbox")
gāoxiào suíshēn kōngqì jìnghuà qì 高效随身空气净化器 ("high efficiency portable air purifier")
Here's an unboxing of one of their products.
I'm going to urge all my friends in Beijing and other North China cities, especially the joggers, to purchase one of these devices.  I hope that they're not too awfully expensive.
As VPNs are to the Chinese internet, so air filters and purifiers are to North China smog.
[h.t. Gene Hill; thanks to David Moser and Joel Martinsen]
---