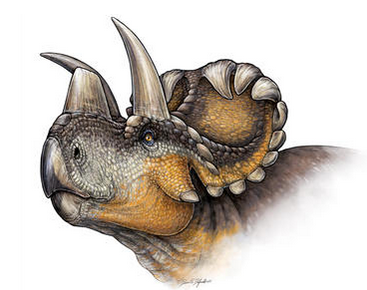 Sasha Harris-Lovett, "Meet Wendiceratops, a horned dinosaur unlike any other", LA Times 7/8/2015:
Move over Indominus Rex – scientists have discovered a previously unknown dinosaur in Canada that's cooler than any "Jurassic World" creation. And it's real.
The creature, a member of the family of horned dinosaurs, was an older cousin of Triceratops that lived about 79 million years ago. Like Triceratops, it had horns emanating from its face and head, along with a bony beak that it used to shred plants before eating them. […]
The story begins with professional fossil hunter Wendy Sloboda, who spotted something that appeared to be a dinosaur bone sticking out of a steep hill in southern Alberta, Canada, in 2010.