« previous post | next post »
I've been reading David Laitin's Politics, Language and Thought: The Somali Experience, which discusses a kind of linguistic determinism that (in my opinion) hasn't gotten the attention it deserves.  So in keeping with my third annual New Year's resolution to emphasize positive blogging about linguistic issues, I'm going to tell you about some fascinating 35-year-old experiments described in Laitin's book,  in the context of some more recent work on related issues.
I'll frame the discussion in terms of a deceptively simple question: do the results of public opinion polling depend on the language of the interview? The answer, it seems, is often "yes", and the effects are sometimes very large. This immediately raises a more difficult question: why?
For example, when Prof. Laitin's Somali assistants asked Somali-speaking students in the Northeastern Province of Kenya to complete the sentence "My favorite radio station is ___" (or its Somali translation), the answers varied as follows:
Voice of Kenya
Somali Radio
BBC
Asked in English
(n=56)
54%
43%
4%
Asked in Somali
(n=70)
24%
51%
24%
When asked to complete the sentence "Between home and school, I prefer ___", their answers were:
"Home"
"School"
Asked in English
(n=68)
68%
32%
Asked in Somali
(n=71)
25%
75%
These are obviously pretty large differences.
A similar issue came up in passing on this blog last summer, with respect to linguistic priming of responses in tasks intended to measure "individualism" vs. "collectivism" ("How to turn Americans into Asians (or vice versa)", 8/15/2008). In that post, I cited a review article by Daphna Oyserman and Spike Lee that gives "a meta-analysis of the individualism and collectivism priming literature" ("Does Culture Influence What and How We Think? Effects of Priming Individualism and Collectivism", Psychological Bulletin 134(2): 311-342, 2008). One of the priming methods that Oyserman and Lee discuss is the choice of language for conducting experiments among bilinguals.
According to the abstract,
Effect sizes [of priming] were moderate for relationality and cognition, small for self-concept and values, robust across priming methods and dependent variables, and consistent in direction and size with cross-national effects.
"Relationality" refers to "social obligation, perceived social support from others, social sensitivity, and prosocial orientation", as well as "more specific operationalizations such as the choice to sit closer to a target other".
"Cognition" refers to a wide variety of judgments, both social and non-social, that were among the dependent variables in the various studies that they surveyed.  Many if not most of the questions asked in opinion polls would fall into this category (though of course this meta-analysis considered only test instruments deemed relevant to the individualism-collectivism dimension).
When they say that "effect sizes were moderate for relationality and cognition", they mean that priming changed these measures by about a half a standard deviation. (The actual range of effect sizes reported, for priming bilinguals by using one language or the other in administering the test, was -0.42 to 1.70.)
When they say that "effect sizes were … robust across priming methods and dependent variables", they mean that choice of testing language had roughly as big a priming effect as other sort of interventions did (for example, telling stories intended to promote collective vs. individual values).
And when they say that "effect sizes were … consistent in direction and size with cross-national effects", they mean that priming (whether by choice of language, or story-telling, or other methods) had about as big an effect as the differences among nationalities did, overall.
In this context, "priming" means that the researchers arrange for subjects to be influenced by some experimentally-manipulated factors that affect the thing being measured. Thus in a study measuring "individualism" vs. "collectivism", subjects might be primed by being seated at five-person tables vs. individual desks separated by partitions; or by being asked, before the test is administered, what they have in common with their family and friends, vs. what makes them different from their family and friends. Linguistic priming simply varies the language in which the questions designed to measure degree of invidualism vs. collectivism are asked and answered, or the language that subjects hear, read, or speak before a (perhaps-non-verbal) test is administered.
The idea, in Oyserman and Lee's words, is that
Priming activates mental representations that then serve as interpretive frames in the processing of subsequent information. When a concept is primed, other concepts associated with it in memory are also activated. When a cognitive style or mindset is primed, this activates a way of thinking or a specific mental procedure. Mindset priming involves the nonconscious carryover of a previously stored mental procedure to a subsequent task.
Note that language-choice priming, in this sense, is a way that language influences thought. But it's a non-Whorfian influence, in the sense that this influence need not be causally dependent in any way on any aspects of the form or meaning of the language. Nor are we talking about Wittgenstein's idea that "The limits of my language mean the limits of my world". Instead, these are psychological effects that might entirely be due to a language's cultural, social, and emotional associations for the individuals whose thoughts are being influenced.
[I should make it clear that none of the researchers I'm discussing are especially concerned with the effects of language choice on opinion-poll results. I've framed their work in those terms just because this seems to me to pose some of the issues in a clear way for outsiders.]
Now let's go back to David Laitin's 1972 experiments. He carried them out in schools in Waajeer, a Somali-speaking area of the Northeastern Province of Kenya. The experiments included an interview and a role-playing exercise, carried out among 64 subjects from the secondary school, with half of them doing the interview in English and the role-playing exercise in Somali, and half the other way around. In addition, a larger set of subjects participated in two easier-to-code exercises, where possible answers were more limited.
One was a listening test in which students were asked to evaluate the voice of English or Somali speakers, and the other was a "composition" test that involved choosing answers to fill in the blanks in sentences, either in English or in Somali. The composition test is the one under discussion here, and it was modeled on one originally developed by Leonard Doob for studying "patriotism and nationalism in the South Tyrol".
Laitin's English version of the test was this: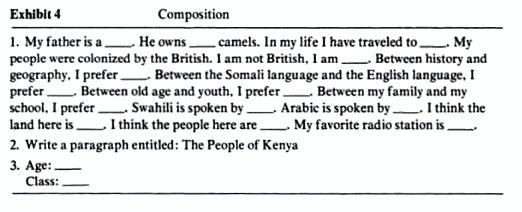 For the composition and listening tests, the subjects were the whole fifth year of the primary school (under 13 years old), and a set of volunteers from the first and second years of the secondary school (over 16 years old).
The two tables of results presented above come from Laitin's "composition test", and the language effects are very striking. Thus when tested in English, students preferred home to school 68% to 32%; when tested in Somali, they preferred dugsi ("school") to reer ("home") 75% to 25%.
The students were two different random samples from the same school, tested in the same setting by the same people within a short space of time.
It's easy to think of reasons for the difference, and Laitin suggests several. For example,
… in outlawing tribalism in the Somali Republic, the Supreme Revolutionary Council has proscribed the use of the word reer, which has rich clan overtones. Furthermore, the word I chose for school, dugsi, was once primarily used to denote Qur'anic schools, so is not an exact translation of "school".
He also suggests that in some cases, the students took the view that these were tests with right and wrong answers, and may have used out-of-classroom discussions to help their peers settle on the "right" answers. Some similar effects of group dynamics may even have taken place in the testing situation:
In both the composition and the listening exercises for the primary school students, although I tried vigorously to control it, the level of "shared" answers was probably high. With three students to a desk, and some forty-five students in a twelve-by-fifteen-foot classroom — a situation quite common in African primary education — most instructors recognize that the answers to their tests will reflect the collective consciousness of a particular desk. I may therefore have counted one independent observation (response form the desk) as three (response form three students). I could not collect a "desk" answer, because the relevant group was not always the desk, and because many students had answers that were different from those of other students at their desk or the neighboring desk.
Laitin also provides evidence that discussions of the tests were widespread even outside of the school:
After I completed all my testing, I spent a whole day quietly watching the local blacksmith making a knife out of a Land Rover spring and the horn of a cow. I had met him shortly after my arrival, and had told him I was working at the school. When a man walked in and asked the proprietor who I was, the proprietor answered that I was a student of languages, working in the local secondary school, giving tests to the students in both Somali and English, and planning to compare the answers to see if there were any differences. I was startled, not only because the metal workers were considered of low caste and therefore somewhat outside the society, but that anyone in the village would have such a clear idea of what I was doing. […] Insensitivity to the testing environment on the part of the experimenter, which this anecdote documents, is a serious problem.
But (at least in the context of this book) Laitin continues to believe in an effect that he thinks he saw as a Peace Corps volunteer in the Somali Republic in 1969:
I felt that there was a different social dynamic occurring among my students and colleagues when they were conversing in English and when they were conversing in Somali. I did not think that this difference was explained by their relative fluency in the languages, because I saw the same dynamic operating among Somalis who spoke English fluently, perhaps more fluently than Somali. And to a lesser extent (because my learning was much slower) I felt I myself was operating in a somewhat different world when I was speaking in Somali. Being a student of political theory, I began to relate the phenomenon I saw operating to ideas of cultural autonomy and political dependency. Could language be seen as a social institution which has its independent effects on other social institutions?
Except for the literature on linguistic priming of the individualism/collectivism dimension, I haven't been able to find any systematic discussions of language-associated mindsets and their effects on (for example) public opinion polling. It's well known that small differences in the way a question is phrased, even within a single language, can have big effects on polling results. What about differences in the accent in which a question is asked? And are there any well-supported methods of normalization that would make it possible to compare opinion-poll results across languages?
[Let me note in passing that Laitin's title Politics, Language and Thought is an instance of the X, Language, and Y pattern initiated (I think) by Franz Boas' Race, Language, and Culture. I have a feeling that there are a number of other examples, but this may be only because I once co-taught a course called "Biology, Language, and Culture". ]
---