« previous post | next post »
Katia Dmitrieva, "Madonna addicted to sweat dance plugs Toronto condos: Mortgages", Bloomberg News 1/10/2014 — Reader CD, a hardened journalistic veteran, calls this "a rare American noun pile headline":
It's a spectacular garden path which turns out to be a noun pile. I'm pretty good at parsing headlinese but I had no idea what the story was supposed to be about, or even what the syntax was supposed to be, until I clicked through. I suppose it would have helped if I'd known the name of the song beforehand. I'm quite impressed by the flimsiness of the connection between the lead and the content of the story too, but that's another matter.  
On the nationality question, it's a Canadian story and possibly a Canadian writer, but Bloomberg has a very strict style guide for headlines regardless of jurisdiction, so I'm comfortable calling it American.
On the Bloomberg news feed, the headline was corrected to "In Toronto Condo War, a New Perk: Workout With Madonna" before I got a screenshot, but the reprints (e.g. at the SF Chronicle) retain the original in all its crash blossoming glory: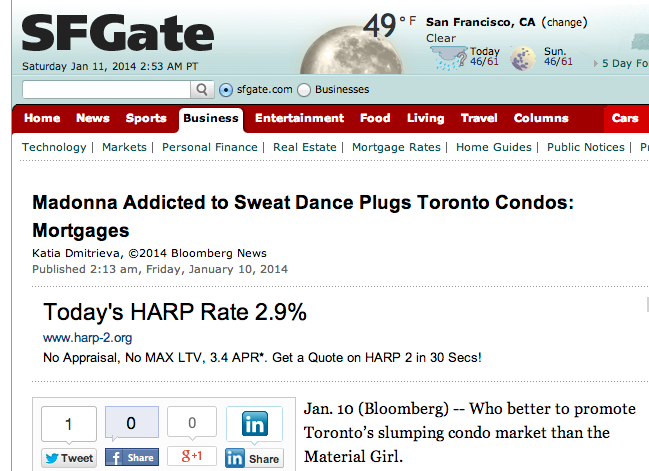 In case you don't get it yet, here's the lead:
Who better to promote Toronto's slumping condo market than the Material Girl.  
Madonna, whose 2012 tour was the top-grossing act of the year worldwide with $296.1 million in revenue, will lead an "Addicted to Sweat" dance class next month at her Hard Candy Fitness studio inside Aura, a new 78-story condo tower in Toronto. The luxury development will also feature a sculpture- studded public gallery, a marble-lined lobby and a five-bedroom penthouse priced at C$18.4 million ($17 million).
---