« previous post | next post »
The American Dialect Society chose because as its Word Of The Year, and thereby provoked an argument, here and elsewhere, about parts of speech. Most dictionaries and grammars see words like for, in, since, etc. as variously prepositions, adverbs, conjunctions, or particles, depending on how they're used. Geoff Pullum argues that they're all always prepositions, just used in different ways. (See "Because syntax", 1/5/2014, and "The promiscuity of prepositions", 1/8/2014, for some of Geoff's reasons.)
It's worth pointing out that the complex patterning of these words in contemporary English is the outcome of an even more complex historical process.
Originally in Indo-European,
Le terme de préposition est aussi impropre que celui de préverbe. A l'origine, il s'agissait d'un élément adverbial autonome dont la place n'était nullement fixée ni par rapport au nom ni par rapport au verbe.
The term "preposition" is as inappropriate as the term "preverb". Originally there was an autonomous adverbial element whose place was not at all fixed, neither with respect to a noun nor with respect to a verb.
(Meillet & Vendryes, Traité de grammaire comparée des langues classiques, 1948)
Virginia Anne Goetz puts it like this (The development of Proto-Indo-European local adverbs into Germanic prepositions and verbal elements, 2006):
It has been traditionally held that in Proto-Indo-European the archaic construction was an independent x-element with no fixed position in the sentence. At some point, the x-element developed a loose connection with the verb though both retained literal meanings. With time, a closer connection with the verb developed, both semantically with figurative usage and syntactically with a change of transitivity. Concomitantly, object proclivity developed in which the x-element became associated with case to yield a postposition and later a preposition.
She suggests the following terminology:
Particle: indeclinable words in IE.
x-element: a type of IE particle, originally giving spatial information, without any necessary relationship to verbs or nouns. About 22 of these have been reconstructed for PIE.
xv: an x-element with loose affiiliation with a verb.
unbound xv-verb: an xv-verb combination that changes the verb's semantics, syntax, or morphology.
bound xv-verb: the xv-element always appears immediately before the verb, as in German "inseparable prefixes".
O-x and x-O: where the x-element develops a syntactic relationship with an object, occurring either after or before it, though not necessarily adjacent, and often assigning case.
Terminology aside, modern English retains at least some instances of all of these, and more besides. Goetz summarizes the past five millennia this way:
In the initial stage of its development, PIE x was a free constituent in a functional language. Its role was to add a place adverb (xv) modality to a sentence. Often it related a case-bearing object to a verb. In the sequence OxV, for example, O ( – village) might be in the locative case and x would provide additional place adverb information to relate O to V (= go):
the village – toward, within, into, through, around, etc. – go.
From this earliest stage, there were innovations which related x to the object or to the verb. Sanskrit and Hittite are considered to be the most conservative in terms of these developments. There are in these languages some recurring expressions in which x appears to have an attachment to a case-bearing object as an O-x, so that Sanskrit and Hittite may be seen to be on the cusp of developing x as a case assigner. […] In these languages, x was mostly xv (a free adverb of place) or part of an OxV. In the latter, the role of x is ambiguous in terms of [verb proclivity] versus [object proclivity].
The most innovative in terms of x development are Latin and Greek. While there is still some relic structure, especially in older Greek, the "classical" stages of these languages have b.xv (bound verbal prefix), x-O ("preposition") and xv ("adverb").
The early Germanic languages, and hence reconstructed Proto-Germanic, fall between the extremes of the conservative (Hittite, Sanskrit) and the innovative (Latin, Greek). While Germanic has a group of b.xv's and sets of x-O, it still retains x's that are ambiguous.
The develop of fixed configurational relationships correlates with the loss of inflection. Thus John Hewson "Typological Evolution in IE", in John Hewson & Vit Bubenik, From Case to Adposition: The Development of Configurational Syntax in Indo-European Languages, 2006:
We have noted that in the Latin text above there is only one fixed ordering — that of preposition and following noun, found in the phrase sub tegmine. It also happens that sub is the only word in the whole sentence that has no inflectional mark of any kind. In fact the only common configurational requirement in Classical Latin […] was that the preposition should immediately precede the noun it governs — hence the name preposition, a calque upon Greek prothesis — and the obvious reason for this ordering is that the preposition carries no inflectional mark which could be used for agreement. Preposition and noun must be made to form some kind of a configurational syntagma in order to avoid confusion.
The Homeric poems show us, however, that this fixed positioning of preposition-plus-noun in Classical Latin is already a development from an earlier state of affairs. […]
He lists Homeric examples illustrating the protean syntax of e.g. ὲπὶ (romanization epi):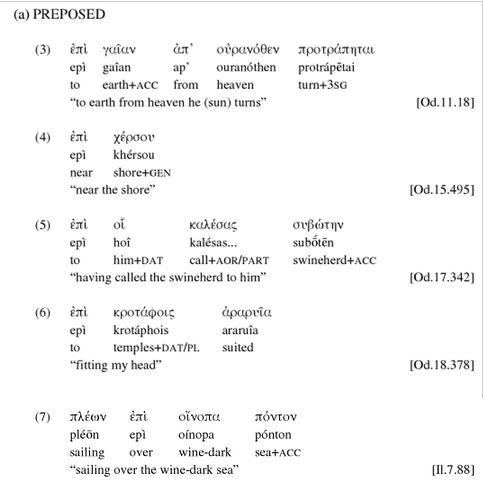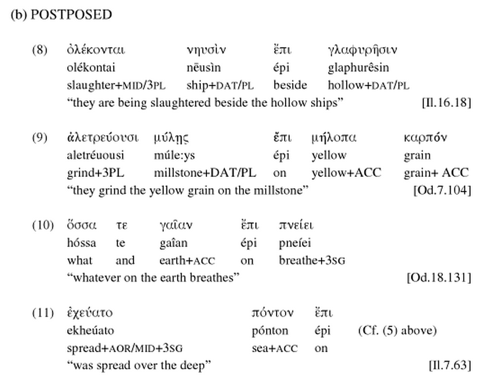 In all the Indo-European languages, the ancestral x-elements moved towards a stronger configurational identity — but the outcome also depended on which basic clausal word order developed:

There's something conspicuously missing from this story so far — the use of x-elements to introduce a clause, e.g. "Kim left after Leslie complained".  There are two obvious routes to this end. In one, the x-element starts as a free adverbial in a sequence of independent phrases, and is re-analyzed as grammatically bound to a neighboring clause, just as in earlier developments it because grammatically bound to a nearby noun or verb. In the other, which seems more relevant to the history of English, the x-element governs a pronominal element modified by a relative clause, as in the OED's discussion of the background of the quasi-conjunctional uses of for:
In Old English for with the instrumental case of the neuter demonstrative pron. formed advb. phrases = 'therefore', which, with the addition or ellipsis of the relative ðe became conjunctional phrases = 'because'. (For these phrases and their later representatives see for-thon conj., for-thy conj.; cf. also forwhy conj.). Similarly, for that conj.   appears from 13th c. as a conjunction; and in the 16th c. there are a few examples of for this in the senses 'therefore' and 'because'.
 In addition, there's the possibility of new words being added to the list of x-elements, typically from what start out as adverbs. Thus the OED's etymology for along relates it to adverbial use of an adjective "cognate with or formed similarly to Old Saxon gilang attainable, available, Old High German gilang related":
In use as adverb probably originally representing the accusative neuter of the adjective used adverbially […] For comparable use of compounds of long adj.1 as adjective and adverb in Old English compare ēastlang (adjective) lying in an easterly direction, extending eastwards, (adverb) to the east, in an easterly direction, westlang (adjective) lying in a westerly direction, extending westwards, (adverb) to the west, in a westerly direction […]
In use as preposition probably originally representing adverbial use of the adjective with a complement in the genitive. In Old English the preposition usually takes the genitive, but also occurs with dative and accusative.
An early residue of the loss of case was the phrasing "along of NP" rather than "along NP" — but this alternative never seems to have been very common, and in any case, the American Dialect Society was not around to celebrate its disappearance.
In the case of because, the source is the adverbial use of the prepositional phrase "by cause":
1356   Wyclif Last Age Ch. (1840) 31   Þe synnes bi cause of whiche suche persecucioun schal be in Goddis Chirche.
1470–85   Malory Morte d'Arthur (1817) II. 452   By cause of brekynge of myn avowe, I pray yow all lede me thyder.
1480   Caxton tr. Trevisa Descr. Brit. 15   Elidurus was logged atte cite Alcluid by cause of solace and hunting.
c1405  (▸c1395)    Chaucer Franklin's Tale (Hengwrt) (2003) l. 253   By cause that he was hir neghebour.
c1486   Bk. St. Albans D iij b,   Theis be not enlured..by cause that thay be so ponderowse.
?1541   R. Copland Galen's Fourth Bk. Terapeutyke sig. Bivv, in Guy de Chauliac's Questyonary Cyrurgyens,   For bycause that the sayde indication is nat taken of the same cause, it is euydent, [etc.].
1611   Bible (A.V.) John vii. 39   The Holy Ghost was not yet giuen; because that Iesus was not yet glorified.
From PIE to the present day, the consistent driver of change in this arena has been re-analysis — typically, syntactic re-interpretation of a functional relationship. Sometimes this is simply re-parsing of an ambiguous sequence, as when O x V was interpreted as O x-V. And sometimes it's a simplification of a more complex structure, as when by cause that S becomes simply because S.
I don't have strong opinions about whether the different functional and structural relations involved should be terminologically split or lumped or both — but I think that Geoff makes a good case for seeing the complex usage patterns of English words like in, from, and because as variations on a single grammatical theme.
---