« previous post | next post »
This is a guest post by Dick Hudson, who has promised a later submission about his experience helping to organize the re-introduction of grammatical analysis in the British school curriculum. This post gives some of his reflections on the pre-history of the grammarless state that he played a role in changing.

---
What tools does a grammarian need? A brain helps, and so does a computer, but surely one of our most essential tools is some kind of diagramming system. How can you think about a sentence's structure without displaying it visually? Geographers have maps; mathematicians have equations; musicians have musical notation; economists have graphs; and grammarians have trees.
It wasn't always so. Grammarians spent several thousand years trying to think about syntax without diagrams, but it was hard, and they didn't get very far into structural details. For thousands of years they didn't even have word-spaces or punctuation. It was only in the early nineteenth century that an American, Stephen Watkins Clark, achieved the breakthrough for which he has received virtually no credit since – how many of us even know his name? In 1847 he published the idea of drawing a kind of map to show a sentence's physiology. Admittedly, his implementation of the idea wasn't great, because it involved rather clumsy bubbles. Here's an example (applied to a typically worthy sentence; the diagram comes courtesy of Google Books):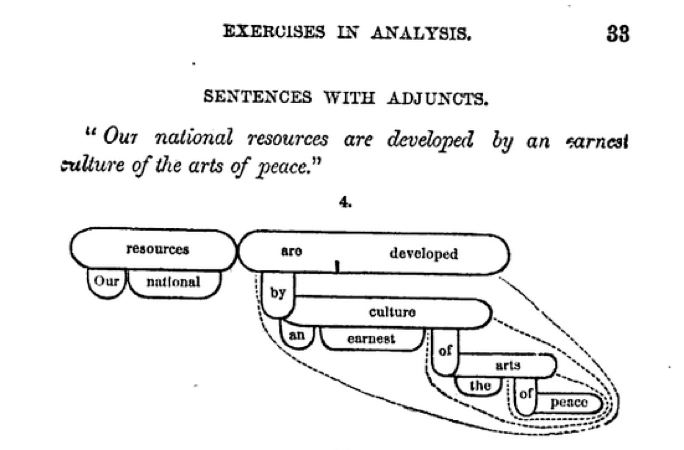 Just thirty years later, two other Americans, Alonzo Reed and Brainerd Kellogg, showed typical American marketing skills with a better implementation using lines instead of bubbles, like this:

A number of things are remarkable about this diagram. First, it's a product not of the nineteenth century, but of our twenty-first century, being generated by an online parser. The Reed and Kellogg system is still going strong, nearly 150 years later. For a long time 'sentence diagramming' flourished throughout the American school system, and although it was strongly condemned as a useless waste of time in the 1970s, it still persists in many schools. Not only that, but it spread well beyond the USA, so a very similar system is still taught in many European countries (though not, alas, in the UK); for example, schools in the Czech Republic teach sentence diagramming so successfully that researchers are investigating the possibility of including school children's analyses in a working tree-bank of analysed sentences. You yourself may remember sentence diagramming from your own school days; indeed, it may be because of this that you're reading this blog, because a lot of people loved it.
The second remarkable thing about Reed and Kellogg diagrams is that they are not in fact part of the tool-kit of any academic linguists. They belong to the world of school-teaching. Syntacticians everywhere have been deeply influenced by the idea of representing a sentence's structure with a diagram, but we have all moved on. In Europe, some linguists saw an opportunity to improve school teaching by making the diagrams even better. The classic example is the French linguist Lucien Tesnière who applied ideas that were already circulating in the Linguistic Circle of Prague (remember the earlier mention of the Czech Republic?) to school grammars. His innovation was the 'stemma' (and, incidentally, dependency grammar), which looked rather like Reed and Kellogg diagrams but culminated in a single top node for the root verb. Here's another diagram for the same sentence.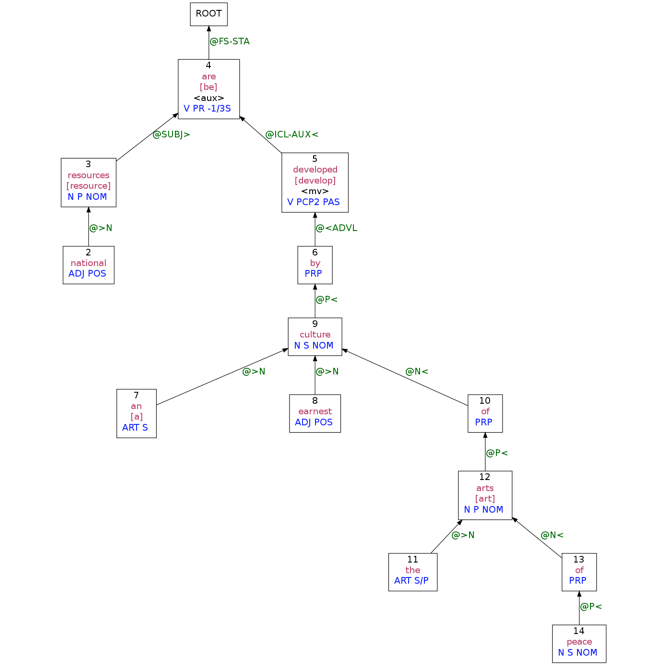 This diagram is also interesting in its own right, because, like the previous one, it was generated by an online parser (which, like most parsers, makes mistakes – what's happened to the first word, "our"?) This time, the parser is part of a Danish website for applying current linguistic theory to the teaching of grammar in schools – surely just the kind of development that academic linguists should celebrate.
But what about the United States, where it all started? As mentioned earlier, sentence diagramming seems to have flourished everywhere till the 1970s, so most of the American structuralists, including Bloomfield himself, must have done it at school. At the very least it must have shown them that a sentence has a structure that can be displayed visually. And yet (so far as I know) they never mentioned it even when they used trees to show constituent structure. Less still did they see themselves as improving it to make it work better in schools (as they could so easily have done, e.g. by making it sensitive to word order).
And in the UK (where I live)? We had a home-grown alternative to Reed and Kellogg (invented by Nesfield in the late nineteenth century, and still in use in my school during the 1950s), but it used columns rather than diagrams. I have no idea why we didn't buy Reed and Kellogg, but we didn't; and worse than that, we started the big international campaign against all grammar teaching (with or without diagrams) at school. This time the Americans followed, and the disease spread throughout the English-speaking world and beyond. As we struggle to cope with the effects of that disaster, it's worth pondering the history of it all.
Three cheers for Stephen Watkins Clark and his bubbles! Nearly two centuries later, where would modern linguistics have been without him? And even more importantly, where would those countless generations of bright school-kids (and teachers) have found their fun?
---
The above is a guest post by Dick Hudson. Some earlier LL posts on related topics:
"Personal and intellectual history of sentence diagrams", 10/14/2004
"Nominee for the Trent Reznor Prize", 4/14/2012
"Diagramming Sentences", 4/14/2013
"Putting grammar back in grammar schools: A modest proposal", 12/25/2013
"School grammar, Round two", 12/30/2012
I should also add that dependency diagrams and constituent-structure diagrams are more or less notational variants, and that these days, people often translate treebanks back and forth between dependency and CS versions.
---