« previous post | next post »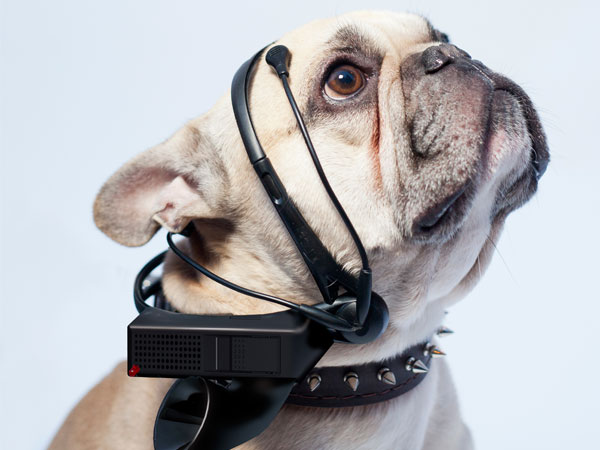 That's the name of a proposed product from the "Nordic Society for Invention and Discovery". It combines two surefire memes, brain waves and dog language,  claiming to be "the first device to translate animal thoughts into human language".
You will have your choice of vocal personalities, with names like "Holly", "Harley", "Pudge", "Mandy", and so on:
There's a video, too.
In fact, Gary Larson was on the trail of the same product many years ago, although he put the device on the human's head rather than the dog's: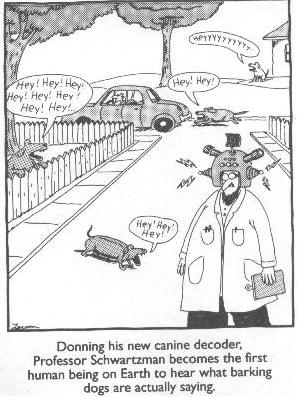 I hope that the device does a better job than the bark-classifier I discussed a few years ago  ("It's a dog's life — 0.3 bits at a time", 1/19/2008), which achieved 43% classification accuracy on a task where human performance was 40%.
Unfortunately, it does not seem likely that the inventors plan to publish any performance statistics. Given the well-known difficulties of doing reproducible "mind reading" from human EEG signals (i.e. without carefully adapting to the current electrode placement, and somehow avoiding the problem of distinguishing EEG from EMG), I'm not hopeful about what will happen if someone plunks down their $600 and does the experiment.
Of course, there's the problem of determining ground truth — what was that dog thinking anyhow? The logical method would be to use external circumstances: owner arriving or leaving, new animal introduced, etc. But in that case, the device becomes superfluous, since the dogs' thoughts are plain from what's happening and their behavioral reactions to it.
I'm not sure whether Edward Sapir's remarks about the "the formal completeness of language" apply to the behavioral expression of canine thoughts as well:
[W]e may say that a language is so constructed that no matter what any speaker of it may desire to communicate, no matter how original or bizarre his idea or his fancy, the language is prepared to do his work.
But if this isn't true for dogs, it's hard to see how we would know it.
---