« previous post | next post »
In a Yuletide email message, Victor Mair found holiday cheer in the American Heritage Dictionary entry for spree — not so much the definition (just "A carefree, lively outing", "A drinking bout", or "A sudden indulgence in or outburst of an activity"), but in the etymology and "Word History":
[Perhaps alteration of Scots spreath, cattle raid, from Irish and Scottish Gaelic spréidh, spré, cattle, wealth, from Middle Irish preit, preid, booty, ultimately from Latin praeda; see ghend- in Indo-European roots.]
Word History: A spending spree seems a far cry from a cattle raid, yet etymologists have suggested that the word spree comes from the Scots word spreath, "cattle raid." The word spree is first recorded in a poem in Scots dialect in 1804 in the sense of "a lively outing." This sense is closely connected with a sense recorded soon afterward (in 1811), "a drinking bout," while the familiar sense "an overindulgence in an activity," as in a spending spree, is recorded in 1849. Scots and Irish dialects also have a sense "a fight," which may help connect the word and the sense "lively outing" with the Scots word spreath, meaning variously, "booty," "cattle taken as spoils," "a herd of cattle taken in a raid," and "cattle raid." The Scots word comes from Irish and Scottish Gaelic spréidh, "cattle," which in turn ultimately comes from Latin praeda, "booty." This last link reveals both the importance of the Latin language to Gaelic and a connection between cattle and plunder in earlier Irish and Scottish societies.
So, he explained, "when you go out on your Christmas shopping spree this year, you are essentially raiding the stores and bringing home the booty!"
This clearly falls into the "Too Good to Check" category, so as expected, the metaphor is less vivid in Wiktionary's etymology:
1804, from Irish spraoi ("fun, sport"), of North Germanic origin, from Old Norse sprækr, sprakr ("lively, vigorous, sprightly"), from Proto-Germanic *sprakjaz, *sprakją, *spruką ("branch, sprout, splinter"), from Proto-Indo-European *(a)sp(h)arag-, *(a)sprāg- ("sprout"). Cognate with Icelandic sprækr ("sprightly"), Norwegian spræk ("cheerful, lively"), Swedish dialectal sprygg ("active, brisk"). More at spry.
And the OED's etymology (from 1914, it's true) is a total buzz kill:
Etymology:  A slang word of obscure origin: compare spray n.4
The OED gives that 1804 citation as
1804   W. Tarras Poems 73   I'm blythe to see a rantin spree.
John Jamieson's Etymological Dictionary of the Scottish Language (Supplement, Vol. 2), 1825, glosses spree as "innocent merriment" and gives a bit more of the poem:
Tho' age now gars me hotter,
I'm blythe to see a rantin spree,
And fain wad thro' ye totter.
According to the Dictionary of the Scots Language, it seems that gar here means "make"; hotter means "shake"; rantin means "boisterous"; and totter is either an adjective meaning "unstable, precarious, unreliable, uncertain", or a verb meaning "to waver, oscillate".
I'm not sure what "thro'" is — maybe what the Dictionary of the Scots Language has under the lemma Throuch, Thruch, Through, meaning "to put into effect", or "to contrive (something's) passage through (a place or process)"; or maybe just the preposition usually spelled "through".
The rest of the poem is here, in William Tarras, Poems, Chiefly in the Scots Dialect, 1804: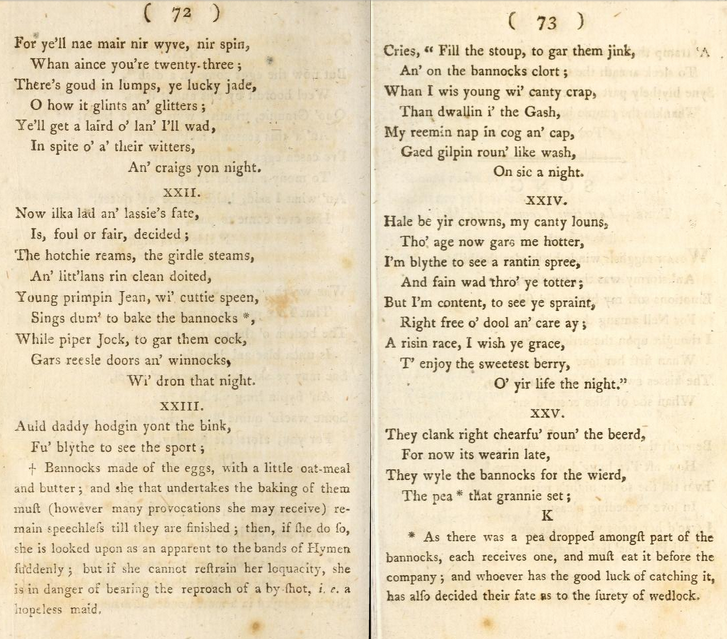 ---