« previous post | next post »
One of the highlights of this weekend's Saturday Night Live was a "Weekend Update" appearance by Taran Killam playing Jebidiah Atkinson, a 19th-century speech critic.
(Apologies to those outside of the U.S. who can't view the video.)
After thoroughly panning the Gettysburg Address, he moves on to other historical speeches (allowing for a bit of time travel), including FDR's Pearl Harbor address. Killam flubs the line and breaks character, which also cracks up "Weekend Update" host Seth Meyers, leading to a bit of improvisation.
Killam: You know what date will live in infamy for me? December 8th, 1941, when FDR gave a speech that was so boring-ass.
(Pause.) I think I misquoted myself.
Meyers: Yeah, I think you did. I was gonna say, that wasn't your best written one.
Killam: That was a rough draft. Coulda used a couple of kamikazes after that.
It's hard to say what line Killam was supposed to deliver. Perhaps it was written as "FDR gave a boring-ass speech," followed by the bit about kamikazes. Or perhaps the boring-ass was improvised entirely but inserted in the wrong place. Either way, the problem that Killam faced was that boring-ass sounds just fine when it's used attributively (pre-modifying speech), but sounds wrong as a predicate adjective.
We've looked at the "[adjective]-ass" combining form a few times in the past: "The intensified crack of dawn?" (ML, 6/7/05), "Root haughtiness" (GP, 8/20/11), "Is it a prosodic-ass constraint?" (GP, 8/25/11), "Rachel Jenteal's language in the Zimmerman trial" (JR, 7/10/13). But I don't think we've ever addressed the attributive vs. predicative issue. Neal Whitman tackled this on his Literal-Minded blog last year in his post "Ass/Fucking Intensification," in part inspired by a classic xkcd strip: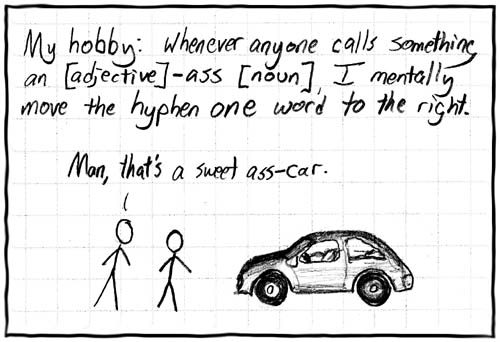 Neal writes:
Ass, however, can intensify only attributive adjectives. Put it with a predicative adjective and it's just silly:
*This car is sweet-ass.
He has a sweet-ass car.
Constraints on the predicative use of "[adjective]-ass" were noted as early as 1998, when Diana Elgersma presented a paper entitled "Serious-ass morphology:
The anal emphatic in English" at MILC 2. Elgersma's observation was limited to backward-ass, however:
Although the origin of the '-ass' suffix is unclear, it would seem to have spread from a more restricted nominalizing morpheme, which attaches not only to adjectives, but also to verbs: bad-ass ('Check the dude in the leather jacket – he's a total bad-ass!'), hard-ass, slack-ass, whup-ass ('If you don't shut up, I'm gonna open up a big can of Texas-style whup-ass on ya.'), lazy-ass, stupid-ass and kiss-ass, for example. Note that many of these can also be used as emphatic adjectives (stupid-ass, lazy-ass, slack-ass, hard-ass).
One interesting case is the word backward. There are several variants with this particular base, including bass-ackward, backasswards (infixation), or the prefixed ass-backward. This latter variant can potentially be explained as an iconic reversal; that is, putting the normally suffixed '-ass' in a prefixed position is in itself backward. It is possible to have the attributive variant backward-ass ('That's one backward-ass idea'), however, this particular construction cannot occur as a predicate adjective: * 'That idea is backward-ass.'
A more nuanced statement of the constraint is given by Daniel Sidiqqi in "The English intensifier ass" (Snippets, May 2011):
Ass seems to have a requirement that it appear right of the adjective that it is modifying AND left of the head the adjective modifies (i.e. it cannot be phrase final):
| | |
| --- | --- |
| a. The night is very cold. | *The night is cold-ass. |
| b. I am very happy. | *I am happy-ass. |
| c. I am hottest in leather. | *I am hot-ass in leather. |
| d. I run quickly. | *I run quick-ass. |
The only time that ass can appear phrase-finally is when attached to bad (e.g. That receiver is badass), but, in such cases it is always stressed (otherwise it is not). I expect badass is the source of the affix rather than an exception.
If the constraint is just that "[adjective]-ass" cannot be phrase-final, then that would allow predicative uses of this type (found on COCA):
The father would talk about how backward-ass the medical school was in its, say, treatment of severe high blood pressure…
—Brock Clarke, "The Son's Point of View," The Southern Review, 39(3):556 (Summer 2003).
…and possibly also this boring-ass example from Urban Dictionary:
That physics lecture was so boring ass, I fell asleep with my leg behind my ear and my finger in my ass.
If the UD example is acceptable (it's pretty borderline for me), then I wonder if Killam wanted to say:
FDR gave a speech that was so boring-ass (that) I needed a couple of kamikazes afterwards.
If he intended to phrase it that way, then he got into trouble by pausing after boring-ass, as if that were the end of the sentence. (Blame the cue cards?) But I'm glad he did pause, since breaking character made the bit even funnier, and also provided excellent material for another boring-ass Language Log post.
[Update: Welcome, Geekosystem readers!]
---