« previous post | next post »
Jimmy Callin sent in this photograph of a sign in Nanjing: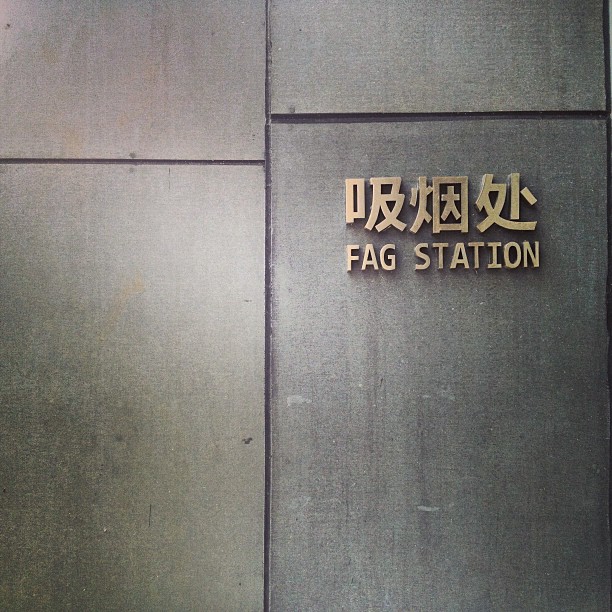 The Chinese part of the sign says simply: xīyān chù 吸烟处 ("smoking area").
The translation of xīyān chù 吸烟处 ("smoking area") and xīyān zhàn 吸烟站 ("smoking station") as "fag station" is sanctioned by iCIBA, also by Seadict, and many other online Chinese-English / English-Chinese dictionaries.
For xīyān chù 吸烟处 ("smoking area"), Baidu Fanyi gives:
1. smoke area
2. Smoking Area
3. smokery
4. smoke point
5. fag station
Because I was sure that I had seen the expression "fag station" long before Jimmy sent in this photograph, I googled to check out how extensive its usage was and was amazed to find that — in quotation marks — it received 432,000 ghits.
Obviously, not all of these instances are references to places where smoking is allowed, but a considerable proportion of them are. In fact, if you want to let guests at your home know where it is permissible to smoke, you can get a wooden version of the Fag Station sign here.
As for the other meanings of "fag station", some are obvious, but there are also some that I am not confident that I fully understand, including the frequent references to truckers ("fag station for truckers to unload"), to video games, and occasionally to Japanese otaku lifestyle (most likely related to the previous item).
Here's one, from The Cyclopedia of New Zealand [Otago & Southland Provincial Districts], that completely threw me for a loop:
Mr. John Sammons . Officer in charge of the Forest Hill Tablet Signal Station, was born in Oxfordshire, England, in 1844. He went to sea as a youth, and served twelve years in the Royal Navy, in various parts of the world. Mr Sammons came to the Bluff, by the ship "Zealandia," in 1872, and joined the New Zealand railway service, in which he held the position of guard until he was appointed officer in charge of the Forest Hill fag station.
N.B.: see below for the probable origin of the expression as used here.
Several that I followed up were apparently due to OCR misreading of "name-tag station", such as this one from "Jewish Family Education: Shabbat and Holidays": "You will see a name-fag station in the outside play area. Please take a moment to put on name tags!" You can also find OCR misreadings of "flag station" as "fag station", such as this one in "Cases Argued and Decided in the Supreme Court of Mississippi …", Volume 67 (1890): "Railroads. Failure to stop at flag station. Nominal damages."
It would appear that "fag station" is an expression that, when used correctly, does not raise any eyebrows, but when employed inappropriately, is apt to give rise to double takes and giggles. The problem with the interpretation of "fag station" arises from the fact that "fag" itself has such a wide variety of different meanings, for which see this online dictionary entry.
---