« previous post | next post »
You might have thought that the Roman empire was doomed by barbarian invasions, lead poisoning, the loss of masculine values, or climate change. But Jim Bisso at Epea Pteroenta has pointed out that at the very height of the empire's power, in the reign of Trajan, Roman culture had already been compromised by an insidious agent that you probably have never considered, though it's obvious in retrospect.
The villain was none other than txting, that widely-feared destroyer of civilizations. While IM and SMS had not yet been invented, the Romans used a medium that motivates textual concision even more strongly: marble.
Jim draws our attention to this milestone from the Via Trajana:
LXXIX
IMP CAESAR
DIVI NERVAE F
NERVA TRAIANVS
AVG GERM DACIC
PONT MAX TR POT
XIII IMP VI COS V
P P
VIAM A BENEVENTO
BRVNDISIVM PECVN
SVA FECIT
Expanding all the inscriptional txting, we get:
LXXIX
Imperator Caesar
divi Nervae filius
Nerva Trajanus
Augustus Germanicus Dacicus
pontifex maximus tribunitia potestate
XIII imperator VI consul V
pater patriae
viam a Benevento
Brundisium pecunia
sua fecit.
And in English:
79
The emperor Caesar,
son of the deified Nerva,
Nerva Trajanus
Augustus, victor over the Germans and the Dacians,
chief priest,
holder of the tribunician power 13 times, saluted emperor 6 times, consul 5 times,
father of his country,
made the road from Beneventum
to Brindisium
at his own expense.
Woozy from vowel deprivation, I'm puzzled about the route of this Via Trajana. If you ask Google Maps how to get from Benevento to Brindisi today, this is the route that's recommended:

But according to William Latham Bevan, The Student's Manual of Ancient Geography (1875), p. 527:
Samnium was traversed by several high-roads. The Via Appia entered it from Capua, and passed through the S. part of the province, by Beneventum and the valley of the calor, to Venusia in Apulia. A branch-road struck off from this at Beneventum, which joined the Via Egnatia at Æcæ in Apulia: this was named Via Trajāna, having been constructed by the Emperor Trajan.
Æcæ is modern Troia, so on this account the route of the Via Trajana is here: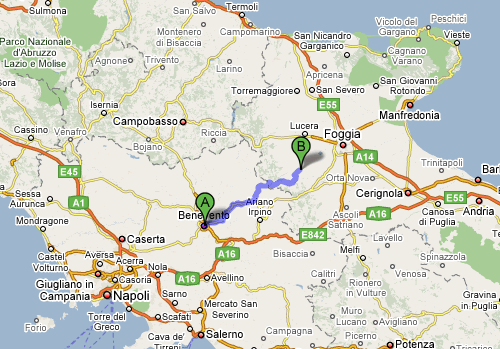 But the Wikipedia article on the Via Egnatia places it in the Balkans, not in Apulia.
There's a lesson here, kids. See what happens when you get all whateverist about spelling? Legions sent to keep order in Illyria wind up wandering around Foggia.
---